Italy Bellini, Il pirata (concert version): Chorus (chorus director: Gea Garatti Ansini) and Orchestra of Teatro di San Carlo / Antonino Fogliani (conductor). Recorded live at Teatro di San Carlo, Naples, on 16.1.2021 and available as a livestream from 5.2.2021. (JPr)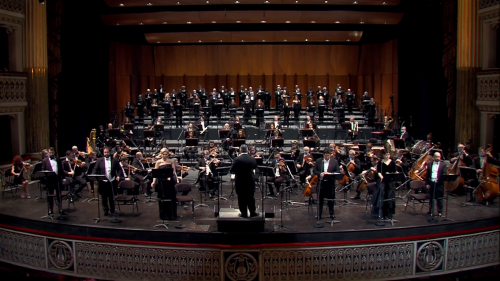 Cast:
Ernesto – Luca Salsi
Imogene – Sondra Radvanovsky
Gualtiero – Celso Albelo
Itulbo – Francesco Pittari
Goffredo – Emanuele Cordaro
Adele – Anna Maria Sarra
Il pirata was Bellini's third opera and his first big success though it has been overlooked for a long time and this was the first time I have ever heard it, or more realistically heard of it. Opera in Italy in 1827 was on the cusp of its post-Rossini age as his final opera Guillaume Tell would be premiered within two years but also was looking forward to those of Verdi and Wagner (more about this below). Actually, in Il pirata there are stretches where Bellini out-Rossinis Rossini!
It is a thirteenth-century story of warring Sicilian royal houses with a libretto from Felice Romani who would become a frequent Bellini collaborator. Before it became standard operatic fare, Il pirata has a recognisable love triangle with Imogene, trapped in a loveless marriage to Ernesto, Duke of Caldora, who had forced her into marriage by threatening her father. Gualtiero, the former Count of Montalto, came off second best in his pursuit of Imogene and has spent a decade in exile as the leader of a band of pirates, buckling their swashes whilst he plotted revenge. His ship flounders in a storm and this forces Gualtiero's return to Caldora and he hears news about Imogene and her son by his mortal enemy. Both men accuse her of betraying them and Gualtiero kills Ernesto in a duel (though we do not see this happen) and at the end Gualtiero faces execution. Despite seemingly being a strong woman this all takes its toll on Imogene's mental state which goes progressively downhill until there is a 'mad scene' – one of the earliest and most significant ones in opera – as the fatalistically inevitable denouement to the opera. Il pirata is essentially a three-hander although there are a further three grossly underdeveloped secondary characters; the hermit Goffredo (who is only in Act I), Imogene's companion Adele, and Gualtiero's lieutenant Itulbo, who are there as 'devices' to provide background information and move the – admittedly thin – story along.
Bellini's music provides a lot of food for thought and it was much more varied than I was expecting, full of long melodic lines and with little of rum-ti-tum we hear in Rossini, Donizetti, and early Verdi. Undoubtedly there are arias, duets, and trios that go on much too long though that is the same for most bel canto operas. Also, there are musical oddities and there is a pirates' chorus in Act I which is suitably lively and rumbustious, yet it all sounds much the same at the beginning of Act II, Scene 3, where everyone is supposedly lamenting the death of Ernesto. Against this the music of the poignant 'mad scene' is dramatically expressive with its cor anglais and flute solos and the reminiscence of Imogene's Act I cavatina ('Lo sognai ferito, esangue') in which she dreams of finding Gualtiero.
And what about the debt more famous operas owe to Il pirata? Well, Wagner had probably seen the opera and, at the very least, was familiar with it. It has turbulent seas, a ship in difficulties, and a seaman with a dubious past who has been wandering the oceans for years still longing for the woman who once loved him. Isn't this all vaguely similar to The Flying Dutchman and it is also there in the music with the crescendos in the overture that Wagner 'borrowed' to create the stormy passages in his 1843 opera. Also, at the start of Il pirata's first act as the fishermen watch the ship in trouble and pray for the safety of those on board who will not hear the tempestuous opening scene of Verdi's 1887 Otello?
Bellini pitilessly demands relentless naked emotion from the three principal singers, and it must have been difficult for singers of any generation to do Il pirata full justice since their voices are cruelly exposed throughout the opera. Naples's Teatro di San Carlo did not achieve that, but it was a valiant effort nonetheless and particularly during a pandemic with audiences shut out of opera houses around the world.
This was unashamedly a concert performance with socially distanced and frequently masked chorus and orchestra performing on the stage of the ornate and sumptuous Teatro di San Carlo with its red and gold interior. (Its claim to fame is that having opened in 1737 it is the oldest continuously active venue for opera in the world.) There was some attempt to bring a little atmosphere to what we saw by having a couple of pirates, Sondra Radvanovsky, and four others – all in appropriate costumes -silently shown pre-recorded roaming the opera house during some of the musical interludes. However, this only made me long to see a full staging or at least some greater interaction between the singers who mostly had their heads in their scores on the music stands before them.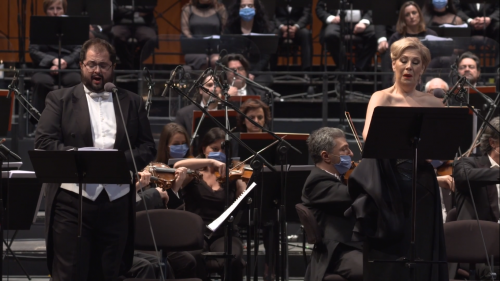 All credit to Radvanovsky's Imogene – her debut with the company and a role debut – for some emoting to bring a degree of dramatic credibility to her singing, but there was zero opportunity for any real 'chemistry' between her and Gualtiero. Looking regal in an elegant black gown and with bare shoulders, Radvanovsky's dark, weighty tone suggested how conflicted Imogene was on her erstwhile lover's reappearance, and her flexible coloratura and sheer vocal power revealed her character's disordered mind. Of course, there was much evidence of Radvanovsky's trademark ability to reduce phrases – and often individual notes – down to the merest thread of sound, as well as rise to fortissimo, always on a single breath and with consummate ease.
Gualtiero was the burly Spaniard Celso Albelo whose basically sweet-sounding tenor was ardently Italianate but was not particularly agile and – although he improved as the opera went on – he was sorely tested by the role's high tessitura. It was a noble attempt and I was surprised to read it was not the first time he has sung Gualtiero because Albelo rarely looked up from his score. Baritone (more bass-baritone) Luca Salsi was an imposing, stolid, Ernesto who impressed with his entrance cavatina 'Sì, vincemmo, e il pregio io sento' which rose from some cavernous bass notes to full baritonal warmth. Salsi invested his Ernesto with a certain oleaginous menace to begin with though he sounded much more malevolent the angrier he got with Gualtiero. The supporting cast did well with the slim pickings Bellini gives them; Francesco Pittari was the stoically loyal Itulbo, Anna Maria Sarra an appealing and caring Adele; with Emanuele Cordaro as a paternal and authoritative Goffredo.
Masks or no masks the singing of the chorus was impressively committed and – from the energetic overture to the deeply affecting ending – the jovial looking Antonino Fogliani fashioned from his reliable orchestra a respectful, pliant, and passionate account of Bellini's beautiful and melodramatic score which got what it deserved but no more than that.
Jim Pritchard
Il pirata is available until 28.2.2021 click here.