United Kingdom Handel, Messiah, HWV 56: Christine Rice (mezzo-soprano), Nadine Benjamin (soprano), Iestyn Davies (countertenor), John Findon (tenor), Anthony Gregory (tenor), William Thomas (bass), Nardus Williams (soprano) and Benson Wilson (baritone), Chorus and Orchestra of English National Opera / Laurence Cummings (harpsichord/conductor). Broadcast on BBC Two, 3.4.2021. (JPr)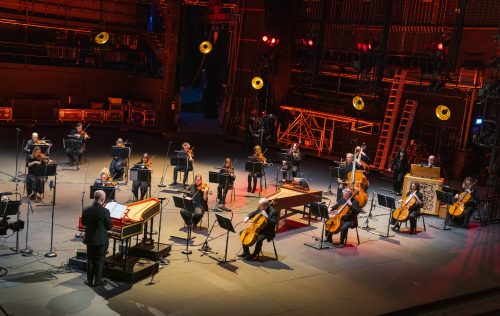 Broadcaster and saxophonist YolanDa Brown welcomed us back to the London Coliseum – the home of English National Opera – for Handel's Messiah which she described as 'a hugely popular work of resurrection and rebirth' emphasising how 'spring and hope are in the air'. Her fellow presenter the ubiquitous Petroc Trelawny said 'It's about a 15-minute walk from here to 25 Brook Street, the Mayfair house where the composer George Frideric Handel spent the last 3½ decades of his life. It was there in 1741 that he composed his masterpiece, his oratorio Messiah, written – it's said – in such a fervent outburst of energy that he barely left his room, composing the whole 3-hour work in just 24 days'. Brown explained that we would see 'a special one-hour version created for the occasion and yes the glorious "Hallelujah" chorus is still in there […] in this production the four soloist parts are shared among a cast of eight singers, some established stars, some rising ones'. When Handel expert Laurence Cummings was asked about this he said 'Well, Handel often had five, for the first performance he had six, so we've slightly amplified that and gone for eight'.
Perhaps it would be churlish to question why English National Opera's highest profile contributions during the last year have been a Mozart Requiem (review click here) and now this Messiah and no actual opera (I am ignoring their Ally Pally La bohème click here). Also, the three hours were filleted (by Cummins) to about 55 minutes. While I have an appreciation for Handel, I like other music more and this probably was enough Messiah for me, though I can assume purists might have been offended by the implication that the watching audience couldn't cope with anything longer. Certainly, my wife who has sung in the Messiah a few times was fast-forwarding through her score at a rate of knots, or more appropriately notes!
Once again it was basically a critic-proof event because talented people were doing what they had studied long and hard for and hopefully still love doing. There was understandable sadness in all the social distancing of the small orchestra on stage with soloists, choir, natural trumpets and timpani in the stalls and boxes of an empty London Coliseum. Directing from his Michael Johnson harpsichord Laurence Cummings proved the most balletic of conductors but drew a fine idiomatic performance from the ENO Orchestra and the understanding between the orchestra and the chorus was excellent. Of course, it was clear that this Messiah was probably the result of the best of any number of takes. The ENO Chorus was impeccable and were impassionedly committed in their limited contributions. 'And the glory of the Lord' was joyful; they were more plaintive in the slower 'Behold the Lamb of God'; the 'Hallelujah' chorus was rousing (is it ever anything else?); 'Since by man came death' was, by turns, sombre and exultant; finally, 'Worthy is the Lamb' was underscored by Robert Farley's trumpet and as uplifting as the concluding – very protracted – Amens were prayerful.
The soloists' interpretations were never less than insightful and, in a few cases, outstanding. Unfortunately, William Thomas and John Findon were ill-served by the cuts and could make little impression with their brief 'Why do the nations so furiously rage together' and 'He that dwelleth in heaven'. All the singers were intent on making their words clear but not all of them were engaged with the texts as others. Anthony Gregory revealed a pleasant-sounding, light tenor voice during 'Comfort ye my people' and 'Ev'ry valley shall be exalted'. From a dress circle box countertenor Iestyn Davies's 'But who may abide the day of His coming' was as ethereal as his appearance was oddly louche. Nardus Williams's 'Rejoice greatly, O daughter of Zion' was a thrill-fest and technically very good, though Williams seemed a little distanced from what she actually sang. Dialogue between orchestra and soloist was at its most effective firstly with Christine Rice's 'He was despised and rejected of men'. Rice is one of the finest interpreters of this repertoire, the vocal expressivity of her contralto-like tones emphasised the sorrowfulness of this passage as she stared into the camera.
This brings me finally to the two who were the best of the octet, Nadine Benjamin and Benson Wilson. Beautifully accompanied by the virtuosic Cummins and the orchestra – with leader Magnus Johnston's violin prominent – Benjamin's 'I know that my Redeemer liveth' was joyous and serene. It was obvious that the words meant a great deal to her as this radiated on Benjamin's face and was evident in the exultant spirit of her singing. Last but not least 'Behold, I tell you a mystery' introduced Benson Wilson to those seeing and hearing him for the first time: his full-bodied, rich warm baritone with its range of tonal colours effortlessly filled out some long-breathed phrases.
Jim Pritchard
For more about ENO click here.