United States The Glimmerglass Festival 2021 – Sandra Seaton, The Passion of Mary Cardwell Dawson: Soloists, Kevin Miller (music director and pianist). Glimmerglass Festival, Cooperstown, New York, 9.8.2021. (RP)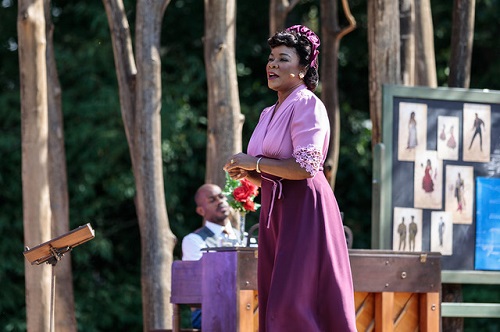 Production:
Director – Kimille Howard
Sets – Jessica Jahn
Lighting – Amith Chandrashaker
Sound – Andrew Harper
Hair & Makeup – Cassie Williams
Additional music – Carlos Simon
Cast:
Mary Cardwell Dawson – Denyce Graves
Isabelle – Victoria Lawal
Phoebe – Mia Athey
Frank – Jonathan Pierce Rhodes
Mention the name Mary Cardwell Dawson to opera fans, and most will be scratching their heads. All but forgotten since her death in 1962, Dawson was a teacher, conductor and impresario who founded the National Negro Opera Company in 1941. Denied a career as an opera singer because of her race, Dawson devoted her life to making the dreams of others come true and bringing grand opera to Black audiences.
Bass Robert McFerrin, who sang with the NNOC, became the first Black male singer to perform on the stage of the Metropolitan Opera, a few weeks after Marian Anderson broke the race barrier on 7 January 1955. Other protégés who achieved fame were jazz pianist Ahmad Jamal and Broadway performer Napoleon Reed. There were hundreds more who sang in her choirs and performed in NNOC productions.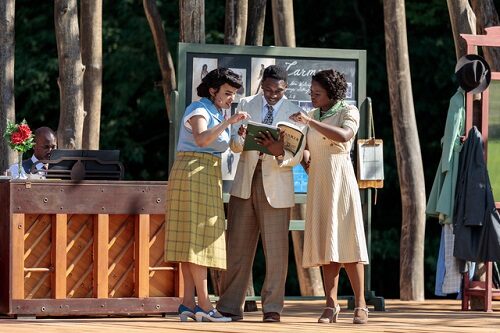 Dawson presented soprano Lillian Evanti, a star in Paris, when the Met wouldn't extend the American singer a contract after repeatedly asking her to audition on its stage in the 1930s and 1940s. When the main stream press reviewed Evanti's performances, they omitted the fact that she was Black. However, Evanti was, like Dawson, a guest of Eleanor Roosevelt at the White House. President John F. Kennedy would later appoint Dawson to his National Committee on Music
At The Glimmerglass Festival, Dawson's story was brought to life in Sandra Seaton's The Passion of Mary Cardwell Dawson. Seaton is a playwright and librettist, best known in music circles for her libretto for William Bolcom's song cycle From the Diary of Sally Hemings; and for a spoken word piece, King: A Reflection on the Life of Dr. Martin Luther King, Jr., in which tenor George Shirley, the first Black tenor and the second Black male to sing leading roles at the Met, appeared.
In this one-act play, Seaton focused on the challenges and the indignities that Dawson surmounted to keep the NNOC afloat on her terms. The action was set in 1943, when the country and Dawson were both at war. In the play, as in real life, rather than have her audiences seated in the back rows of Washington D.C.'s segregated theaters, Dawson performed on a barge on the Potomac River, but on this day the weather is not cooperating and financial ruin is in the cards.
Dawson takes on the manager of a theater and the union in her efforts to keep the NNOC afloat. She is jailed for a scuffle that occurred during the meeting with union officials, and her husband, Walter, bails her out. It was his salary as a master electrician that provided the financial footing for his wife's endeavors.
In between phone calls, Dawson is coaching three singers for that evening's performance of Carmen. She is no tougher on her cast, or anyone who stands in her way, than she is on herself. The young singers whom she is coaching have friends and family coming to the performance, and they are willing to compromise and perform in a segregated theater. Carmen and Micaela are caught up in sorority politics and one-upmanship more than the fight for racial justice. Dawson sets them straight, declaring that doors didn't open for her and won't open for them unless they push.
There are opera stars whose larger-than-life stage persona wilts on a theater stage, but Denyce Graves isn't one of them. She was a dynamo as Mary Cardwell Dawson. The mezzo-soprano sang little opera – snippets of 'Sempre libera' from Verdi's La traviata down an octave, a few bars of 'O mio Fernando' from Donizetti's La favorita and a turn at the 'Habanera' when coaching the aspiring Carmen in the role – but she was on stage to act, and that she did. Granted, Graves' Dawson took a page from Terrance McNally's Maria Callas in Master Class, but who's going to complain about that.
The three singers who shared the stage with her – soprano Victoria Lawal, mezzo-soprano Mia Athey and tenor Jonathan Pierce Rhodes – are members of Glimmerglass's young artists program. There were opportunities to savor their voices as Graves coached them in scenes from Carmen. It was a warm-up of sorts for Athey, who will be singing Mercedes in Carmen with the Minnesota Opera in spring 2022, directed by Graves.
Glimmerglass's productions are being performed outdoors this summer. There are few concerns about the Delta variant when one is seated in specially constructed chalets or delineated squares on the grass. Due to Kimille Howard's forthright concept, careful placement of the stage and the high-powered performances by the cast, it really worked. There was nothing make-do about this performance whatsoever.
In the play, thunder crashed throughout the day, but the skies cleared and the show could go on. The opera ended with Graves singing an anthem by Carlos Simon that captured Dawson's love of music and her belief that Blacks could indeed sing opera. In 1943, however, as she admonished her cast, they were all singing purely for the love of it and would do so for many years to come.
Rick Perdian