Germany Musikfest Berlin [4] – Cleare and Poppe: Hannah Weirich (violin), Sara Cubarsi (violin), Michele Marelli (clarinet), Ensemble Musikfabrik, Aaron Cassidy and Enno Poppe (conductors). Philharmonie, Berlin, 5.9.2021. (MB)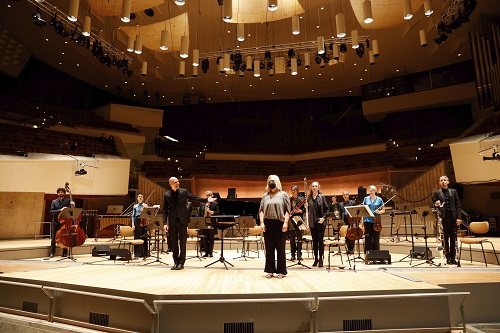 Ann Cleare – mire/…/veins (2013); ore (2016); Fossil Lights (2020-21, world premiere); the physics of fog, swirling (2018-19); on magnetic fields (2011-12)
Enno Poppe – Prozession (2015-20)
For my final visit to this year's Musikfest Berlin: two concerts, morning and afternoon, from Ensemble Musikfabrik. The first was devoted to the music of Ann Cleare, the two ensemble pieces conducted at frighteningly short notice by Aaron Cassidy; the second, conducted by the composer, was devoted to Enno Poppe's Prozession, begun in 2015, then set aside after eight minutes' worth of music, to be resumed during lockdown and extended to about fifty in total.
The morning's Ann Cleare portrait suggested a communicative interest, variety notwithstanding, in instrumental sound as sculpted material. mire/…/veins for brass quintet imparted, from its muted opening, a sense of masked volatility, of activity located somewhere just below a geological surface — and rising. Febrile oscillations were observed and felt, the horn seemingly adopting a central, even mediating, role between the other pairs of instruments: trombone and tuba on one side, two trumpets on the other.
Written for string trio and high reed instrument, here clarinet, the opening shrillness of ore – against glassy strings – suggested a more important role for pitch than its predecessor. Different sections offered a different sense of materiality, as interested in combination as opposition. Indeed, the closeness of clarinet to string timbre was at times surprising. The first performance of Fossil Lights followed, clarinet, violin, and cello remaining, now joined by piano. It proved a haunting piece. Atmosphere may not have been the point; it nevertheless had plenty. Aural beams and slight rotations (whether of pitch, dynamics, etc.) helped me work towards a sense of bifurcation, of two aural visions, connections growing in different ways, according to vantage point: musical work or subject.
Two works for ensemble followed, the physics of fog, swirling commencing with an almost 'traditional', Romantic horn call, sound soon changing in all manner of ways, both for horn and greater ensemble. Each part of the title gained importance: fog and swirling, of course, but physics too with respect to method. There is, of course, a myriad ways to swirl, but this was not a catalogue, more a quasi-scientific narrative, even an experiment, which eventually went into reverse, unravelled. Finally, on magnetic fields, for two violins and ensemble, once again offered at least a way in through its title, seemingly realised spatially too by different instrumental groups led by the soloists. It seemed to speak of and with magnetism, fields opposed but also interacting and thus engendering movement. There were moments of galvanising drama, a crackling conclusion to a fascinating programme.
Was Poppe's Prozession to be a work of music theatre? No, at least not straightforwardly. The musicians stayed where they were, although the slightly unusual make-up of the ensemble had a visual element too: percussion at the back joined by two electronic organs and electric guitar. Its opening seemed almost pictorial, at least in the way a procession by Berlioz or Mahler might be, albeit in a world of spectralism. The procession seemed to be getting under way, or perhaps in preparation, coming to life from drums to solo instruments, to combinations. There was certainly a sense of movement that, however irregular its parts, resulted in something more regular. It died down, returned to its beginnings, then started up again, albeit differently — and again, all the more differently. Instruments picking up the figurative baton from one another seemed, intriguingly, to pick up characteristics too: clarinet from electric guitar, trumpets from saxophone, and so on. The process began to mesmerise, or perhaps one began to realise that it had mesmerised all along. Double bass out of the debris, with others in its penumbra: here was another different path, more shadowy, more distant. Microtonal disorientation became more intense. At some point, the procession began to head away and/or subside, depending on who or what was its subject. What had it meant? That was not really the question: it had been a rite, so it seemed, from another world.
Mark Berry