Sweden Rossini, Il barbiere di Siviglia: Soloists of Gothenburg Opera, Gothenburg Opera male chorus, Gothenburg Opera Orchestra / Ville Matvejeff (fortepiano/conductor). Gothenburg Opera main stage, 5.9.2021. (NS)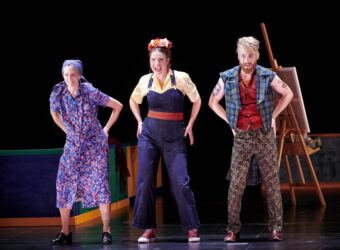 Production:
Director – Rodula Gaitanou
Set and lighting design – Simon Corder
Costume design – Rodula Gaitanou (with Gunilla Bjertin, Viktoria Erlandsson, Marléne Jahnke, Frida Pettersson and Sofia Yvell)
Artworks – Lucy Doyle
Cast:
Count Almaviva – Vassilis Kavayas
Doctor Bartolo – Markus Schwartz
Rosina – Ann-Kristin Jones
Figaro – Hannes Öberg
Don Basilio – Mats Almgren
Berta – Mia Karlsson
Fiorello – Jonas Landström
An officer – Henrik Andersson
After 18 months without being able to perform opera for a live audience, what better tonic for an opera company than to re-open its doors with Rossini? This production was also a happy return to Gothenburg for director Rodula Gaitanou, previously responsible for an outstanding Ariadne auf Naxos (review click here) in 2018.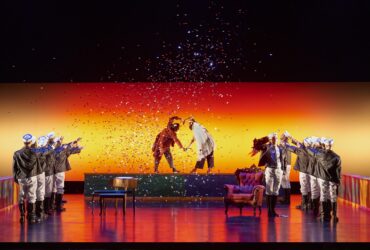 There was certainly an anarchic sense of fun in the performance, but unusually the focus not just on slapstick but also on a cavalcade of pop culture references and little musical jokes (some of the latter coming from the nimble fingers of Ville Matvejeff on the fortepiano). At the beginning it looked as if this might come unstuck: the opening chorus were all dressed up as various pop stars past and present (including, needless to say, Elvis Presley). The effect was a bit too chaotic and their background antics detracted from Almaviva's delightful serenade.
But things improved immediately, with the same chorus acting well as a backdrop to Figaro's 'Largo al factotum'. The various references and musical quotes became better balanced and more enjoyable, so much so that when Act II opened with Bartolo singing lines from an Abba song it was genuinely hilarious. It was not all fun though: Rosina is shown painting pictures revolving around a sense of confinement (four works by Lucy Doyle hung in the backdrop), a parallel to Frida Kahlo, who was also housebound when she started painting, if for different reasons.
Mats Almgren's Don Basilio certainly entered into this spirit with an enthusiastically acted 'La calunnia è un venticello', though his voice lacked a little focus. Mia Karlsson's Berta was a great character, not only running a side hustle as an agent selling Rosina's art (for a hefty commission) but also fully engaged in the physical comedy. Her ability to act old and decrepit was so impressive that her metamorphosis into a glamourous cabaret singer in her aria had a big impact.
Markus Schwartz displayed his talents as a buffo singer and actor as Doctor Bartolo, full of self-importance, crafty and slightly (though not completely) ridiculous. Bartolo is a role that Schwartz has performed before (review click here) but as always his interpretation was fresh and his interactions with the other characters comic.
Hannes Öberg on the other hand is fairly new to the role of Figaro, though in a curious coincidence I had seen him (review click here) as Count Almaviva in Läckö Opera's Il nozze di Figaro. Öberg made a great impression already in his opening 'Largo al factotum', both vocally and physically establishing a larger-than-life character. The following scene with Almaviva included not only a falsetto rendition of Rosina's dropped note to her mystery admirer, but also a superb and hilarious imitation of drunkenness when Figaro explains his plan to Almaviva.
Vassilis Kavayas's Almaviva matched Öberg's comic acting both in that scene and when in his disguises as a drunken soldier (though his costume made him more of a drunken sailor) and as long-haired music student 'Don Alonso'. Kavayas has a beautiful light and lyrical tenor which blossomed in the love song 'Lindoro' sings to Rosina, and was also agile and sprightly in recitatives. However, he lacked the volume to be fully heard in the big ensembles.
Ann-Kristin Jones was the perfect choice for a mezzo Rosina. From the first notes of 'Una voce poco fa' her expressive but tight vibrato and overtone-rich voice gripped the audience. Her acting was also superb, both in her longing for freedom and in the more comical antics such as some impromptu disco with 'Don Alonso' while Doctor Bartolo was dozing.
Simon Corder's set was simple but colourful, and made excellent use of lighting (even occasional disco balls!) to heighten atmosphere. Gaitanou's choreography also contributed both to the slapstick and to the visual effect. The image that opened and closed the performance was that of a heart: a love letter to the magic of music, theatre, and of live performance – warts and all.
Niklas Smith
Playing until 2 October on the Gothenburg Opera main stage. For more information and tickets see click here.
Please note: On 7 September the Swedish government announced that the current restrictions on audience numbers and distancing requirements at public performances will be lifted from 29 September onwards. More tickets will soon be put on sale for the 29 September and 2 October performances of The Barber of Seville.