Memories of the Cumbria Opera Festival 2021
The Cumbria Opera Group has existed since 2016, with the aim of bringing high-quality opera, classical music, and music education to the fantastic county of Cumbria. For a week in September this year they presented Cumbria's first ever Opera Festival. It will return in 2023 (26 August to 2 September) and next year there will be an Opera Weekend on 9 and 10 July in Lowther Castle Gardens, Lowther, Penrith. For more about the activities of the Cumbria Opera Group click here.
Seen and Heard International were unable to be at this year's events but have received the following review of three of them.
Jane Bagot writes:
Roderick Williams and Christopher Glynn are uplifting and magical
Roderick Williams (baritone) and Christopher Glynn (piano) at Penrith Methodist Church, Wordsworth Street, Penrith, 4.9.2021: An enthralling and spellbinding concert of song opened the Cumbria Opera Festival 2021, much to the delight of the audience. What could be a better way of showcasing live music again than hearing the gifted baritone, Roderick Williams performing such a vibrant and imaginatively constructed programme.
The theme of the wanderer or vagabond threaded its way through a range of English and German song repertoire. Williams velvety tones and razor-sharp diction communicated perfectly. Spearheading the concert was Schubert's 'Der Wanderer', deftly accompanied by world renowned pianist, Christopher Glynn. Throughout the evening his nuanced playing and measured timings between songs allowed for the drama of the poems to unfold.
Nostalgia for the English countryside underpinned the delicate songs of Ivor Gurney, who composed them whilst in the trenches in WWI. Then came a set of four songs by John Ireland delivered with a powerful explosion of emotion by singer and pianist alike. Angst and joy were the overriding emotions in Mahler's Lieder eines fahrenden Gesellen.
After the interval, nowhere was the rich versatility of Williams's voice more apparent than in an excerpt from Wagner's Siegfried which segued subtly into Vaughan Williams's 'The Bird's Song' from The Pilgrim's Progress. This great English composer's Songs of Travel concluded an uplifting and magical concert.
Sparkling, special productions of Bernstein and Barber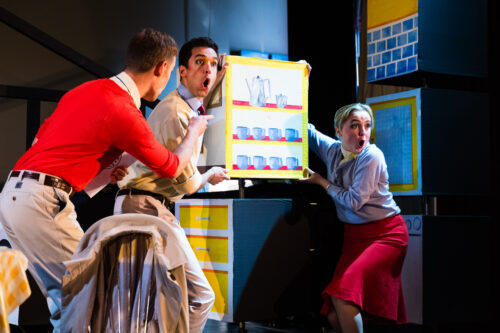 Jazz Opera Double Bill at Kendal Town Hall, Lowther Street, Kendal, 5.9.2021: Cumbria Opera Group pulled two more performances out of the hat with sparkling performances of Leonard Bernstein's Trouble in Tahiti (1951) and Samuel Barber's A Hand of Bridge (1958). Both jazz operas were strongly supported by the orchestra, led by their inspiring artistic director, Joe Davies.
The cast in Trouble in Tahiti included a vocal trio, Kerran Cotterell, Alexander Joseph and Jemimah Taylor, functioning as a contemporary Greek chorus. Dinah and Sam were played fantastically by Helsa Townsend and Chris Murphy respectively. The trio blended the close harmonies beautifully as they evoked radio commercials of the era. Their slick choreography, spot-on jazz rhythms and spirited acting were the perfect foil to the uneasy realism of Sam and Dinah's troubled marriage. The two protagonists delivered their melodic lines with clarity and emotion. Sam's rich baritone voice was perfect for the part. Dinah's aria in 'There is a Garden' was heartfelt, melodic and colourful.
A Hand of Bridge, another jazz influenced opera, was equally entertaining as it explored the four card players' deepest and darkest emotions in individual monologues. Helsa Townsend (Geraldine), Jack Dolan (Bill), Holly Teague (Geraldine) and Chris Murphy (David) gave convincing performances impressing the audience with the undoubted quality of their singing
The sets in both operas worked superbly. The former evoking the perfect picture of 1950's suburbia; the latter reflecting the dark emotions of each card player. The authentic costumes gave a 1950's flavour and the lighting effects were excellent. Director Jonny Danciger created a special production.
Colin Marston writes:
An exhilarating evening of Mozart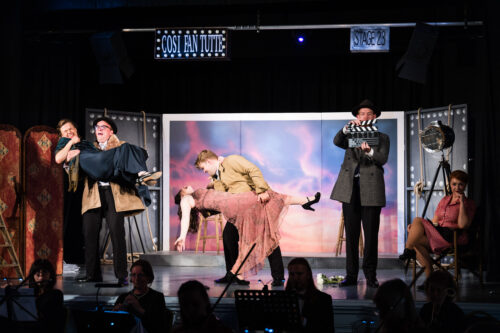 Mozart's Così fan tutte in St Andrew's Church, St Andrew's Place, Penrith, 10.9.2020: The inaugural Cumbria Opera Festival came to an exhilarating conclusion with a superb performance of Mozart's Così fan tutte in Penrith's St Andrew's Church.
In its previous incarnation as Eden Valley Opera Joe Davies's gifted band of young musicians had brought us operas from the Baroque period by Purcell, John Blow and Handel. Fifty years on from Handel's time, Mozart was an ambitious but totally successful choice.
In many ways Così fan tutte, written in 1789 just two years before Mozart's early death, is an ideal choice for a small company. At the centre of the plot are six solo singers – four young lovers, a maid (with several strings to her bow) and a scheming manipulator, intent on proving that women will always betray their lovers.
Ross Cumming (Guglielmo). Jack Dolan (Ferrando), Myrna Tennant (Fiordiligi) and Samantha Lewis (Dorabella) were excellent in their role as the four young lovers, whose paths, in true operatic manner, become entangled by intrigue and seduction before reaching a successful outcome. Both in solo arias and in the numerous ensemble passages in the work, all four coped with the challenges of Mozart's elaborate Italian style with great aplomb.
Holly Teague added many comic touches to the role of Despina and Jonathan Hill was equally good as the manipulative Don Alfonso, singing with great authority and with the clear diction this key role needs.
The orchestra, seated in the church's side chapel, began with an uplifting overture and offered assured support throughout. The chorus is used little in Così fan tutte compared with other Mozart operas but seated high in the gallery, made a highly effective sound.
Persia Babayan-Taylor's production was full of imaginative and comic touches but the greatest credit must go the musical director, Joe Davies, not only for his confident control of the many diverse musical elements of the work, but also for bringing together such a fine team of young musicians.
Those who have attended the week of workshops, recitals and operas of Cumbria Opera Festival 2021 will look forward immensely to further delights in the years ahead, hopefully without the COVID-19 restrictions which have limited numbers this year.