United States Rossini: Lawrence Brownlee, Michael Spyres (tenors), Myra Huang, Thomas Lausmann, Bryan Wagorn (piano). Theresa L. Kaufmann Concert Hall, 92nd Street Y, New York, 27.10.2021. (RP)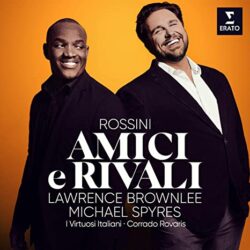 Rossini – Overture, 'Largo al factotum', 'Cessa di più resistere', 'All'idea di quel metallo' (Il barbiere di Siviglia); 'La promessa'; 'L'esule'; 'Deh! scusa i trasporti!' (Elisabetta Regina d'Inghilterra); 'Donala a questo core' (Ricciardo e Zoraide); Overture (Guillaume Tell); 'Che ascolta?', 'Ah! sì, per voi già sento', 'Ah! vieni nel tuo sangue' (Otello)
I haven't had this much fun in a concert hall, in a long, long time. Well, maybe never.
The dynamic tenor duo of Lawrence Brownlee and Michael Spyres brought a program of Rossini arias and duets to the 92nd Street Y that offered vocal pyrotechnics galore and reminded us that opera was once popular entertainment for the masses. Especially in Italy, arias were the hit tunes of the day. Verdi quipped that when he heard delivery boys whistling his arias, he knew he had got it right.
Although both men are tenors, Brownlee and Spyres have very different voices. Brownlee possesses an elegant lyric tenor renowned for its beauty and agility that is perfectly suited to nineteenth-century bel canto operas. Spyres's voice is equally high flying, but with a range that defies classification: he employs baritenor to describe it. This tenor juggernaut got going with Amici e Rivali, their recording which delves into music Rossini composed for two remarkable tenors, Andrea Nozzari and Giovanni David.
The recital opened with a six-hand piano arrangement of the Overture to Il barbiere di Siviglia performed by Myra Huang, Thomas Lausmann and Bryan Wagorn. The three pianists gamely switched chairs and Wagorn even feigned snapping a selfie of them in action. Rossini's beloved overture has opened many a program but probably never quite like this.
Three selections from Il barbiere di Siviglia followed. There's no doubt that Spyres has the vocal chops to pull off 'Largo al factotum': he would make a fine Figaro. Brownlee got down to tenor brass tacks with a bravura interpretation of the Count's aria, 'Cessa di più resistere'. They joined forces for a high-spirited 'All'idea di quel metallo', in which the Count and Figaro scheme to outwit Rosina's guardian, Doctor Bartolo
Next, Brownlee sang an ardent 'La promessa' and Spyres an especially moving account of 'L'esule', in which an exile longs for his hometown on the Ligurian coast of Italy. Even though it's a poignant song, there was always a smile in Spyres's voice.
Then came the rarities. The two tenors squared off as rivals in politics and love in 'Deh! scusa i trasporti!' from Elisabetta Regina d'Inghilterra and 'Donala a questo core' from Ricciardo e Zoraide. The latter was particularly memorable for the legato with which Brownlee and Spyres caressed Rossini's lovely melodies.
To give the men a moment to catch their breath, Huang performed a piano arrangement of the Overture to Guillaume Tell. She is a superb pianist who can muster the colors and dynamism of a full orchestra with just her fingers.
A suite of vocal gems from Otello followed. It is an opera in which six of the principal roles out of nine are for tenors. Rodrigo is the most important male character after Otello and has some of the most challenging music. Brownlee sang Rodrigo's showpiece, 'Che ascolto?', with a master's touch, leavening the dazzling high notes and fleet coloratura with beautifully voiced melodies. An equal display of bravura vocalism followed in Spyres's passionate rendition of 'Ah! sì, per voi già sento'. Wielding their voices like sabres, the tenors engaged in a brilliant display of vocal combat in 'Ah! vieni nel tuo sangue', in which Otello and Rodrigo duel over Desdemona.
For an encore, Brownlee and Spyres swapped high C's in 'Ah, mes amis' from Donizetti's La fille du régiment. They then returned for a reprise of 'Ah! vieni nel tuo sangue' that was marked more by high spirits than blood thirstiness.
Rick Perdian