Austria Tchaikovsky, The Queen of Spades (Pique Dame): Soloists, Chorus and Orchestra of Vienna State Opera / Valery Gergiev (conductor). Livestreamed from the Vienna State Opera (directed by Jasmina Eleta), 27.1.2022. (JPr)
Production:
Director – Vera Nemirova
Stage designer – Johannes Leiacker
Costume designer – Marie-Luise Strandt
Cast:
Hermann – Dmitry Golovnin
Tomsky / Pluto – Alexey Markov
Yeletsky – Boris Pinkhasovich
Chekalinsky – Robert Bartneck
Surin / Narumov – Evgeny Solodovnikov
Chaplitsky – Angelo Pollak
Master of Ceremonies – Hans-Peter Kammerer
Countess – Olga Borodina
Lisa – Elena Guseva
Polina / Daphnis – Monika Bohinec
Governess – Stephanie Houtzeel
Masha / Chloe – Anna Nekhames
Piano on the stage – Kristin Okerland
Tchaikovsky's 1890 Pique Dame (The Queen of Spades) has a simple ghostly plot with a libretto – based on an 1834 Alexander Pushkin's story with the same title and different plot – by his brother, Modest. Hermann is a somewhat dissolute army officer in late-eighteenth century St Petersburg torn between his infatuation for Lisa, the granddaughter of a domineering Countess, even though she is engaged to his friend Prince Yeletsky. Hermann becomes obsessed with 'winning' Lisa from Yeletsky when he learns how the Countess has a closely-guarded secret about three cards (three, seven and ace) that – legend has it – will guarantee his success at gambling. This becomes all-consuming for Hermann with (spoiler alert!) fatal consequences for the Countess, Lisa and ultimately himself.
This 2007 Vera Nemirova production is therefore now 15 years old but does not show its age and it could have been staged anytime in the intervening period. There is a single set from Johannes Leiacker and we begin in a bleakly grey and oppressive post-war Soviet orphanage with a row of metal beds (stage right) for some children as the opera begins. A flight of stone steps (stage left) leads to a small room on a first floor and characters withdraw and emerge from that room throughout the opera. This is the overall setting – with time to time the addition of several chairs, an overhead single chandelier, a piano or some slot machines – which will show us every scene in the opera including Lisa's home, a ballroom, the Countess's room and a casino.
Nemirova appears to be presenting us with a critique of modern Russia charting the rise of a nouveau riche who have all made loads of money very quickly; mostly at the expense of the majority who are left in need. We see these represented by those scavenging the detritus of the gala fashion show, as well as others begging for money from the Countess. Count Tomsky and his colleagues appear to be involved in the project of turning the orphanage into a grand home for the Countess, or more possibly the Act III gambling house (we will see the disposed orphans from the first scene processing across the front of the stage at the start of the second act).
Marie-Luise Strandt's costumes are fairly modern – indeed Hermann seems to be continuously in his black rehearsal clothes – and from any time in the late-twentieth century; with rare splashes of glamour from the Countess in her extravagant fur coat, some fashion models as well as the pastiche of 'The Faithful Shepherdess' pastoral at the black tie event in Act II, and the lap/pole dancers in the final scene. Intriguingly just as in Richard Strauss's later Ariadne auf Naxos a master of ceremonies announces fireworks and later a divertissement. The latter needs to be seen to be believed – but is actually very 2022 – and a mix of Gay Pride carnival, celebratioof S&M and The Rocky Horror Picture Show. (This perceived loucheness is not what we expect from current Russian society, but I suspect is more prevalent than we imagine.) It was only when I reminded myself of the original libretto, I realised the Countess climbing the stairs at the start of Act III was regally dressed in white as Catherine the Great.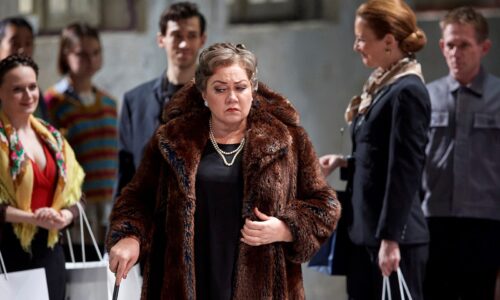 I don't know if all of Nemirova's original Personenregie remains but what there is was highly effective and so Tchaikovsky's opera was excellent all-round because of its remarkable ensemble of singing-actors. Olga Borodina is the domineering Countess and particularly captivating as she recounts the past glories of her character when she sang Laurette's Aria from André Grétry's opera Richard Cœur-de-Lion at Versailles before Madame de Pompadour herself. Borodina relishes her Norma Desmond scene (something like 'I am big. It's the operas that got small'). Giving Hermann the 'come hither' he attacks the Countess on her bed, I understand this might originally have been attempted rape but appeared to have been toned down somewhat. Nevertheless she dies before revealing the secret of her three-card trick. He is on top of her again as the Countess lies in state on her bier (which might hint at something else entirely?) before she hauntingly rises to tell him what he wants to know, or so he believes, in order for him to save Lisa by marrying her.
The climactic final scene is excellently staged and truthfully if The Queen of Spades – which I have only seen a few times over forty years at the opera – hadn't already weaved it spell up to this point and totally captivated me, this denouement sealed the deal for this opera. Here around the central card table and surrounded by those slot machines Hermann brandishes a gun and holds the room hostage while he sings about how life is just a game. Soon he realises he has been tricked and the ace he anticipated is only the queen of spades; meanwhile Lisa's dead body has been brought in for Yeletsky to grieve over. Hermann begs forgiveness and shoots himself while all concerned sing 'Lord, forgive him!' and the closing bars are Wagnerian and redemptive.
As hinted at above both singing (albeit heard through loudspeakers) and acting was of the highest possible standard from a cast who were largely unknown to me before this performance. Elena Guseva matched Dmitry Golovnin's Hermann in dramatic credibility, powerful singing and tormented anguish. Her resignation during Lisa's concluding 'I am worn out by grief' was palpable. Given our current #MeToo sensibilities Hermann could be considered to stalk and groom Lisa and Golovnin's portrayal of this increasingly wide-eyed and mentally unstable character was chilling. Even more impressive was how Golovnin's voice was tireless, impassioned and secure during what is a very long role.
I have commented already on Borodina's remarkable stage presence. Boris Pinkhasovich brilliantly conveyed a deepfelt concern for Lisa in Yeletsky's touching Act II aria ('I love you beyond measure') for which he got a prolonged ovation for his exquisite legato line. Alexey Markov impressed as Tomsky, as did Evgeny Solodovnikov (Surin) and Robert Bartneck (Chekalinsky). I cannot name everyone, but the singing of the principal cast and a remarkable chorus helped to make this a memorable performance. I will however single out Monika Bohinec who caught the ear as Polina (and Daphnis in the pastoral) because of her sumptuous, effortlessly low mezzo-soprano.
Perhaps the star amongst stars of this The Queen of Spades was – that most marmite (you either like him or not) of conductors – Valery Gergiev. His fluttering hands energised the Orchestra of the Vienna State Opera into a consummate account of Tchaikovsky's symphonic and romantic score that was idiomatic, pliant, darkly expressive, yet without undue sentimentality. Gergiev emphasised the soaring – on occasions oddly Italianate – melodies of The Queen of Spades and exposed, unsurprisingly, his and the opera's affinity with the soul of Mother Russia.
Jim Pritchard