Germany R. Strauss, Der Rosenkavalier: Soloists, Chorus and Orchestra des Bayerisches Staatsoper / Vladimir Jurowski (conductor), Nationaltheater Munich, 11.5.2022 (ALL)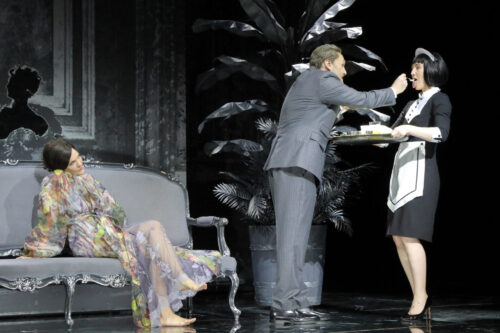 Production:
Production – Barrie Kosky
Set design – Rufus Didwiszus
Costume design – Victoria Behr
Lighting – Alessandro Carletti
Chorus director – Stellario Fagone
Dramaturgy – Nikolaus Stenitzer
Cast included:
The Marschallin – Marlis Petersen
Baron Ochs auf Lerchenau – Christof Fischesser
Octavian – Samantha Hankey
Herr von Faninal – Johannes Martin Kränzle
Sophie – Liv Redpath
Marianne Leitmetzerin – Daniela Köhler
Valzacchi – Ulrich Ress
Annina – Ursula Hesse von den Steinen
A police inspector – Martin Snell
An Italian singer – Galeano Salas
Munich's Bayerisches Staatsoper has such a close association with Richard Strauss's Der Rosenkavalier that one may be tempted to forget that it was created in Dresden and not in Munich (nor in Vienna). Much of it is due to the impact of the legendary Carlos Kleiber/Otto Schenk production premiered in 1974. Munich was a place where these fabulous artists could work together to refine and deepen a production with revivals that received the care of premieres. Generations of Strauss afficionados made the Munich Pilgrimage to attend the Kleiber/Schenk Rosenkavalier miracle. There exists an official DVD and unofficial CDs of performances and they are simply miraculous. After Kleiber's passing, the production was maintained. Outstanding artists such as Anja Harteros and Kirill Petrenko were involved in revivals, and it was only in 2018 that the production had its final run (review click here).
Barrie Kosky's new production was initially presented for a single time with no audience during the Covid lockdown (review click here). As Serge Dorny explained to Seen and Heard in an interview, this was performed in an orchestration with reduced forces. Accordingly, normal rehearsal time was allocated for this revival and Kosky was present as well, so what we had actually was representative of all new productions in Munich.
For Kosky, the main theme of the work is the passing of time. The stage opens for the first act not with a large bath but a clock from which the Marschallin and Octavian emerge, whilst Act II begins with Sophie slamming a loud alarm clock to quietening it and Act III with the sounds of Swiss cuckoo clocks. While these may feel like slapstick ideas, Kosky's conception is actually a serious one. In settings in Act I are black, white and grey, the only touch of colour being the Italian singer whose second aria triggers the realisation of the passing of time for the Marschallin. It is a profound moment which is very theatrical and really works well in the context. One of my friends hinted at the production being more August Strindberg than Hugo von Hofmannsthal.
There is a similar degree of subtlety in the second act where Sophie is daydreaming of her future. Baron Ochs's biggest sin or mismatch is leering after Sophie who lives in a world of eighteenth-century paintings, books about Austria and who is wooed by Octavian coming from an out-of-this-world carriage. No wonder she is only too happy to have try to have Ochs disappear from the bed he is lying on and hopefully her life.
After these two intriguing acts, the last one is a little less successful. The idea of a theatre within a theatre and the comedy element are rather overdone but when the magical closing pages are played out, one can finally appreciate the conception and the music.
Unlike what Kleiber or Petrenko did, General Music Director Vladimir Jurowski gave us Der Rosenkavalier without the usual cuts. The performance started at six and ended well past eleven. There was a great deal of text, many conversations and the opened-up cuts added little to the story or brought us any otherwise unmissable music.
There was a lot of energy from the orchestra throughout the evening and many special moments. When the Marschallin starts her aria: 'Die Zeit, die ist ein sonderbar Ding' the orchestra had a wonderful aura. The pacing of the final trio showed the quality of the relationship Jurowski has developed with his singers. Only at the beginning of final act could one detect some forcing.
This is Munich and the cast was of a high standard. Samantha Hankey was a strong Octavian, vocally and dramatically. When disguised as the chambermaid 'Mariandel', on purpose she overdid the comedy to great effect and the end of Act I had more drama than usual thanks to her strong presence. Liv Redpath (a graduate of Harvard University and The Juilliard School) had silvery high notes and nice phrasing. Munich is a place where we have had some of the strongest Sophies: Lucia Popp made it a specialty, Barbara Bonney made her mark here and Redpath is a worthy successor.
Johannes Martin Kränzle was a younger Faninal than usual, in many ways this is the real bad guy of the work: an arms dealer who is ready to sell his daughter to allow access to high society. Christof Fischesser was a young low-key Ochs, careful with words and rather understated. Once again, both were great fits with Kosky's conception. Galeano Salas, dressed like Louis XIV and straight out of a baroque opera delivered his cunningly difficult tenor aria with some gusto and it was a surprise when he did not receive a curtain call at the end of Act I.
Marlis Petersen displayed many of her usual qualities; words were clear and high notes were very secure. She looked elegant and is definitely a very convincing actress who made much of Kosky's ideas. However, something was missing, hers was a performance, if not perhaps cold, but rather more 'calculated'. Maybe this is because the production is not keen on sentimentality or maybe this is how Petersen sees the Marschallin, but something was not quite there for me.
For this performance in the middle of the week, the theatre was full. Munich reserves seats and offers a scheme for young audiences to be able to attend operas at competitive prices. There were many whoo certainly had experienced a Rosenkavalier from another era but there were many for whom this will be their reference for such a beloved masterpiece. It was a triumph for the artists, the older generation enjoyed the new insights, the new one saw and heard a great work presented with care, originality and eloquence – the start of a new era then?
Antoine Lévy-Leboyer