United Kingdom Here Come The Boys: Southend Cliffs Pavilion, Essex, 22.6.2022. (JPr)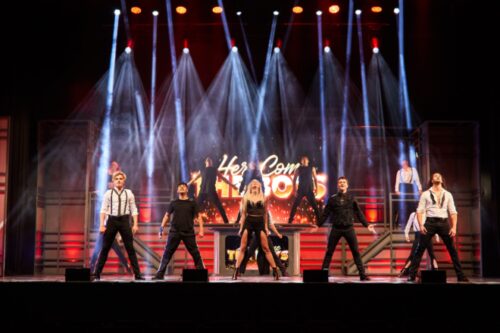 Lead dancers – Graziano di Prima, Nadiya Bychkova, Nikita Kuzmin, Pasha Kovalev and Karim Zeroual
Partnered by – Giada Lini (di Prima), Margot Weeda (Kovalev), Nicole Wirt (Kuzmin) and Scott Coldwell (Bychkova)
Ensemble dancers – George Michaelides, Mick Scott, Natasha Mould and Rose Wild
Show director and Choreographer – Gareth Walker
Musical director – Matt Howes
Lighting designer – Leigh Mulpeter
Sound design – Tom Cox, Keifer Spencer
Costume stylist – Carol Howard
I began a recent dance show review with 'A bit like London buses – and in an equally good way – when one dance show involving Strictly Come Dancing stars past or present has come and gone at Southend's Cliffs Pavilion then another comes in for one night not long after.' So Aljaž Škorjanec, Janette Manrara and Oti Mabuse have recently come and gone and Strictly Presents: Keeep Dancing! is there soon. Now it was Here Come The Boys and as producer Steven Howard explains in the glossy programme: 'This new production follows our successful run at the London Palladium back in May and June of last year. Back then we performed a run of 13 shows albeit to socially distanced audiences. The reaction from everyone involved: the cast, crew and audiences was one of mutual relief at being back in a theatre … that all seems like a distant blur in our rear-view mirror … Our "famous five" promise to deliver a memorable evening with show stopping moves.' I mention this for two reasons, those Palladium shows were fondly referred to several times as four of the five dancing at the Cliffs Pavilion (Graziano di Prima, Nadiya Bychkova, Pasha Kovalev and Karim Zeroual) were there and the phrase 'a memorable evening with show stopping moves' was no mere producer hyperbole!
I arrived between shows with many of those involved in Here Come The Boys eating outside the Italian restaurant opposite the theatre, it would be fascinating to know what refuelling they did to get them through a second show that lasted well over two hours (excluding the short interval) of virtually non-stop, energy sapping dancing.
As is the nature of the best of these shows – which this is, if not the best I have seen – Here Come The Boys is rather like an unremitting dancercise DVD performed live and I am sure those sitting in the Cliffs Pavilion might have lost some weight just by being there to watch it. Give or take some additions (such as the freestyle couple's choice) basically the style of ballroom dancing on Strictly and replicated in this show is called 'International style' and this has been danced in competition since 1920. It has two categories: Standard (includes the Waltz, Tango, Foxtrot, Quickstep, and Viennese Waltz) and Latin (Cha Cha, Rumba, Samba, Jive, and Paso Doble). Several of the dancers in Here Come The Boys have spent a lifetime training to compete against other dancers and this show allows them now to express and display their love and passion for their art form without being judged … except, more about that later.
The set is on two levels with plenty of room for the dancers in front of an LED screen between two podiums separated by a walkway. There is a discrete use of video to welcome the leading dancers but mostly what we see is the colourful and pulsating graphics familiar from discos across the decades. The recorded music is frequently of the electric dance mix type with some songs I recognised – and some I didn't – in mashed up medleys that right from the start are upbeat and get the audience clapping along. It is a fabulously fast-and-furious show (directed and choreographed by Gareth Walker) with rapid costume-changes. There is lots of Samba-ing and Salsa-ing, intricate lifts and legs kicking upwards or flying akimbo.
Some sections are variously introduced on stage or named in the programme as 'Percussive Energy', 'Idols', 'Latin Fiesta!', 'Swing Section', or 'After Hours' for instance, where the music and dancing sets the mood and takes you on an individual journey. Occasionally it relies a bit too much on macho, often bare-chested, posturing amongst the men, though then again, the show is called Here Come The Boys! Truth-be-told, there is a feeling you have seen many of the routines before – and even earlier in this show – but all the dancers are so talented and full of that 'love and passion' that Here Comes The Boys becomes totally engrossing and gets everyone on their feet long before it ends.
A few particular highlights – apart from everything the five headline dancers did – were the supposed 'battles' where each of the men with their regular partners in the show attempted to outdo each other in a randomly chosen – believe that if you believe anything – dance style. On hand was Nadiya Bychkova as co-host to give us in the audience a few tips as to what to look out for in the dancing, because it will be the one who is acclaimed the loudest and longest who will be declared the winner of the battle. Zeroual welcomes the dancers to the walkway – described as the 'bridge of doom' – as he jokingly says votes are counted and verified. Not surprisingly (!) each dancer wins one of the battles, Nikita Kuzmin (Jive), Graziano di Prima (Salsa) and Pasha Kovalev (Ballroom).
There is more chance to catch one's breath after the interval, never more so than when the elegant Bychkova (who dances tirelessly during the two hours, including continuously for 9½ minutes at one point) and Scott Coldwell – both costumed in black – brought an expressive contemporary feel to Billie Eilish's Bond song 'No Time To Die'. After a typically full-on ending, or at least what seemed the ending, the entire cast returned wearing white to dance to Whitney Houston's 'Higher Love' as an obvious tribute to the ongoing situation in Ukraine. For a few brief moments compatriots Bychkova and Nicole Wirt danced together, bonding over the situation in their homeland.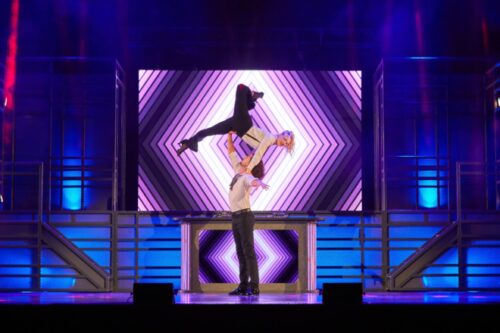 Nikita Kuzmin is also Ukrainian and was distinctly more personable on stage than he seemed during his recent freshman year on Strictly. Pasha Kovalev still oozed class in all he did, but hat's off to Graziano di Prima and his partner Giada Lini for all her incredible gravity-defying lifts. At the start of July the tour will pause briefly to allow them to marry in Sicily and they are to be wished all the happiness in the world.
Do go and see the unmissable Here Come The Boys if you can, if you think it is just another Strictly show you couldn't be more wrong.
Jim Pritchard
For more about the Here Come The Boys tour click here.