United Kingdom Lise Davidsen (soprano), Freddie De Tommaso (tenor) and James Baillieu (piano): Barbican Hall, London, 30.5.2022. (JPr)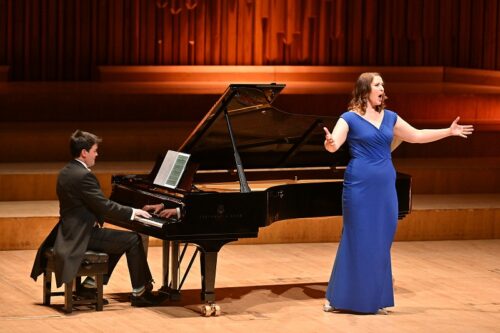 In the Barbican's publicity for this duo recital they began 'Lise Davidsen is the definition of box office in the opera world right now. And we've got the perfect vocal partner for her in Freddie De Tommaso, "a young tenor of limitless promise" (The Times)'. Part of this was true and De Tommaso announced himself in spectacular fashion to me and any others who had not heard him live before. Sadly though, Davidsen's star power was not enough to fill the Barbican Hall as further evidence of a continuing post-Covid reluctance of audiences to return to theatres, opera houses and concert halls. Obviously, the current cost of living crisis will play a part in this, too, as tickets can often be quite prohibitively expensive these days.
Those who were not at the Barbican to hear Davidsen and De Tommaso missed a treat even though it was quite an oddly eclectic programme. It now seems de rigueur that Davidsen will begin most of her concert programmes with 'Dich teure Halle' though engagingly she suggested afterwards that this was to show it was not going to be a Grieg-Abend. It was this aria that stunned me when I was there at Covent Garden when she won Plácido Domingo's Operalia 2015. Much Wagner has followed, though there is the impression she is resisting going straight to Isolde and Brünnhilde for a greater variety of roles. There has been a recent Ellen Orford (Peter Grimes), and soon she will sing Giorgetta (Il tabarro), The Marschallin (Der Rosenkavalier) and Elisabeth (Don Carlo). Of course there continues to be more Sieglindes (Die Walküre) and Elisabeths (Tannhäuser) – such as at Bayreuth this summer – but is does suggest a desire not to be pigeonholed.
Despite being part of  Davidsen's Artist Spotlight series at the Barbican, it was interesting how willing she was to step back and let that spotlight during their recital focus on the exceptionally talented young British-Italian tenor Freddie De Tommaso whose debut album of classic Italian and Neapolitan songs, Passione, has been such a hit. He also came to particular prominence when he saved a Tosca performance at Covent Garden last December when the original Cavaradossi fell ill during it. De Tommaso is still not out of his twenties and with a voice like his, as Davidsen suggested, he is the voice of this and coming generations. In the end this concert became more like Freddie De Tommaso with Lise Davidsen and it seemed she wanted it no other way.
Firstly I must praise their accompanist James Baillieu whose virtuosity and musicality will never be questioned but it was the sense of theatre and heightened emotion he added to several of the works we heard sung which truly impressed me, and I wish more pianists were like him.
Clearly Davidsen's 'Dich teure Halle' allow her to settle any nerves and bring her huge voice into focus. There was a suggestion that Davidsen's top notes are rather all or nothing but this was dispelled during her programme and although that did intrude on an otherwise plaintive 'Vissi d'arte', her 'Ave Maria' was as prayerful as it must be, also heart-wrenching and with an odd ineffable beauty. The opera she sang – bar a more passionate declaration of love for Amelia and Riccardo from Verdi's Un ballo in maschera – was essentially downbeat, with Amelia, fearing death, wanting to say farewell to her son and the tortured in love Liza awaiting Herman in Tchaikovsky's The Queen of Spades and these were sung consummately. Davidsen clearly relished the lighter fare in the second half and its relief from all the misery, enjoying herself immensely with Ernest Charles's 'When I have sung my song for you' (as if addressing everyone in the audience), 'I could have danced all night' from My Fair Lady and her brief waltz with De Tommaso during their charming The Merry Widow duet ('Lippen Schweigen'). Her encore  was Grieg's 'Våren' (from 12 Songs, Op.33-2) sung with feeling and an inner glow.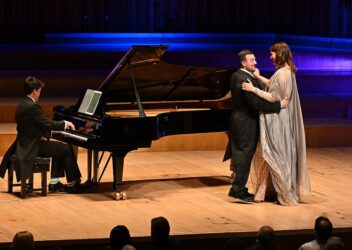 As for De Tommaso, memories came flooding back of a memorable recital by Carlo Bergonzi that I heard at Covent Garden in 1984 when the great man was at the height of his distinguished career. I remember reading once how someone thought Bergonzi had a voice to break the heart and that undoubtedly what De Tommaso already has. The young tenor took to the platform looking and sounding very much like an 'old soul' and having begun earnestly with a Verdi rarity, 'La mia letizia infondere' (I Lombardi), he was equally impassioned for the heart on his sleeve verismo of some popular tenor party pieces, such as Giordano's miniature musical marvel 'Amor ti vieta' (Fedora) and Cilea's Frederico's Lament. But it will be the ardent Tosti songs and Salvatore Cardillo's 'Core'ngrato' that I will remember longest from his singing (most are on Passione). De Tommaso has a powerful lyric voice that he maintains exquisite control over and an impeccable technique for someone relatively young. He is sensitive to dynamics, his tone is golden and his phrasing sublime. De Tommaso's encore was Sir Arthur Sullivan's 'The Lost Chord' which was sung with quasi-religious fervour.  Sadly there was to be nothing from Tosca from him on this occasion.
Obviously this one performance and the success of his recording does not make him an instant legend, nevertheless the future for De Tommaso seems bright.
Jim Pritchard
Wagner – 'Dich teure Halle' (Tannhäuser)
Verdi – 'La mia letizia infondere' (I Lombardi); 'Teco io sto' and 'Morrò, ma prima in grazia' (Un ballo in maschera); 'Cielo pietoso rendila' (Simon Boccanegra); 'Ave Maria' (Otello)
Giordano – 'Amor ti vieta' (Fedora)
Puccini – 'Vissi d'arte' (Tosca)
Cilea – 'Lamento di Federico' (L'arlesiana)
Tchaikovsky – 'Uzh polnoch' blizitsya' and 'Akh! istomilas ya gorem' (The Queen of Spades)
Ernest Charles – 'When I have sung my song to you'
Landon Ronald – 'O Lovely Night'
Tosti – 'L´alba separa dalla luce l´ombra'; 'Non t'amo piu'; 'Ideale'
Salvatore Cardillo – 'Core'ngrato'
Loewe – 'I could have danced all night' (My Fair Lady)
Lehár – 'Lippen Schweigen' (The Merry Widow)