Spain Bellini, Norma: Chorus and Orchestra of the Gran Teatre del Liceu / Domingo Hindoyan (conductor), Gran Teatre del Liceu, Barcelona, 22 & 23.7.2022. (JMI)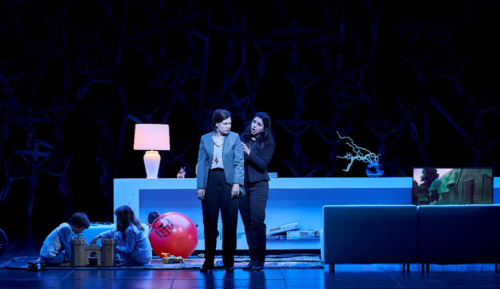 Production:
Director – Álex Ollé
Sets – Alfons Flores
Costumes – Lluc Castells
Lighting – Marco Filibeck
Chorus director – Pablo Assante
Casts:
Norma – Marina Rebeka / Sonya Yoncheva
Pollione – Riccardo Massi / Airam Hernández
Adalgisa – Varduhi Abrahamyan / Teresa Iervolino
Oroveso – Marco Mimica
Clotilde – Nuria Vilà
Flavio – Néstor Losán
This Vincenzo Bellini masterpiece was last seen at the Liceu in 2015, when Sondra Radvanovsky and Gregory Kunde performed in the main cast and both triumphed in their roles. On this occasion, the interest was centered on the alternating Normas, Marina Rebeka and Sonya Yoncheva.
The first cast chronologically featured Marina Rebeka as the protagonist, but it is difficult for me to consider it as the 'first cast'. Sonya Yoncheva is currently a leading figure in the lyric world and, if she didn't sing Norma earlier, it was due to her commitments elsewhere, especially a Munich concert with William Christie and the one a few days earlier in Madrid where she accompanied Plácido Domingo.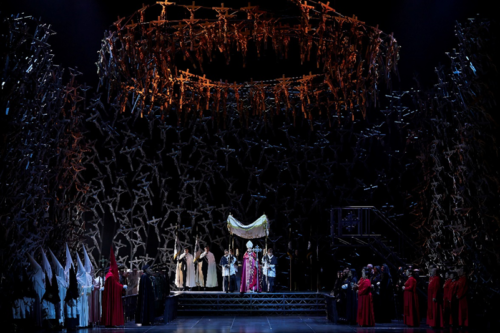 The staging by Alex Ollé (one of the artistic directors of La Fura dels Baus and currently artist-in-residence artist at the Liceu) comes from London's Covent Garden, where it premiered in 2016. It takes the action out of the historical context and brings it up to modern times, which always presents problems. The Druids become a sort of religious-military sect, located more in Spain than in France, with hoods, impaling and the like. The sets are rather original, with almost the entire opera taking place in an outdoor space; the only decoration, apart from an altar, is a profusion of Crucifixes. In addition, Norma's house appears at the beginning of Act II in a modern setting with sofas and a television. The costumes offer a profusion of military and ecclesiastical uniforms (especially women's) for the Druids and normal street clothes for the so-called Romans.
Domingo Hindoyan, whose conducting has always been convincing, was last at the Liceu three years ago leading Luisa Miller. I would highlight his reading of Act II where the emotion, which lacked somewhat in Act I, was superb. He took great care of the singers, which is very important in a bel canto opera like this one. Under his baton, both the Orchestra and the Chorus of the Gran Teatre del Liceu did well.
Norma was performed on the first evening by soprano Marina Rebeka, who has an attractive voice, brilliant in the upper part, and resolved the score's coloratura demands. Marina Rebeka is a lyrical soprano, and there are moments when a more dramatic voice than hers is needed. To all this we must add a good stage temperament, which makes her worthy of her triumph. To the audience's surprise, she did not come out to receive the well-deserved applause in the final bows, where Domingo Hindoyan asked the audience for silence and announced that she would have come out, but that she was indisposed. Indeed, she did come out, supported by the conductor and another person, and it is hard to understand how she could have concluded the performance in that state. Hats off to Rebeka for her great professionalism!
Sonya Yoncheva's voice is darker than Rebeka's, which makes her better suited for the character of Norma. I have to say that my expectations are very high when Yoncheva sings, but here I was somewhat disappointed in Act I though fully satisfied and moved in Act II. It is not easy to overcome the difficulties of this role, and Yoncheva was just perfect in the second act, where she gave a performance that will be difficult to forget. In the first act she was good, but not exceptional, and it seemed to me that she fell short in her interpretation of the always anticipated 'Casta diva'. In any case, in two days we heard two outstanding interpreters of Norma, which has to be stressed because it doesn't always happen this way.
Riccardo Massi as Pollione replaced the initially announced Paolo Fanale. I had the opportunity to see him in this same character in Munich three years ago, and my impression remains the same: he has a spinto lyrical voice and sings without nuance and with open sounds, which becomes monotonous and uninteresting.
The second Pollione was tenor Airam Hernández, who was uneven. Pollione's entrance on stage with his aria and cabaletta is not easy to deliver, and Hernández fell short, offering a very tight high register, avoiding the highest notes and going out of tune on more than one occasion. He improved somewhat in his duet with Adalgisa, but he continued to struggle. He was at his best in the duets with Norma in the second act.
Adalgisa in the first cast was mezzo-soprano Varduhi Abrahamyan, who gave a solid performance, exhibiting musicality and an attractive voice in her duets with Norma and Pollione. Whenever I see this opera, I remember Fiorenza Cosotto, who always got huge ovations in Adalgisa's long recitative. Varduhi Abrahamyan plays in another league. The second Adalgisa was Teresa Iervolino, who was good in general and sang with gusto, but her big handicap is the high notes, which are deficient.
In the first cast, Oroveso was to have been Nicolas Testé, but he cancelled due to illness and was replaced by Marco Mimica, who sang nicely both days. In the secondary characters, Nuria Vilà was fine as Clotilde, and Néstor Losán was a musical Flavio with a light voice.
José M. Irurzun