United States Tanglewood 2022 [1] – Janáček and Dvořák: Seiji Ozawa Hall, Tanglewood, Lenox, 7.7.2022. (CSa)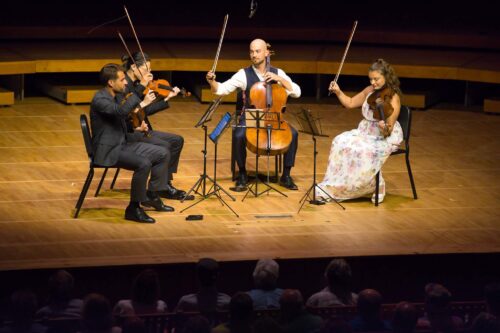 Janáček – The Diary of One Who Disappeared, for tenor, contralto, three female voices and piano
Paul Appleby (tenor), Emily Marvosh (contralto), Sarah Brailey and Sonja Tengblad (sopranos), Clara Osowski (mezzo-soprano), Members of the Lorelei Ensemble (artistic director: Beth Willer), Emanuel Ax (piano)
Dvořák -String Quartet No.13 in G, Op.106
Dover String Quartet (Joel Link, Brian Lee [violins] Milena Pajaro-van de Stadt [viola], and Camden Shaw [cello])
The mountains, forests and lakes of the Berkshires in Western Massachusetts provide a suitably Bohemian setting for the first of the Tanglewood Festival's recital series: Pathways from Prague. Leos Janáček's sensual song cycle, The Diary of One Who Disappeared, paired with Dvořák's lyrical String Quartet No.13 in G, resulted in an evening of rich and evocative Czech music.
The Diary of One Who Disappeared – part drama, part miniature opera – is based on 22 verses of a poem by Ozef Kalda, discovered by Janáček one day while reading his newspaper, which he set to music in 1917. It tells the story of Janik, a farmer's son who abandons his family, community and self-control after falling for Zefka, a 'black' gypsy girl, with whom he becomes besotted. Mirroring the composer's unrequited love for Kamila Stösslová, a married woman 40 years his junior, the cycle depicts Janik's feverish struggle with his illicit passions, his seduction, and feelings of filial guilt, when the boundaries surrounding race and sexual relations at that time are shattered.
The cycle consists of a series of deceptively simple Slavic folksongs, expressed through the melodic musical cadences and rhythms of the Czech language. Yet the accompanying narrative, recounted mainly by Janik, is psychologically complex. In this performance, Janik was sung by acclaimed lyric tenor Paul Appleby, whose brilliant, jewel-like upper register and impeccable diction easily overcame the work's huge musical and linguistic demands. In particular, his account of the second poem Ta černá cigànka (That black Gypsy) captured the all-consuming obsession which drives the first part of the cycle, and which reaches a dramatic peak in song 6, Hajsi!, vy siví volci (Hey there, my grey oxen). The work assumed an operatic intensity when joined by the lovely voices of contralto Emily Marvosh and fellow Lorelei Ensemble members, sopranos Sarah Brailey, Sonja Tengblad and mezzo Clara Osowski, in a heavenly rendition of the tenth song, Bože dálny, nesmrtelny (God, distant, immortal). Appleby's account of the songs in the final third of the sequence convincingly evoked Janik's sense of utter hopelessness and despair until the last one, Sbohem, rodny kraju (Farewell dearest land), which expressed a new-found, steely resolution. Excellent vocal performances were underscored by Emmanuel Ax, who provided an intelligent, sensitive and finely judged piano accompaniment.
Janáček was a close personal friend of Dvořák and claimed that 'nothing will ever break that bond'. Fittingly, it was Dvořák's lyrical String Quartet No.13 which occupied the second half of the concert. Completed in late 1895, soon after his return from New York, the work draws on the classical tradition of Haydn and the romanticism of late Beethoven, Schubert and Brahms. Yet the hand that wrote this work is unmistakably Dvořák's. Lyrical themes abound, and the vivid colours, and dramatic changes in mood and texture which marble through the piece, were eloquently expressed by the members of the renowned Dover Quartet. The distinctive opening trills and falling arabesques of the Allegro moderato first movement were executed with courtly delicacy, and the fragmented and gently rocking melodies which followed were played with rare warmth. The slow second movement, an Adagio of shifting light with alternating passages of simplicity and complexity, were perfectly captured, while joyful exuberance characterised the Molto vivace third movement. The Finale, in which we glimpsed fragments from the first movement, was beautifully realised: nothing less than a masterclass in ensemble playing.
Chris Sallon