United Kingdom Wagner, Das Rheingold: Soloists, Orchestra of Regents Opera / Benjamin Woodward (conductor). Grand Temple, Freemasons Hall, London, 13.11.2022. (JPr)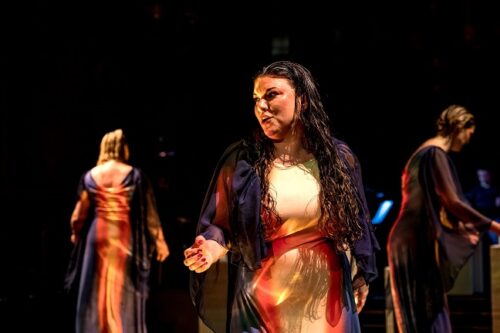 Production:
Director – Caroline Staunton
Designer – Isabella van Braeckel
Music director – Ben Woodward
Studienleiter – Paul Plummer
Cast:
Woglinde – Jillian Finnamore
Wellgunde – Justine Viani
Flosshilde – Mae Heydorn
Alberich – Oliver Gibbs
Wotan – Keel Watson
Fricka – Ingeborg Novrup Børch
Loge – James Schouten
Donner – Andrew Mayor
Freia – Charlotte Richardson
Froh – Calvin Lee
Mime – Holden Madagame
Fasolt – Henry Grant Kerswell
Fafner – Craig Lemont Walters
Erda – Mae Heydorn
Ever since I first saw them in their original home at Fulham's St John's Church, Fulham Opera (now reincarnated as Regents Opera) have tended to punch above their weight. Having already achieved a Ring cycle there between 2011 and 2014 – albeit only accompanied by piano and a few instruments – they are ready to challenge London's two major opera companies by staging a new cycle between now and 2024. Barrie Kosky's new Ring at Covent Garden will begin with Das Rheingold in September 2023 but the rival Richard Jones one by English National Opera is likely to fall at the next fence because of all their current financial woes after just Die Walküre and the forthcoming Das Rheingold. (This might come as a blessed relief to the co-producing Metropolitan Opera, but that is another story!)
'Punch above their weight' is what Regents Opera continue to do – at least musically – with this Das Rheingold and Ben Woodward's new arrangement is brilliant. For me, the cast and the orchestra of 19 (including the hall's magnificent organ) surpass the Wagnerian soundworld I often get from Longborough Festival Opera with their infinitely better resources. As usual it is impossible to know where this Ring is headed from just this Rheingold. I was always going to refer readers to a recent Berlin review (click here) of this 'preliminary evening' to the Ring in a production by Dimitri Tcherniakov before realising that Regents Opera's director, Caroline Staunton, was his assistant there. (I also only read her programme essay attempting to explain the Konzept for her Ring on the way home, though happily I had worked that out, such as it currently is.)
Kudos to Regents Opera for presenting this Das Rheingold in between the audience filling the Grand Temple of London's Freemasons Hall which is as imposing a venue as, I suspect, they have ever performed in. There is a raised rectangular platform and on it were several pedestals with modest – and eclectic – artworks on most of them (was that a small Snoopy I spotted in the distance?). My first thoughts were a museum as the Rhinemaidens roamed around examining them before Alberich emerged from a trough in the centre of the performing space (which could be covered and uncovered as required). The blue lighting suggested the Rhine and so began the problems with this staging, as there was no real space for Alberich's pursuit of the Rhinemaidens and they just wandered round and round.
Staunton is clearly as disciple of Tcherniakov but whereas his Rhinemaidens are laboratory assistants with clipboards at the start, Staunton's just look, well, like Rhinemaidens in their colourful flouncy gowns. So it continues: we might be seeing three floors (River Rhine, mountaintop and Nibelheim) of a gallery – as the objet d'art are swopped about, though the characters inhabiting them look as they might do in any Rheingold, with recognisable costumes and just differing makeup, face paint or tribal markings. Just like Berlin, as the opera proceeds, apart from these costumes there is very little else that Wagner might recognise apart from a ring. Its power appears to be an illusion as are the rest of the magical events we see. Tcherniakov has no 'real' gold or Tarnhelm, and neither does Staunton although Freia will eventually be swathed in gold foil in an attempt to hide her. Staunton provides a small podium (apparently based on the Fourth plinth in Trafalgar Square) where we get some performance art. Notably this involves a bare-chested Alberich – Oliver Gibbs and not a pretty sight, sorry! – having smeared himself with gold body makeup miming putting something on his head and turning into a dragon and then a frog. Oddly – yet in a particularly effective scene – Erda in white approached through the orchestra like the Ghost of Christmas Past and one should wonder what this had to do with anything else we saw, but I repeat, it is probably much too early to worry about this. Elsewhere, we do see one of Freia's apples as a silver – though not gold – object, Donner puts down a hammer on one of the pedestals (although it looks like a handle had been put into a solid piece of tiramisu) and there is a spear there throughout the opera which Wotan touches once (only as the last notes of Rheingold die away).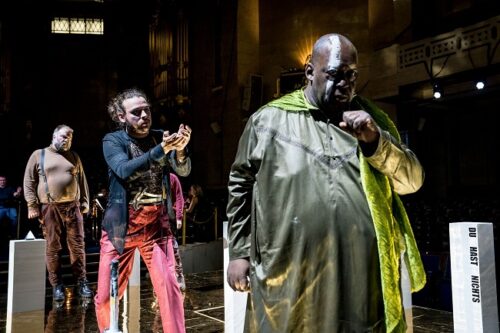 The playing by the orchestra is virtuosic and Woodward conducted a fluid, pacey, vibrant account of the score with an instinctive feel for its dramatic structure. The novel solution to the anvils for the Descent and Ascent from Nibelheim are almost worth your ticket money alone and sound much better than heard in (even) more prestigious venues. I had only minor quibbles about some of the cast – some singing their roles for the first time – though personally, I would have wished Regents Opera to have given British singers more opportunities; nevertheless the Rheingold ensemble is especially strong. The always reliable Keel Watson is a commanding Wotan and gives a thoughtful portrayal of a god who thinks he has everything under his control, whilst unwittingly sowing the seeds of his own destruction. Oliver Gibbs surpasses anything else I have heard him sing with a fearsomely aggressive and feeling hard done by Alberich.
I also particularly liked James Schouten's well-sung Loge, who was the master manipulator this character must be, with his Byronic hair there was more than a suggestion of glam rock about him. Also impressing were Ingeborg Novrup Børch with her attractive mezzo voice as the reproachful, possessive Fricka, Henry Grant Kerswell was the lumbering lovelorn Fasolt (think Lennie in Of Mice and Men), and Charlotte Richardson sang Freia with a wonderfully fresh sound. One of the best singers for me was Mae Heydorn who was Flosshilde and also Erda when she eerily intoned her prophecy of the gods' eventual doom with dark, sonorous tones. The voices of the Rhinemaidens (Jillian Finnamore, Justine Viani and Mae Heydorn) blended well and Holden Madagame's Mime, as well as Andrew Mayor's Donner were strongly sung. Craig Lemont Walters didn't make a great impression as Fafner on this occasion and Calvin Lee – whose extensive biography suggests he is a character tenor – sounded as if he was auditioning for Siegfried.
I always recommend Regents Opera performances and please see either of the two remaining performances (on 17 and 19 November) and the subsequent Ring operas and see how it all works out in the end.
Jim Pritchard