United States Gluck, Orpheus and Eurydice: Soloists, Chorus and Orchestra of San Francisco Opera / Peter Whelan (conductor). War Memorial Opera House, San Francisco, 15.11.2022. (HS)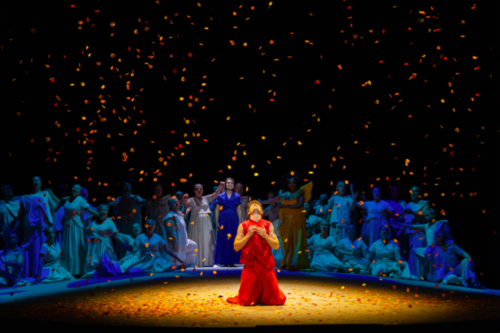 Production:
Director – Matthew Ozawa
Sets – Alexander Nichols
Costumes – Jessica Jahn
Choreographer – Rena Butler
Lighting – Yuki Nakase Link
Chorus director – John Keene
Fight director – Dave Meier
Cast:
Orpheus – Jakub Józef Orliński
Eurydice – Meigui Zhang
Amore – Nicole Heaston
Dancers – Alysia Chang, Brett Conway, Marian Faustino, Livanna Maisten, Christopher Nachtrab, Maxwell Simoes
On the downbeat of the overture to Gluck's Orpheus and Eurydice, a red-robed figure twirls on a handstand, his tumbling moves creating an athletic dance. It takes a moment to recognize that it is Jakub Józef Orliński, whose clarion countertenor voices the title character in San Francisco Opera's provocative new staging.
Dance plays an outsized role in director Matthew Ozawa's production. Rena Butler's choreography adds two trios of dancers to enhance Orliński's talent for movement (he is a champion break dancer as well one of the world's leading countertenors), and that of soprano Meigui Zhang as Eurydice. The dancers, costumed in colors slightly different from those of the characters, engagingly reflect subtly different attitudes as the story unfolds. At one point they intertwine their bodies to form the gates of hell.
The staging plays on a slowly rotating turntable emblazoned with projected patterns that are actual photos of the workings of the human brain. Along with the trailing dancers, this suggested that the story might all be in the characters' heads, which supports the reasoning behind the feel-good finale, one of the few versions with the lovers reunited.
The costumes, including yards of billowing yellow material worn by the goddess Amore as she drifts from the rafters, and a chorus that moves like a pack of hounds when it portrays the Furies protecting hell, make for a dazzling spectacle. If all that seems a bit much, what could be more Baroque?
The Orpheus story seems to be having a heyday. The tale of a singer whose song is so powerful he could go to hell and back to rescue his wife has beguiled composers since the beginnings of opera. The ones we usually hear (by Monteverdi, Gluck and Offenbach) have gotten quite a few new productions across the globe recently, and Matthew Aucoin's inventive new Eurydice was a hit last season at the Metropolitan Opera. Anais Mitchell's blues-saturated Hadestown made waves on Broadway too, in a different, psychologically profound telling.
San Francisco Opera hasn't staged the story since 1972 (Monteverdi), and the Gluck version only once (in 1959). A 1995 concert version of Gluck's opera (in French with Hector Berlioz's orchestration), featuring Jennifer Larmore and Dawn Upshaw and conducted by Donald Runnicles, won a Grammy Award for a recording.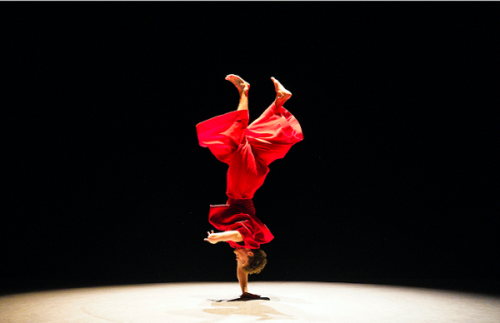 For this go-round, the company went back to Gluck's original 1762 Vienna score. Orliński's countertenor rang out gloriously in Gluck's punishing series of arias and scenes. For more than half of the 80-minute piece, it is pretty much all him, with occasional interruptions from the chorus and Amore, until he finally encounters Eurydice in Act III. There was an almost feral edge to his sound, but he could rein it in for tender moments, especially in the great Act III aria, 'Che farò senza Euridice?'.
Meigui Zhang, who starred in the company's revival last season of The Dream of the Red Chamber, displayed her own dancing chops in some beautifully choreographed moments with Orpheus, especially in the climactic scene in which she cannot understand why Orpheus will not even look at her, or why she must follow him. The sheen of her soprano melded well with Orliński's steely high notes.
Soprano Nicole Heaston, who registered solid success as the Countess in Le nozze di Figaro and Despina in Così fan tutte in the company's recent Mozart/Da Ponte trilogy, made for a charming Amore. She was enchanting in her entrance aria, 'Gli sguardi trattieni', sung from a swing high above the stage, and when she absolved Eurydice for looking back in the deus-ex-machina lead-up to the happy ending during the 'Tendre amour' trio.
The chorus not only moved menacingly as Furies and drifted picturesquely as Lost Souls and Placid Shades, but delivered Gluck's choruses with gusto and precision. The six dancers shadowing the main characters created a remarkable visual complement to the storytelling, their own athletic movements often portraying different aspects of Orpheus and Eurydice's thinking.
Irish-born conductor Peter Whelan, a champion of Baroque historic performance and music director of Scottish Chamber Orchestra, led an energetic performance from the 46-piece orchestra.
Matthew Ozawa, who had recent successes at San Francisco Opera with innovative stagings of Fidelio and Barber of Seville, kept the visuals busy but not so much so that it took anything away from the personal interactions. This was especially true in the climactic final scene, when we could clearly see the anxiety and drama playing out between the title characters.
In the end, as it should be in an opera where music prevails, the brightest aspects were in the impressive voices. And some timely breakdancing.
Harvey Steiman