United Kingdom Verdi, La traviata: Chorus and Orchestra of Opera North / Manoj Kamps (conductor). The Lowry Theatre, Salford Quays. 15.11.2022. (MC)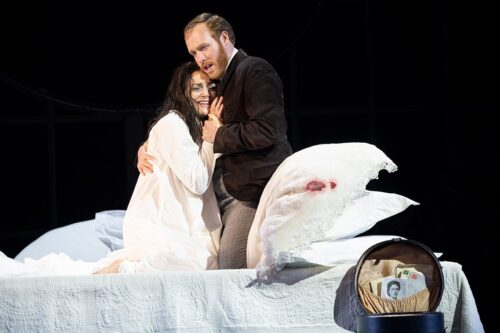 Production:
Stage director – Alessandro Talevi
Set and Costume design – Madeleine Boyd
Lighting design – Matthew Haskins
Choreographer – Victoria Newlyn
Cast:
Violetta Valéry – Máire Flavin
Alfredo Germont – Oliver Johnston
Giorgio Germont – Stephen Gadd
Annina – Amy Jane Payne
Gastone de Letorières – Gavan Ring
Baron Douphol – James Cleverton
Flora Bervoix – Victoria Sharp
Marquis D'Obigny – Nicholas Butterfield
Dottore Grenvil – Matthew Stiff
Celebrated for its enduring popularity, several recent listings I have seen mention La traviata as currently the most frequently staged opera. It was Verdi's eighteenth opera and he collaborated with librettist Francesco Piave to produce a work based on the play La Dame aux camélias by Alexandre Dumas fils. A tragic love story, the heroine is Parisian courtesan Violetta Valéry who through selflessness hastens her own demise from consumption.
This Opera North staging of Verdi's La traviata is a revival of the 2014 production by stage director Alessandro Talevi. The Johannesburg born stage director and his creative team have also produced for Opera North The Turn of the Screw in 2010 and Don Giovanni in 2012. Richard Mantle (CEO) in his programme note explains that Opera North always invites the original director back for revivals and that Talevi had returned for this La traviata.
Having experienced several operas which demonstrated the worst of Regietheater, it was satisfying to experience Talevi's traditional staging that observes the composer's original intention for a mise en scène based firmly in the elegant Parisian salons in the mid-1800s. The sets – although not over lavish – are highly effective together with stylishly designed period costumes all adding vivid colours to the production. Serving little purpose to me and slightly distracting were the rear projections that included tuberculosis bacteria seen though a microscope and a group of men applauding slowly at the time of Violetta's death.
It is often stated that the role of Violetta requires three distinct voices: a coloratura technique for the first act, sweet flavoured lyricism for the second and a highly dramatic voice for the third one. In an outstanding portrayal that had me at the edge of my seat soprano Máire Flavin demonstrated that her voice was able to fulfill all three requirements as she successfully developed the character. Giving a wholehearted performance and maintaining high levels of intensity Flavin produced the weight to cut through the orchestra. Violetta is a role blessed with many magnificent arias and Flavin revelled in the opportunity. Standing out was Flavin's prowess in her high register and she embodied Violetta's heartbreaking emotional and physical suffering. The final act with Violetta on her death bed was as affecting as I have seen. My highlight was her 'Addio del passato' as Violetta realises her death is close and the injection of energy, although fleeting, in 'Parigi, o cara, noi lasceremo' when she was united with Alfredo.
In contrast to the dominant character and stage presence of Flavin's Violetta it cannot be easy taking on the role of lovestruck Alfredo, yet tenor Oliver Johnston can be commended for a focused and highly dedicated performance even if his characterisation was a touch bland. I especially enjoyed Johnston's 'De' miei bollenti spiriti' where Alfredo is excited about his life with Violetta. As Alfredo's father, Giorgio Germont, baritone Stephen Gadd with his elegant bearing undoubtedly looked every inch the gentleman who is concerned with protecting his family from scandal and shame. In fine voice Gadd's steadfast performance was one of utmost sincerity.
Adding to the success of the performance the smaller roles of Annina, Gastone, Douphol, Flora, Marquis D'Obigny and Dr Grenvil were all well cast. Deserving credit too as either a saloniste or courtesan the members of the Opera North chorus were in glowing and unified voice all evening. Manoj Kamps with their convincing tempi and dynamic conducted the Orchestra of Opera North, who rose splendidly to the occasion, in such a successful collaboration.
With Máire Flavin quite outstanding as Violetta this was the most captivating performance of La traviata I have ever seen.
Michael Cookson