United Kingdom The Royal Ballet's A Diamond Celebration marking 60 years of the Friends of the Royal Opera House: Dancers of the Royal Ballet, Orchestra of the Royal Opera House / Koen Kessels (conductor). Broadcast live (directed by Ross MacGibbon) from the Royal Opera House, Covent Garden, to Cineworld Basildon, Essex, 16.11.2022. (JPr)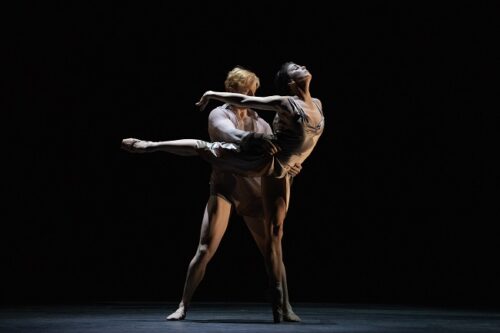 This was a joyful occasion celebrating 60 years of the Friends of the Royal Opera House who as Kevin O'Hare, Director of The Royal Ballet, explained are 'Amazing people and to think we started with a few people – 2000 maybe – at the beginning in the '60s and they're really a huge amount of people [now]. And they care so much about what we do, and I think in the last few years as well, what with the pandemic, and times are hard, and we know we have got [the] support of these people.'
The aim of Dame Ninette de Valois, founder of The Royal Ballet, was to 'Respect the past, herald the future, but concentrate on the present'. So, in this A Diamond Celebration we saw a range of short excerpts or new works covering the six decades since the establishment of the Friends organisation. It was a familiar gala occasion and as usual there were hits and misses. We began in 1960 with the pastoral La fille mal gardée Overture – with prominent flute and piccolo and exquisitely played as everything in the programme was by the orchestra under Koen Kessels – followed by the pas de deux which ends with the famous 'bum lift'. A bounding Alexander Campbell and a vivacious Anna Rose O'Sullivan relished the empty stage. Why – oh why? – despite them being in costume was there so little genuine atmosphere. This was because of the blue background beloved of such ballet galas and surely in 2022 there could have been some projection to suggest Osbert Lancaster's legendary scenic designs?
Kenneth MacMillan's Act I 'Bedroom' pas de deux dated from 1974 and at least there was a desk and chair (but no bed) on a darkened stage. Akane Takada was sensual rather than seductive in trying to get the attention of Calvin Richardson's initially distracted but increasingly aroused Des Grieux, though it wasn't the most passionate of duets. Forward to 2003 and we saw Wayne McGregor's Qualia, the ballet which marked his debut on the Royal Opera House stage. The duet delivered bedroom activity even more gymnastic than MacMillan's. In their white underwear, Melissa Hamilton went through a gamut of leg extensions with the ease of a contortionist and Lukas B. Brændsrød was her extremely accomplished partner. The music by Scanner was repetitive and percussive.
Next was a Royal Ballet premiere, Christopher Wheeldon's 2006 For Four which proved one of the better pieces we saw. Four male dancers in patterned shirts and black trousers, Matthew Ball, James Hay, Vadim Muntagirov and Marcelino Sambé, danced to Schubert's String Quartet No.14 'Death and the Maiden' splendidly played by four soloists from the orchestra. It began with silhouettes against a rose-pink background and after a slow start they leapt and spun with vigour and great joy before all four stopped in a pool of light with arms outstretched. The dancers were at their very best, though Matthew Ball and James Hay stood out.
Four world premieres began with See Us!! Joseph Toonga's first work for the main Royal Opera House stage and supposedly influenced by hip hop, though in the end not particularly so as far as I could see. The filmic score by Michael 'Mikey J' Asante ramped up as it went on and on and on and there was little more to the movement we saw from the dancers in dark clothes than protest, anger, angst, and possibly violence. Then there was a first outing for Pam Tanowitz's deeply disappointing Despatch Duet for Anna Rose O'Sullivan (in white and red) and William Bracewell (in white and black) who cannot be criticised for their committed dancing. There was headache-inducing music from Ted Hearne and against a row of lights O'Sullivan and Bracewell apparently explored the creation of dance, though it looked as if they were going through warm-up routines.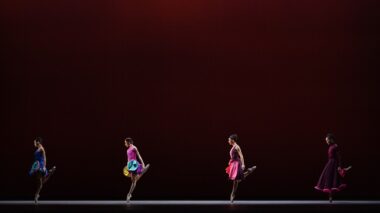 Much more successful was another bedroom duet, concerto pour deux from Benoit Swan Pouffer to some lush Saint-Preux music. This time it was an all-too-short, lyrical and dreamily romantic duet for Natalia Osipova (in pastel-shaded nightdress) who is peerless in this sort of choreography and Steven McRae (in shirt and shorts) who was totally invested in exploring the relationship we were shown between the couple. Equally good was Valentino Zucchetti's Prima, a companion piece to For Four, except now with four ballerinas and deserving of always being performed together. It began in much the same way with silhouettes again a rose-pink background. Costumes for three of the dancers were delightfully multicoloured creations whilst Fumi Kaneko was in a scarlet flamenco dress because she danced to more of Saint-Saëns's Spanish sounding music in the third movement of his Violin Concerto No.3 (wonderfully played by Vasko Vassilev) which she did with great flair. It is a show-offy piece with four seeming friends, Francesca Hayward, Kaneko, Mayara Magri and Yasmine Naghdi, clearly having great fun.
Under two sparkling chandeliers and against some curtaining there was the crystalline geometricity of Balanchine's 'Diamonds' from his 1967 three-act Jewels. The music was movements 2, 3, 4 and 5 from Tchaikovsky's Symphony No.3 in D major and Balanchine pays homage to the choreography of Marius Petipa and the other great Russian choreographers of the late-nineteenth and early-twentieth century. It was the pièce de resistance of all we saw. Marianela Núñez and Reece Clarke were framed by members of the company in glittering form. The magnificent Núñez channelled Odette in Swan Lake with her arched back, arms thrust back and trembling foot beats. However, Balanchine often has her spinning and spinning, and throughout 'Diamonds' Núñez was as radiant and smiley as the demanding steps allowed her to be. She was partnered by a soaring Reece Clarke who danced with brio and partnered assuredly. The rampant finale involving all the dancers in 'Diamonds' was a fitting end to a celebratory evening.
Jim Pritchard
La fille mal gardée – Overture and Pas de deux
Choreography – Frederick Ashton
Music – Ferdinand Hérold (arr. John Lanchbery)
Designer – Osbert Lancaster
Dancers – Anna Rose O'Sullivan, Alexander Campbell
Manon – Act I 'Bedroom' pas de deux
Choreography – Kenneth MacMillan
Music – Jules Massenet (orch. Martin Yates)
Designer – Nicholas Georgiadis
Dancers – Akane Takada, Calvin Richardson
Qualia
Choreography – Wayne McGregor
Music – Scanner
Design – Wayne McGregor and Vicki Mortimer
Dancers – Melissa Hamilton, Lukas B. Brændsrød
For Four (Royal Ballet premiere)
Choreography – Christopher Wheeldon
Music – Franz Schubert
String Quartet – Vasko Vassilev, Anna Blackmur, Amélie Roussel, Christopher Vanderspar
Costume designer – Jean-Marc Puissant
Lighting designer – Simon Bennison
Dancers – Matthew Ball, James Hay, Vadim Muntagirov, Marcelino Sambé
See Us!! (World premiere)
Choreography – Joseph Toonga
Music – Michael 'Mikey J' Asante (orch. Peter Riley)
Lighting designer – Simon Bennison
Dancers – Mica Bradbury, Ashley Dean, Leticia Dias, Leo Dixon, Benjamin Ella, Olivia Findlay, Francisco Serrano, Joseph Sissens, Amelia Townsend, Marianna Tsembenhoi
Dispatch Duet (World premiere)
Choreography – Pam Tanowitz
Music – Dispatches by Ted Hearne
Costume designers – Reid Bartelme and Harriet Jung
Lighting designer – Simon Bennison
Dancers – Anna Rose O'Sullivan, William Bracewell
concerto pour deux (World premiere)
Choreography – Benoit Swan Pouffer
Music – Saint-Preux
Lighting designer – Simon Bennison
Dancers – Natalia Osipova, Steven McRae
Prima (World premiere)
Choreography – Valentino Zucchetti
Music – Camille Saint-Saëns
Solo Violin – Vasko Vassilev
Costume designer – Roksanda Ilinčić
Lighting designer – Simon Bennison
Dancers – Francesca Hayward, Fumi Kaneko, Mayara Magri, Yasmine Naghdi
'Diamonds' from Jewels
Choreography – George Balanchine
Music – Pyotr Il'yich Tchaikovsky
Costume designer – Karinska
Set designer – Jean-Marc Puissant
Lighting designer – Jennifer Tipton
Dancers – Marianela Nuñez, Reece Clarke, Claire Calvert, Leticia Dias, Isabella Gasparini, Ashley Dean, Luca Acri, Nicol Edmonds, Calvin Richardson, Joseph Sissens