United Kingdom Baz Luhrmann and Craig Pearce's Strictly Ballroom The Musical: Cliffs Pavilion, Westcliff-on-Sea, Essex, 20.3.2023. (JPr)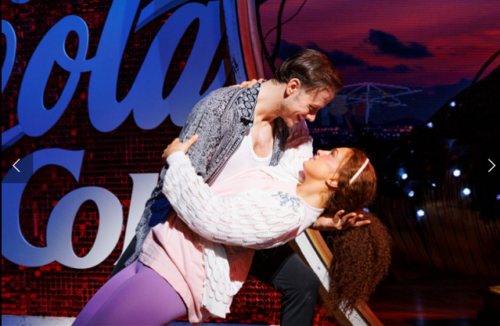 Another night in the theatre and, for me, another adaptation of a cult film I have never seen, Baz Luhrmann's breakout 1992 directorial debut, Strictly Ballroom. It first was put on as a musical in 2014 but that – and what was first seen in the UK in 2016 – seem to have been very different to what we get in this version. Luhrmann co-wrote the film with Craig Pearce and Andrew Bovell and it is Luhrmann and Pearce who are credited with the book for Strictly Ballroom The Musical.
I understand what we saw follows the basic plot of the film, though there is at least one significant new character, JJ Silver, the MC. Fran ('just Fran') comes from an overprotective, deeply religious, Spanish family who own a milk bar and she aspires to be a ballroom dancer but faces their opposition. Scott Hastings is the son of ballroom dancers hoping he will achieve the success they never really achieved themselves. However, Scott is bored by the rules of the Australian Dance Federation who are behind the Pan-Pacific Grand Prix Dancing Championship they want him to win. Scott has his own ideas for more crowd-pleasing moves but these are deemed not 'strictly ballroom'. (They are described near the end as 'deviant, degenerate' and 'abominations'.) Scott falls out with current partner, Liz, and another who is foisted on him by the head of the Dancing Federation, Barry Fife. The path of true love in musicals never runs smooth though it comes as no surprise when Scott teams up with Fran for the Latin final and, eventually, they win everyone over to their maverick style of dancing.
Director and Co-choreographer Craig Revel Horwood (who needs no introduction) is quoted in the programme saying, 'Audiences are in for a night of laughter and comedy and an insight into the ballroom world. It's a glimpse backstage, which is very different to the smiles when dancers are performing. Most people see this happy smiley world of people dancing together but when they come off stage they maybe have family issues to deal with or issues with each other.' Honestly having read this as well as the plot, what I was expecting was Dirty Dancing with Bruces, Shielas, tinnies … and possible Kangaroos! I reviewed the musical adaptation of Dirty Dancing recently (here) and it is far superior to what Horwood and his choreographer Jason Gilkinson (also of Strictly Come Dancing fame) have staged, because it had characters you could actually believe in, better songs and significantly more genuine emotion. What was interesting is that you can read how former Australian Latin champion Gilkinson claims the characters of Scott and Fran may have been loosely based on him and his former dance partner, Peta Robey, because 'We were rule-breakers ourselves'.
What Horwood gives us is just the 'laughter and comedy' and 'happy smiley world', with the 'family issues' often maginalised (frequently literally) to the back or sides of the stage. The budget was clearly eaten up by the brightly-coloured and frequently sparkly, glitzy, and glamorous costumes. The single set was, at best, functional for touring which framed the stage with a look of ostrich feathers strung with small lights like rhinestones. A LED screen to the rear does some scene setting and a trophy cabinet, the milk bar signage and – from the film, I believe – an iconic Coca-Cola sign briefly appear at times.
As for the songs, the original ones from Luhrmann and his collaborators are nearly all instant forgettable and more recognisable ones, such as, 'Happy Feet', 'Perhaps, Perhaps' and 'Time after Time' are frequently truncated, to match some snatches of dancing (which is all there often was). 'Love is in the Air' hits the mark at the end, and 'Beautiful Surprise', the best new song – which is actually heard in its entirety – was appealingly sung by Kevin Clifton's Scott and Maisie Smith's Fran. However, it was as if this had been shoehorned in like a love duet for Cinderella and Prince Charming in a Christmas pantomime. I missed an anthemic number for either character but truthfully there wasn't a genuine musical theatre voice in the entire company, or they were just tired as it has been a long tour and it is not over yet! All credit to the small offstage band who played valiantly throughout aided by some flamenco guitar on stage and the amazing trumpet playing of Karen Mann (Fran's grandmother, Abuela).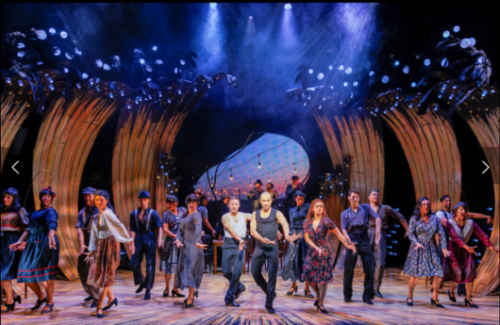 This brings me to the closing scene of an overlong Act I as Scott begins to discover what proper Paso Doble technique is from Abuela and Jose Agudo as Fran's father, Rico. He was the real deal, and his authentic flamenco got a roar of approval yet seemed from another show entirely!
Kevin Clifton and Maisie Smith have Strictly Come Dancing pedigree as, respectively, dancer and contestant and were attractive leads; however, Clifton lacked a certain charisma and while his dancing was good, as you might expect, I missed the 'wow' factor I had hoped for, and his singing was weak. Spending her last week on the tour in the city where she was born, Smith was totally blameless as Fran and showed great comic timing. She proved to be a fine dancer and though her singing was not strong either, it had an appealing quality which made you listen to her intently. (Note to directors: in 2023 does a woman on stage have to take glasses off to prove how attractive she is?) Most of the other characters gave high-energy OOT performances and I cannot name them all but catching the eye (if not the ear) were Nikki Belsher as Scott's pushy mum, Shirley; Mark Sangster as Scott's downtrodden father, Doug; Quinn Patrick as dance school owner Les Kendall; Kieran Cooper as Wayne (a dead ringer, possibly deliberately, for SCD's Neil Jones) and Oliver Brooks as JJ Silvers who seemed the love child of the Aussie Horwood (whose pre-recorded voice introduces the show) and Alan Carr.
There is a lot of crude humour (too much?) with more than a shade of Dame Edna Everage to the whole evening and indeed Gary Davis's Barry Fife is Barry Humphries's Sir Les Patterson but without all the spittle!
Strictly Ballroom The Musical was far from 'Fab-u-lous' for me though I was happy to have seen it. Others disagreed as it got a standing ovation at the end from a packed Cliffs Pavilion even though they had seemed oddly quiet for most of it.
Jim Pritchard
For more about the ongoing Strictly Ballroom The Musical tour click here.
Creatives:
Director/Co-Choreographer – Craig Revel Horwood
Co-Choreographer – Jason Gilkison
Set and Costume designer – Mark Walters
Musical Supervisor and Arranger – Stuart Morley
Lighting designer – Richard G Jones
Sound designer – Rory Madden
Cast:
Kevin Clifton – Scott Hastings
Maisie Smith – Fran
Nikki Belsher – Shirley Hastings
Mark Sangster – Doug Hastings
Gary Davis – Barry Fife
Quinn Patrick – Les Kendall
Oliver Brooks – JJ Silvers
Jose Agudo – Rico
Karen Mann – Abuela
Maddy Ambus – Vanessa
Benjamin Harrold – Ken
Jessica Vaux – Charm
Danielle Cato – Tina Sparkle
Kieran Cooper – Wayne
Agnes Pure – Liz
Adam Davidson – Nathan
Poppy Blackledge – Pam