United States Various: Wu Man (pipa), Kronos Quartet / David Harrington, John Sherba (violins), Hank Dutt (viola), Paul Wiancko (cello). Presented by Cal Performances, Zellerbach Hall, University of California, Berkeley, 1.4.2023. (HS)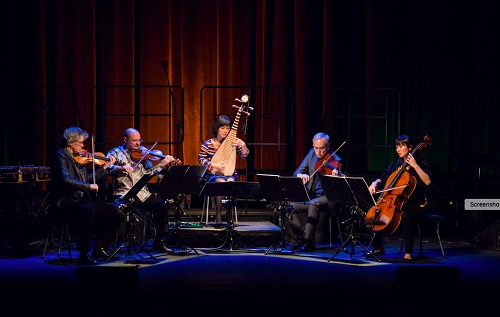 Terry Riley – The Cusp of Magic (first movement)
Traditional (arr. Wu Man) – Glimpses of Muqam Chebiyat
Wu Man – Two Chinese Paintings
Steve Reich – Different Trains
Tan Dun – Ghost Opera
In a classic sketch on the U.S. television program Saturday Night Live, the actor Christopher Walken portrayed a music producer who identifies what was missing in the recording studio. 'More cowbell', he repeats. 'It needs more cowbell!' At Saturday night's reunion of pipa virtuoso Wu Man and the Kronos Quartet, I kept thinking, 'More pipa!'
The program had its delights, including a pair of charming two-part suites by Wu Man herself and Tan Dun's wacky, theatrical Ghost Opera. Still, none of it made the most of the pipa player's dexterous abilities on the Chinese lute.
In its fifty years of existence, San Francisco-based Kronos has redefined what a classical string quartet could be. It expanded on the idea of playing against their own prerecorded music in live performances to amplify (in both senses of the word) the possibilities of four musicians in sync, and embraced musical cultures from every settled continent.
The association with Wu Man dates back twenty years, and there is welcome synergy in the musical fusion – evident in two pieces that focused on the pipa. Rooted in 'traditional cultures from around China', as Wu Man writes in her program note, Glimpses of Muqam Chebiyat focused on the Islamic-tinged music of the Uyghur people of western China, and Two Chinese Paintings reflected her home town of Hangzhou, not far from Shanghai. Both suites started with slow-moving, meditative movements and finished with lively dance music.
For anyone familiar with the music of the Asian subcontinent, the Muqam pieces could sound a lot like a raga, even if they also deliver a Chinese flavor. Chinese Paintings used a pipa scale that, she writes, dates from the ninth century. The second movement, an example of jaunty tea house music from her home town, couldn't help but bring smiles. It was also the only music that used a pentatonic scale. In that piece, her scoring for the string quartet deftly evoked the sound of a small Chinese orchestra.
In neither work, however, did Wu Man have much chance to display her range on the pipa. Neither did she in Ghost Opera, Tan Dun's 40-minute piece from 1994 that filled the stage with unusual instruments to create Chinese-inspired sounds.
The stage setting and music included Chinese elements of water, paper, metal and stone. In the quiet opening moments, lead violinist David Harrington and Wu Man dipped their hands into backlit bowls of water to create subtle percussion sounds, then dipped small gongs in and out of the water to vary their pitch. Violinist John Sherba later introduced paper with the sound children learn to make by blowing against the edge of a piece as if it were a reed. At the end, Wu Man rustled a meters-long strip of paper to add another element to the closing moments.
At one point, Harrington, violinist John Sherba and violist Hank Dutt wielded Chinese cymbals for a tour-de-force that required deft timing to stitch it together into juicy rhythmic cadences. That's metal. Later they clapped together small stones, in both cases coaxing out various pitches, not just clangs and clicks.
The inventiveness of the music and the striking visual setting of long draperies, backlit water bowls and changing background colors made for a weird synergy. The 1990s staginess feels dated today. And, despite the composer being a Chinese-American composer and Wu Han's participation, all the shouts in Chinese rub against today's wariness of cultural appropriation. It's not, of course, but it distracts from the pure musical values.
Kronos's longtime association with leading-edge minimalist composers filled out the program with works by Terry Riley and Steve Reich.
The first movement of The Cusp of Magic stems from Riley's fascination with North Indian music. It opened the proceedings, brooding over a 104-beat rhythmic sequence. To me, it made sense as a first movement but left us hanging before the program moved on to Wu Man's pieces.
Reich's Different Trains, one of his most inventive works, stands as a great example of Kronos's fascination with playing against recorded sound. In this lineup, it felt like the odd duck. Writing for Kronos in 1988, Reich collected snippets of people reminiscing about bygone trains (in this case luxury coast-to-coast American trains and the cattle cars that moved people to concentration camps in World War II Germany), and translated their inflections into melodic gestures to build a three-movement tour-de-force.
Thirty-five years later, the piece still resonates with meaning, both emotional and musical, and no one can play it like the quartet it was written for.
An encore broke out a snappy arrangement of the Bollywood ditty 'Mehbooba, Mehbooba' ('Beloved, O Beloved') by R. D. Burman. Kronos recorded the song, written in 1988 by one of India's most beloved film composers, in its 2005 collection of Burman's music, You've Stolen My Heart. An example of the quartet's global reach and comfort with any style of music, it also proved to be an earworm with pizzazz.
Harvey Steiman