United Kingdom Wagner, Tristan und Isolde: Soloists, Chorus of Grange Park Opera, The Gascoigne Orchestra / Stephen Barlow (conductor). Grange Park Opera, West Horsley, 22.6.2023. (JPr)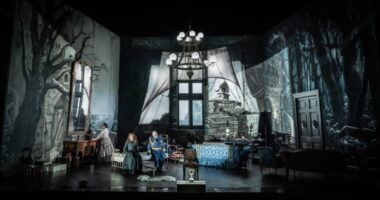 Production:
Director / Designer – Charles Edwards
Costume designer – Gabrielle Dalton
Lighting designer – Tim Mitchell
Cast:
Tristan – Gwyn Hughes Jones
Isolde – Rachel Nicholls
Brangäne – Christine Rice
Kurwenal – David Stout
King Marke – Matthew Rose
Melot / Sailor – Mark Le Brocq
Shepherd – Sam Utley
Steersman – Thomas Isherwood
Richard Wagner built his Festspielhaus (Festival Theatre) in Bayreuth because it was far enough away from all the plotting against him in Munich and also only those most devoted to Wagner would make a pilgrimage to the town in northern Bavaria. There is something of that when you visit Grange Park Opera in West Horsley, Surrey. Not that it can be that difficult to get to, though getting back wasn't helped by nighttime closures on the M25, but that is another story!
However once there, getting through to The Theatre in the Woods – as the 650-seat opera house is named – can be a bit of a trial through waist-high grass but it all adds to the experience, I suppose. This is opera in the English countryside in summer and what's on can come second to the picnic you will have brought with you. It is wonderful that so many will come to Grange Park Opera performances regardless of the operas put on with several of those clearly experiencing Tristan und Isolde for the first time. I overheard countless wonderful attempts to explain the plot which Stephen Roe's excellent essay in the programme suggests might – on the surface – just be the stock operatic fare of 'girl meets boy; girl initially hates boy and attempts joint suicide; but are thwarted by a substituted love philtre; older man is betrothed to the girl; boy gets killed triggering a minor blood bath, girl swoons and dies'. As Roe continues, what Tristan is actually about is, in his opinion, 'Love and its redeeming powers, obsession, transfiguration, and death'. Much has been written in the intervening years since the 1865 Munich premiere of Tristan trying to explain what Wagner wants us to experience from it, but Roe's words will suffice for now.
Does Charles Edwards's new production do anything to help those new – or even old – to understand Tristan better, I think the answer must be 'no'. It boggled my mind, and my mind is not easily boggled by directorial deconstruction. Where are we for a start? Much was made of Edwards basing his designs on the original ones by Max Brückner for Tristan in 1865. They are projected on the walls of a richly appointed salon with the one – sailing ship, garden or castle – appropriate for each act on the back wall. What is the inspiration for the salon? For me, it suggests Wahnfried, Wagner's villa in Bayreuth, or it could be that of Otto and Mathilde Wesendonck in Zurich (where Wagner and his first wife, Minna, stayed for a while). Mathilde was Wagner's muse and – as Roe describes it – 'His uneasy ménage à trois with the Wesendoncks is mirrored by the opera: Otto as King Marke, to Wagner and Mathilde's Tristan and Isolde'.
Barrie Kosky set his famous 2017 Bayreuth Die Meistersinger in Wahnfried with Hans Sachs as Wagner and I suspect Edwards shied away from depicting Wagner, Otto and Mathilde on stage but in so doing leaves us wondering who these people are we are watching. Tristan, Kurwenal and Melot/Sailor are in military uniform with Tristan particularly braided and bemedalled. Everyone else is costumed appropriately for the late-nineteenth century and more than once, Downton Abbey came to mind.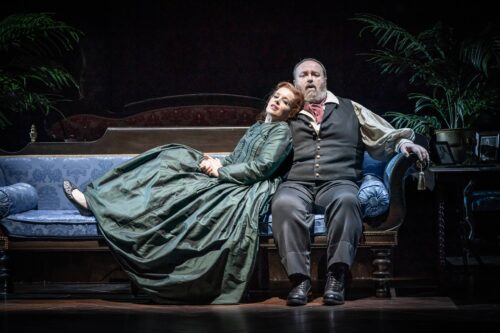 There are many head-scratching moments right from the start the Sailor's wistful (frequently offstage) song about the 'wild Irish maid' (which offends Isolde) now sung onstage by Melot with biting sarcasm. When the angry, pillow throwing Isolde demands – from the bed which is at the centre of the stage during Act I – that Tristan appears before her, she really needs only to shout across the room where he is working at his desk! And so it continues, in Act II the furnishings are arranged giving Tristan and Isolde a large sofa for the Act II love duet during which Tristan – like Tannhäuser – goes off and 'plays' a harp. The light that must be extinguished is the arrangement of lights hanging down from above (which particularly looks like those in Wahnfried). Isolde seems to have an idealised idea of romantic love because she has a medieval portrait of two lovers (Tristan and Iseult?) as a shine. (Unfortunately, in this act Tristan looks like a station master and an age difference is very apparent.) Melot wanders in and spies on the lovers and, much too soon, King Marke does too. Having failed to poison Tristan once (Brangäne swopping it for a love potion as we know) Isolde has another go before Melot shoots Tristan with his rifle.
With the salon in ruins, things lose the plot even more in the final act. All along Kurwenal has shown he likes a drink and will stagger around even more in Act III and sometimes only takes a passing interest in Tristan's ravings whilst the Shepherd – looking like a young Franz Liszt – busies himself with some paperwork at a desk. Later the Steersman, Melot, Isolde, King Marke and Brangäne will enter through a large window however by then Tristan has died and left through some doors before Isolde arrives. There is lots of shooting before Kurwenal uses a sword that has been at the front of the stage throughout the act to kill himself. Isolde has time during the Liebestod to unbutton the dress she is wearing and strip down to T shirt and jeans, caress her biceps and wander off into a misty light.
Musically Grange Park Opera mostly did Wagner proud and Stephen Barlow – excellently supported by his soloists, stentorian chorus (singing at the top of the theatre) and The Gascoigne Orchestra – conducted with obvious affection for the score, impressive balanced clarity and masterly control of pace, which was steady and neither too brisk nor too slow. Whether love's-yearning instilled in the music by the famous Tristan chord is entirely resolved by the time the final bars drifted away will be up to each individual to decide. Possibly it was a little too loud for such a small auditorium even though the orchestra was somewhat covered. Rachel Nicholls is a fine singer-actor, and she portrays a fiery, combative Isolde who is conflicted and cannot really decide between revenge for Tristan killing her previous fiancé, Morold, and her chemically-induced love for him. Nicholls sings with thrilling abandon and has a glowing middle voice; however, her top notes are hard-edged at times and the words come and go in their intelligibility.
Gwyn Hughes Jones is making his role debut as Tristan and gets through to his Act III death-throes with impressive stamina. Jones sings with conviction, strength and fervour but without any beauty of tone. David Stout was a particularly characterful Kurwenal and his full, robust voice sounded it might have the potential for Alberich, and then even Wotan. Many Melots can be the singer who covers the role of Tristan and certainly Marc Le Brocq sounded like that. Le Brocq was striking in his malevolence both as Melot and consequently, the first act Sailor. Sam Utley and Thomas Isherwood were more than adequate in the little Wagner gives them as the Shepherd and Steersman.
Matthew Rose has a truly world-class bass voice and brought a tragic profundity to King Marke's pronouncements. Christine Rice is another world-class singer for whom Wagner has never featured as much in her career from the start as it might have done. Maybe this was very sensible as Rice might never have sung many of the roles and much of the other music she is famous for. At times – like many Brangänes – she outsang her Isolde and Rice was the embodiment of the disobedient, yet devoted and caring maidservant. Rice's full-bodied mezzo-soprano and superb technique made every word she sang clear and fully invested with meaning.
Jim Pritchard
For more about Grange Park Opera click here.