Austria Salzburg Festival 2023 [5] – R. Schumann, Duparc, and Chausson: Benjamin Bernheim (tenor), Sarah Tysman (piano). Haus für Mozart, Salzburg, 19.8.2023. (MB)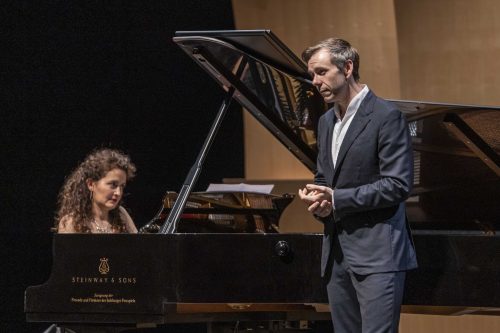 R. Schumann – Dichterliebe, Op.48
Duparc – L'Invitation au voyage, Phidylé, La vie antérieure
Chausson – Poème de l'amour et de la mer, Op.19
When singers known primarily for opera venture into the song-recital world, results may, unsurprisingly, vary. Here, in an ambitious programme from Benjamin Bernheim, accompanied by Sarah Tysman, there was considerable variation within the programme too. Whilst it would be tempting to ascribe this primarily to the differences, far from only linguistic, between French and German song, a rapt first encore of Richard Strauss's Morgen suggested matters were not quite so simple. So too, for what it is worth, did the excellence of Bernheim's German.
Nonetheless, Robert Schumann's Dichterliebe proved only intermittently successful, far from helped by penny-plain accompaniment (very much accompaniment rather than partnership). There were lovely moments; a slow yet sustainable 'Im wünderschönen Monat Mai' promised much for what was to come, likewise an ardent 'Wenn ich in deine Augen seh''. Words were always clear, as was their meaning. An animated 'Aus alten Märchen' imparted a sense of what might have been, in more than one sense. But deeper meaning, the sheer, unbearable sweetness of suffering, and so much more proved elusive. If it were not so straightforward as exchange of detail for the broader brush, it was difficult not to feel stage familiarity might have impeded a deeper performance.
Both artists sounded transformed in Duparc and Chausson: more animated and, as it were, more 'inside' the music. The three Duparc songs had everything: shape, range, style, and a keen sense of metaphysics beneath the surface. Readily, absorbingly communicative in both vocal and piano parts, their subtle ecstasy left one in no doubt this was the real thing. Chausson's Poème de l'amour et de la mer benefited, quite properly, from a more wandering approach that was yet fundamentally grounded, like Chausson's Wagnerian harmony, in something that had not taken leave of its moorings. The deceptive ease of Bernheim's singing was striking in its clarity and, again, its communication. Tysman rose similarly well to the 'symphonic' challenges of performing Chausson on the piano. This is almost at times a symphonic poem with voice as much as a song-cycle; where necessary, it sounded like it. The Romantic dolour of 'La Mort de l'amour' became ever more deathly through its passage, at times semi-hallucinatory, at others clarity itself spelling death. French, moreover, throughout sounded as if it were the easiest language in the world to sing: a signal achievement for any singer, Francophone or not.
Mark Berry