United Kingdom  Met Live in HD 2012/13, Berlioz, Les Troyens: Soloists, Chorus and Orchestra of the Metropolitan Opera, New York, conductor Fabio Luisi;   production by Francesca Zambello, directed for live cinema by Barbara Willis Sweete) and broadcast to the Barbican Cinema, London, 5.1.2013. (JPr)
Cast:
Aeneas: Bryan Hymel
Dido: Susan Graham
Cassandra: Deborah Voigt
Iopas: David Cutler
Hylas: Paul Appleby
Coroebus: Dwayne Croft
Anna: Karen Cargill
Narbal: Kwangchul Youn
Ascanius: Julie Boulianne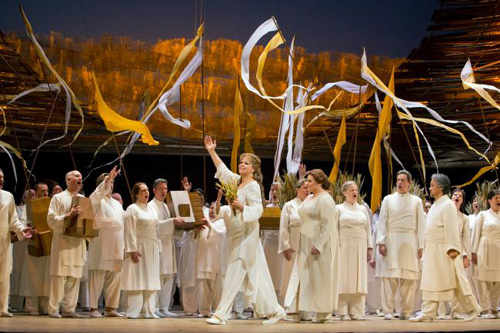 I have seen Berlioz's grand opera, Les Troyens, only three times, one of those was as a concert, and this review can be read with reference to last summer's Proms performance. With two intervals the broadcast lasted 5½ hours, making a good case for this work based on Virgil's The Aeneid  to be split into its obvious two parts – the story of the Trojan horse at the end of the Trojan War and then the Trojans' stay in Carthage concentrating on Aeneas 'capturing' Dido's heart and then abandoning her with fatal consequences.
Francesca Zambello's 2003 production is revived here for the first time and the five acts are played out against abstract sets by the late Maria Bjørnson. These are suitably stark and triumphalist for Troy with a typically large horse, but everything looks less threatening in Carthage as befitting the often more intimate nature of this part. This all helps to confirm the dual personality of Les Troyens and it must be remembered that the composer never lived long enough to see the première – and may well have revised his concept if he had.
As if to counteract my idea of the opera as a 'dramatic cantata' Zambello keeps the chorus very busy throughout as Trojans, Greeks and Carthaginians and this possibly may have been distracting on stage but at least gave the director for live cinema, Barbara Willis Sweete, more to aim her cameras at. The problem with Les Troyens is all the interludes that bring the drama (such as it is) to a full stop on too many occasions until rather late into Act IV. Doug Varone's choreography for this extensive — often interminable — dancing that filled these lulls was rather repetitive with more than a hint of tai chi in the early Carthage scenes, perhaps appropriate to a more 'Zen-like calm' evident here.
There was a sense that everybody, especially conductor Fabio Luisi, knew that the events of the final three acts were the best part of this show. Part I in Troy lasts ninety minutes but seemed something that was needed to be rushed through before things get better. It all undoubtedly does once all the dancing or – to use Len Goodman's word from Strictly Come Dancing – 'flatulating' was over, Eric Cutler as the poet Iopas, sang a plaintive 'O blonde Ceres' (O Golden Ceres) that is sung to the god of harvest. Then there is the serene nocturne for septet and chorus ('Tout n'est que paix et charme autour de nous' – Everything is peace and calm around us), which almost seamlessly segues into one of the most rapturous and beautiful love duets in the operatic repertory, 'Nuit d'ivresse' (Night of Intoxication) for Dido and Aeneas. These sublime moments brought out the best in all concerned and set a high standard that was maintained until the harrowing denouement as the heartbroken and abandoned Dido commits suicide using Aeneas's sword.
Unlike other commentators who wade in and review these broadcasts as if they were hearing the operas live in the theatre, I always feel the need to counsel that however good what we hear actually is – and at the Barbican it was all very impressive in HD – there will be a digital sound console of some description involved designed to even out any imperfections in the singers and musical accompaniment. To side-track here, I have even seen some comments in reviews complaining about the off-stage interval interviews and shots of the backstage crew at work. If opera (as ballet) is to increase its popularity in these difficult economic times, it needs demystifying and it is these human moments that do most to achieve this. Nothing was better than seeing a genuine connection between Bryan Hymel (Aeneas) and Susan Graham (Dido). In their scenes they seemed to spend lots of time with lips locked, even though in onstage close-ups of the experienced Ms Graham and youthful Mr Hymel this seemed more of a Spring-Autumn romance than passionate young love between their characters. It was wonderful to hear Susan Graham recount how after she had first sung with her current colleague in a New Orleans Gala some seven year ago she told him 'OK, you have a great voice – don't mess it up!' Apparently it was strongly hinted at that she might have used a four-letter epithet other than 'mess'!
Bryan Hymel was in London having finished singing his last performance as the lead in Meyerbeer's Robert le diable on 21 December when he got the call to replace Marcello Giordani as Aeneas. He was in New York to rehearse on Christmas Eve, rested on Christmas Day and made his Metropolitan Opera debut on Boxing Day to great acclaim. Truthfully, his performance alongside Susan Graham's Dido elevated the performance to operatic heights I have rarely experienced in recent years and only very rarely at Covent Garden.
All the operas at the Met have a strong home-grown contingent of artistes and this was no exception – this never happens in the UK even at English National Opera. Susan Graham and Bryan Hymel led a strong American cast that also included in major roles, Deborah Voigt as a miscast Cassandra, Dwayne Croft as a noble Coroebus and sweet-voiced tenors Eric Cutler and Paul Appleby making the very best of their arias as Iopas and Hylas. The small 'foreign contingent' was equally strong, led by Scotland's Karen Cargill as Dido's devoted sister, Anna, Korean Kwangchul Youn as an imposing Narbal and French-Canadian Julie Boulianne, a fine, if strangely flirty, Ascanius, Aeneas's son. I liked her/him very much and at one point as Dido sings how she does not take pleasure in the Act IV celebrations (neither did I) Ascanius tries to take his own 'pleasure' from one of the female dancers before Anna intervenes.
Donald Palumbo's enhanced chorus of 110 were mightily impressive and the orchestra sounded wonderful throughout; Fabio Luisi guided them on suitably vigorously where necessary and gloried, if somewhat languidly, in Berlioz's refined instrumental colouring during the long Gluck-inspired stretches.
My final praise must go to Joyce DiDonato as the Live in HD Host, she was relaxed, informative, charming and great company throughout. I look forward to hearing her sing Maria Stuarda in the next broadcast live from the Met on 15 January.
Jim Pritchard