United Kingdom Bartók, Beethoven, Pärt: Martha Argerich (piano), David Kadouch (piano), Manchester Camerata/Gábor Takács-Nagy – Manchester International Festival, Bridgewater Hall, Manchester – Friday 12th July 2013 (MC)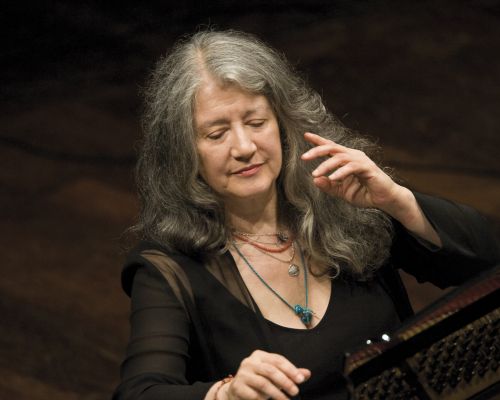 Bartók – Music for Strings, Percussion and Celeste
Beethoven – Piano Concerto No. 1 in C major, Op. 15
Pärt – Lamentate
The last three superstar soloists that I have seen at the Bridgwater Hall, Anne Sophie Mutter, Lang Lang and Bryn Terfel gave marvellous performances and I wondered if the main draw for tonight's concert, pianist Martha Argerich, described in the programme as "one of the world's greatest living musicians" would live up to my expectations too. Well the answer turned out to be a very easy one as the Argentine pianist exceeded them. Basking in sweltering weather the large Bridgewater audience were treated to a captivating programme played by the Manchester Camerata under their endearing music director Gábor Takács-Nagy.
Originally billed to play the Shostakovich Piano Concerto No. 1 Argerich's programme was changed last week to Beethoven's Piano Concerto No. 1 in C major a work that has never been at the centre of her repertoire. This much loved work is often played extremely well but Argerich took the work to elevated heights of performance, excellence that only the finest musicians achieve. Such is her instinctive aptitude for tempo and dynamics, phrasing and articulation it felt as if she was the natural conduit for the music. Highly assured in such an unassuming way Argerich make everything look so easy. Her contented expression revealed just how much she was enjoying the experience and how the audience responded with an eruption of applause and cheering with many leaping to their feet. Argerich's performance was one of the finest that I have attended.
The concert opened with the Music for Strings, Percussion and Celeste from the conductor's beloved Hungarian compatriot Béla Bartók. Did Takács-Nagy really tell the audience he considers Bartók "the greatest composer of the 20th century"? I'm sure admirers of Shostakovich, Stravinsky and Elgar would have something to say about that. Regarded by some commentators as an orchestral masterpiece this unconventional and intricate, often demanding work was held together splendidly by the Hungarian Maestro. I especially enjoyed the Camerata's playing of the exhilarating second movement Allegro with its rhythmic pounding, and thorny, often angry disposition. Mysterious with a sultry, shimmering nocturnal quality the following Adagio also made quite an impression in Takács-Nagy's expert hands.
Clearly Arvo Pärt's Lamentate a substantial twelve section work was not to everyone's taste. A group of errant coughers and sneezers not only hindered my enjoyment of the Lamentate their unwanted racket seemed to noticeably unsettle the conductor Takács-Nagy. It was curious though how the noise makers managed to keep quiet during the Largo of the Beethoven. With the stage lighting subdued for effect I found Pärt's clear, luminous shafts of sound compelling. Under Takács-Nagy the Camerata achieved contrasting moods of intensity and ferocity with a near hypnotic sense of delicate otherworldliness. Pärt's score is a serious test for orchestral players and the Camerata certainly took their opportunities to shine. Pianist David Kadouch was impressive throughout.
Michael Cookson