United Kingdom  Cranko/Scarlatti, The Taming of the Shrew: Soloists and Corps de Ballet of the Stuttgart Ballet / Wolfgang Heinz (conductor), Sadler's Wells, London, 23.11.2013. (JPr)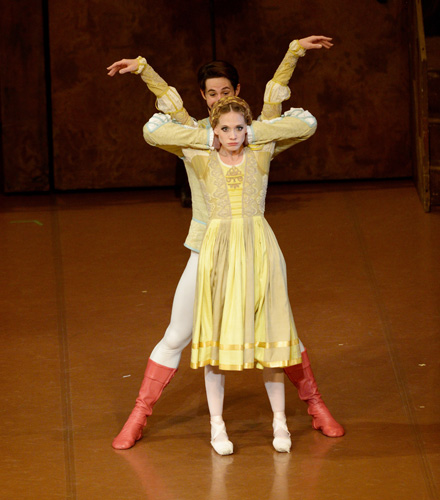 Principal Dancers:
Katherina: Alicia Amatriain
Petruchio: Alexander Jones
Bianca: Elisa Badenes
Lucentio: David Moore
Gremio: Özkan Ayik
Hortensio: Roman Novitzky
Production:
Choreography by John Cranko
Revived by Reid Anderson
Music by Kurt-Heinz Stolze after Domenico Scarlatti
Scenery and Costumes by Elisabeth Dalton
Not seen in the UK for over twenty years, The Taming of the Shrew, was given its world première by the Stuttgart Ballet at the Württemberg Opera House, Stuttgart on 16 March 1969 at the time of the company's worldwide acclaim under John Cranko leadership. It had a stellar cast of memorable dancers including Marcia Haydée (Katherina), Richard Cragun (Petruchio), Suzanne Hanke (Bianca), Heinz Clauss (Lucentio), John Neumeier (Hortensio), and Egon Madsen (Gremio).
It is a masterclass of how a classic play can be transformed into an entertaining two hour ballet that celebrates the ability of pure dance to tell a story with just music and movement. Of course many will be familiar with another musical version of The Taming of the Shrew, Cole Porter's Kiss Me, Kate, but everyone must face the truth that Shakespeare's original story is not a very PC one since it requires the fiercely independent and headstrong Katherina (Kate) to eventually become totally submissive and compliant – and to help bring this about she is even put over Petruchio's knee and spanked! This alone causes this comedy – like his dramas Othello and The Merchant of Venice for other reasons – to have very few revivals in the twenty-first century. There is no spanking but otherwise Cranko leaves most of Kate's 'taming' intact while adding to the fun by creating his own subplot as Lucentio tricks his two rivals Gremio and Hortensio into marrying two disguised town harlots so that he can marry Bianca.
There is still one scene that in 2013 might offend those rather too sensitive and involves Petruchio's servants, playing up as grotesques, welcoming Katherina to his house – but that can be quickly forgotten as the overwhelming impact of this evening is to convincing everyone watching that Germans can have a sense of humour … something I know only too well. At that point in Act II Petruchio starves his new wife into submission and Katherina refuses to sleep with him so he puts the fire out and she passes the night on the cold floor. Later, he will continue to provoke her and there is a duet that begins with them duelling over a drumstick before she eventually capitulates when they admit their love for each other. These pivotal moments could be somewhat offensive but Cranko's genius (revived here by Reid Anderson, Stuttgart Baller's artistic director) brings across their clearly burgeoning relationship through any number of wrestling holds and many very funny and ultimately tender moments. This is the second of three – often gymnastic duets – that shows Katherina's developing romantic acquiesce – firstly she is dominant, then Petruchio is, and finally – after Bianca and the wives of Gremio and Hortensio treat their husbands disdainfully – there is equality as Katherina shows them how a wife is expected to behave. The stage clears and left alone, she and Petruchio revel in their new-found love before the curtain falls.
There are genuine laugh-out-loud moments with all the high jinks and pratfalls and the company perform brilliantly. From the moment a charismatic and gurning Alicia Amatriain arrives on stage kicking out as the ultimate spoilt brat/vixen she throws herself fully into her role and brings out all its emotional nuances as she metamorphoses from a very reluctant lily-swatting bride – married off to the first one willing to accept the challenge – into a tender loving wife who can keep her temper in check.
She is ably partnered by Alexander Jones and both tackle their intricate and high-flying duets fearlessly and with practiced ease. It is amazing to come and watch Stuttgart Ballet with its multinational roll of dancers and see an accomplished male dancer who comes from Rochford, Essex, only a few miles from where I am writing this. Jones is a former graduate of the Royal Ballet School and I wonder how many talented dancers have to go abroad to make their name and are unknown in their own country? His rakish Petruchio transcends cliché through the believability of his acting allied to his convincing movement, including several exuberant leaps and fast turns during his solo opportunities.
Whilst Alicia Amatriain and Alexander Jones seemed a perfect team, Elisa Badenes (Bianca) and Ipswich's David Moore (Lucentio) – although another believable couple – perhaps were not so used to performing together as they lacked polish and real feeling when dancing together for their own romantic duet. The other leading participants in this balletic pantomime are basically caricatures but were performed spiritedly by Özkan Ayik (Gremio), Roman Novitzky (Hortensio) and Angelina Zuccarini and Rachele Buriassi as the 'Two ladies of the street'.
Memorable highlights were plentiful and I particularly enjoyed the scene changing interludes were Katherina and Petruchio travelled to – and late back from -his house on a (pommel!) horse in front of a scrim. This was further evidence of the great chemistry between the two dancers and their wonderful comic timing all in perfect coordinated with the music. I also especially liked the colourful Harlequin Venetian carnival ensemble scene where Hortensio and Gremio both get duped   into marrying someone they believe to be Bianca.
Elisabeth Dalton's original Renaissance-influence and impressionistic scenery and costumes owes much to her mentor Nicholas Georgiadis and they seem to have influenced Ezio Frigerio's work for Nureyev's London Festival Ballet Romeo and Juliet in the late 1970s. Kurt-Heinz Stolze's compilation of compositions by Domenico Scarlatti has probably developed over the more than 40 years since the première and was more substantial (less tinkly!) than I expected from music originating in the eighteenth century. More often than not I thought I heard the influence of Stravinsky or Prokofiev on Stolze's arrangements and its period-flavour matched some of Cranko's Russian-style movement perfectly. The accomplished orchestra, led by virtuoso Gina McCormack, had been assembled especially for this short London season and was conducted with flair and exuberance by Wolfgang Heinz, Stuttgart Ballet's assistant music director.

Jim Pritchard
For more information about forthcoming dance events at Sadler's Wells visit http://www.sadlerswells.com/.