Switzerland   Rachmaninov  Tonhalle Orchestra Zurich, Stephen Hough (piano), David Zinman (conductor), Tonhalle ,  Zurich (30.1.2014) (JR)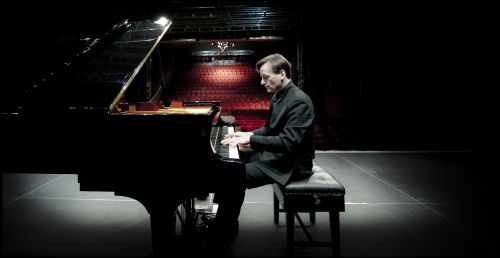 Rachmaninov: Rhapsody on a Theme by Paganini
Rachmaninov : Symphony No. 2
 
One should not feel guilty enjoying Rachmaninov, but I do. This concert was entirely dedicated to Rachmaninov. This is Chief Conductor David Zinman's last season in the post, after nearly 20 years at the Tonhalle Orchestra's helm, and he has selected works dearest to his heart.  I was a mite surprised (and pleased) to see Rachmaninov in the list, given his bent towards more "serious" composers. He clearly has more of a sense of fun than I thought.
 The concert-going public all round the world continues to be enthralled by Rachmaninov's melodies and invention. This has made some narrow-minded critics and musicologists sceptical; they like to interpret his emotional expression as some form of weakness, Hollywood kitsch, salon romanticism, using old-fashioned methods.  Richard Strauss even stooped so low as to call Rachmaninov's music as "emotional dung" and Stravinsky declared vituperatively: "I like this man a lot, he wrote great film music". Even if these views undeniably have some justification, there is also no denying his music ensures a full house of happy punters. Berg may keep some critics happy, but rarely the Box Office.
 Rachmaninov had links to Switzerland, which I had forgotten (or never known). He visited a friend near Weggis on LakeLucerne in 1929, fell in love with the area (an easy thing to do), bought a large plot of land and commissioned two Swiss architects to construct a house for himself ("Villa Senar"). He lived there, on and off, until World War II was imminent, then emigrating, fully and finally, to the States in 1939.  The Rhapsody on a Theme by Paganini was written in Lucerne, not in the States.
 Paganini's theme stems from his "Caprice No. 1"; Brahms and Liszt had also spotted the catchy tune and written their own variations, and after Rachmaninov had added his name to the list come those of Boris Blacher, Lutoslawski and Andrew Lloyd Webber.
 Stephen Hough dazzled the audience with his virtuoso display, from the work's playful start, through its jazzy elements, with crisp, clipped playing, gentle lyricism and keyboard pyrotechnics. The inventive variations offer a perfect showcase for Hough's phenomenal talent. Zinman provided faultless accompaniment, never stealing the limelight, never drowning the soloist.
 Hough provided an initially puzzling encore: now for something different, I thought, as the piece started. But soon Paganini's theme emerged again; so who wrote this variation I wondered. The answer was supplied (in the interval) by Hough himself – he wrote it and jokingly has entitled it "Niccolo's Waltz": charming.
 In the Second Symphony it was the orchestra's turn to pull out all the stops. Zinman led us through the work from its brooding Russian opening to giant outpourings of emotion but eschewed saccharine sentimentality. The whole horn section impressed in the Allegretto; two individuals deserve mention in particular: Mike Reid (clarinet) and Ivo Gass (principal horn). This is the movement where I most feel the score is Radio 2 material rather than Radio 3 (even if Radio 3 appears to be dumbing down).
 The Adagio has some tedious passages, not all are heavenly lengths, but Zinman kept up the pace to distract (most of) the coughers: it's audibly flu season. The audience, for the most part, were content to have the music wash over them and the final Allegro Vivace had them on the edge of their seats. The cockles of their heart being duly warmed, they ventured out into the icy Swiss night.
John Rhodes