Germany Berkeley, Berger, Beethoven: Dresdner Streich Trio, Semperoper, Dresden, 19.02.2014 (SRT)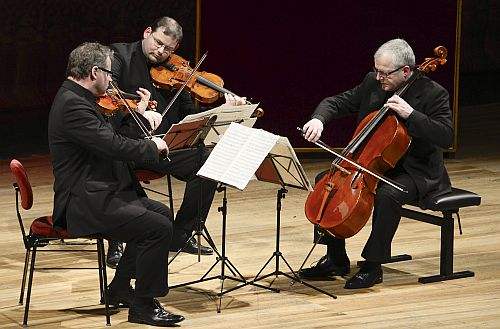 Sir Lennox Berkeley: String Trio (1944)
Wilhelm Berger: String Trio in G Minor, Op. 69
Beethoven: String Trio in G, Op. 9 No. 1
British readers and listeners will find it heartening to see a prestigious German ensemble playing the music of Lennox Berkeley, and it is even more heartening that they did it so well.  The Dresden String Trio got right into the edgy, turbulent world of the outer movements, but were at their best in the central Adagio, an oasis of peace that seemed to let time stand still for a few gorgeous moments.  Wilhelm Berger, on the other hand, was a new name to me, but perhaps that's because he would win few prizes for originality.  The first movement of his G minor trio sounded very close to the world of Brahms, while the slow(ish) second movement is a set of variations that sound like something a late-Romantic Haydn would have written.  Likewise, the finale centres on a bucolic melody that Schubert would have been proud to call his own, full of the rhythms of what feels like a peasant dance.
Two of the members of the Dresdner Trio are drawn from the regular players of the Dresden Staatskapelle (the third is principal cello of the MDR Symphony Orchestra in Leipzig), and together they make a class act.  You can't be part of such a world-leading orchestra and not know a thing or two about how to listen, and that means they are at the top of their game when it comes to chamber music.  Their sound has a wonderfully rich, mahogany-brown character that seems to ooze luxury, and they have worked so hard on their blend that it was sometimes difficult to tell cello and viola apart.  That, surely, was the plan all along, and the richness of their middle registers was the secret to their success.  It lent a real touch of luxury to their playing of these first, lesser known works, but also served up predictable delights with Beethoven's G major Trio, which sparkled and fizzed once the opening Allegro got underway, and had the energy of a firecracker in the finale.  Best of all, though, was the slow movement.  JörgFassmann spun the opening violin melody as one great, breathed-out line, almost like an operatic aria, and this led to the most conversational playing of the night, culminating in a sensitive swell in the final chord.
I was pleasantly surprised that the sound never came close to being lost in the large space of the Semperoper, not an auditorium one naturally associates with chamber music.  It helped that they only used the two lowest levels of seating, but it will also have been part of the musicians' knowledge and experience of the acoustic.  As a final treat in his anniversary year, they played a set of variations by a youthful Richard Strauss, a most appropriate way to round off a hugely satisfying recital.
Simon Thompson