Germany Weinberger: Svanda, Staatskepelle  Dresden, Sächsischer Staatsopernchor, Constantin Trinks (conductor), Dresden Semperoper, 27.1.2014 (JMI)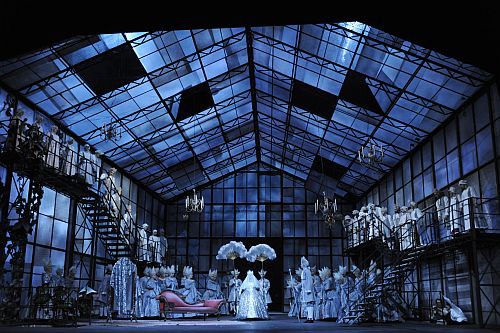 Cast:
Svanda: Christoph Pohl
Babinsky: Ladislav Elgr
Dorotka: Marjorie Owens
Queen: Tichina Vaughn
Demon: Michael Eder
Magician: Tilmann Rönnebeck
Production: Sächsische Staatsoper
Direction: Axel Köhler
Sets: Arne Walther
Costumes: Henrike Bromber
Light: Fabio Antoci
Jaromir Weinberger is a Czech composer of Jewish origin who lived during the first half of the 20th century. A child prodigy, he devoted his efforts to teaching, mainly in his native Czechoslovakia and then in the United States, where he fled during the Nazi era. His greatest success was this opera, Svanda: first performed in Prague in 1927, it became quite popular and was staged in all the major theaters, including the Metropolitan in New York. Svanda's success was notable but short-lived. It was banned by the Nazis and, after World War II, never again enjoyed the popularity that it had in the years after its premiere.
The opera relates an amusing folktale in which Svanda, the bagpiper, has special powers. The other important characters are his wife, Dorotka, and the rascal Babinsky who, like Robin Hood, robs the rich to give to the poor. The recently married Svanda goes in search of adventures with Babinsky, and they arrive at the court of a queen who is under a spell and has a heart of ice. Svanda plays his  bagpipes which melts the queen's heart. She falls in love with Svanda and decides to marry him and make him king. The pact is sealed with a kiss, but Dorotka reappears to claim her husband. This displeases the queen who condemns Svanda to death, but when he is on the scafold, Babinsky manages to change the executioner's ax into a broom. Svanda denies his commitment to the queen and their kiss, and he is sent to Hell as a liar, but Dorotka asks Babinskiy to rescue him. Hell is an amusing place, and when Babinsky arrives he plays a card game with the devil for his soul and Svanda's. It's a game between two major cheaters, but Babinsky wins and leaves with Svanda; returning home, Svanda is reunited with his  now aged wife and finally finds happiness.
Musically it is a well-constructed work with remarkable orchestration and several Czech folk rhythms. You might wish for more inspiration here and there, but the opera is pure entertainment and a great deal of fun.
Axel Köhler's production simply narrates the story and does it very well, particularly the scenes of the ice queen and of Hell, both of which are brilliant. There are also colorful, amusing costumes and good lighting work. The stage direction is excellent, especially in the two aforementioned scenes, and the audience can really enjoy the show.
I found the musical direction by Constantin Trinks quite good, though perhaps there was some excess of sound at times. This conductor is making an important career and his performances always have a real  interest. The Staatskapelle Dresden, one of the best orchestras in Germany, was magnificent, and the Choir's singing and acting were superb.
Svanda was played by baritone Christoph Pohl, who gave a convincing performance as the magic piper. He was very good on stage with an attractive voice, though not too well projected.
Czech tenor Ladislav Elgr was terrific as Babinsky, a most sympathetic character, a kind of Papageno to a certain extent. His performance was exemplary. He is a light lyric tenor with an appealing voice, and he sings with gusto and good doses of expression.
Soprano Marjorie Owens as Dorotka was the best singer in the cast, although her character is not as important as the other two. This soprano has a voice of remarkable quality, very homogeneous. She left a strong impression last year as Senta, and she has now confirmed it.
Mezzo soprano Tichina Vaughn as the queen had a not particularly attractive voice. Bass Michael Eder was suited to the role of the devil and lots of fun on stage. Tilmann Rönnebeck as the magician was correct.
The Semperoper was at about 85% of capacity. The audience enjoyed the show,  and offered a warm reception to the artists.
José Mª. Irurzun