Germany Verdi: Macbeth, Orchestra and Chorus of the Bayerische Staatsoper, Paolo Carignani (conductor), Nationaltheater, Munich, 1.7.2014 (JMI)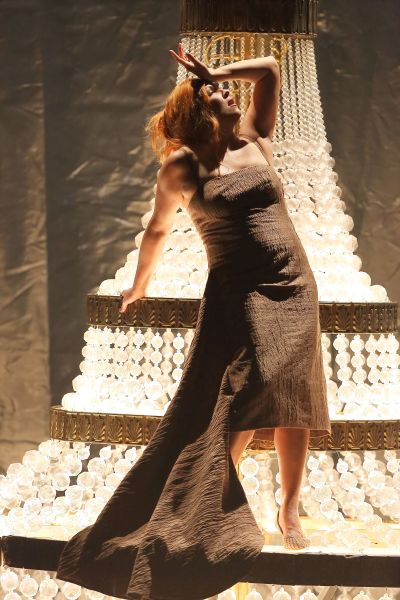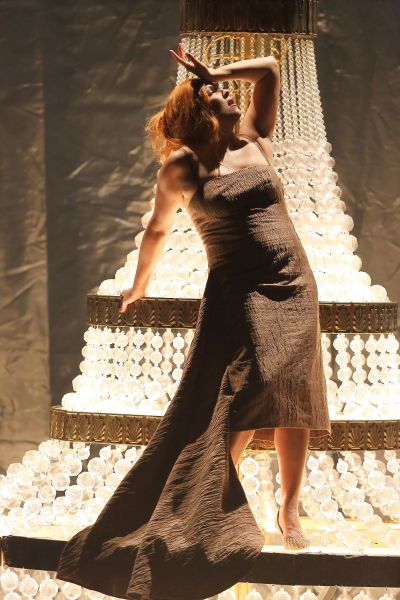 Cast:
Macbeth: Simon Keenlyside
Lady Macbeth: Anna Netrebko
Macduff: Joseph Calleja
Banco: Ildar Abdrazakov
Malcolm: Dean Power
Doctor: Christoph Stephinger
Lady Macbeth's Dame: Iulia Maria Dan

Production: Bayerische Staatsoper
Direction: Martin Kusej
Sets: Martin Zehetgruber
Costumes: Werner Fritz
Lighting: Reinhard Traub
The Munich Opera Festival is unusual in that it offers both premieres and a selection of operas drawn from the Staatsoper repertoire. Considering the fact that the Bavarian capital regularly hosts top singers, visiting Munich at the beginning of the summer is a must for the opera lover. This year the festival is off to an impressive start with Anna Netrebko's debut in the character of Lady Macbeth, a new production of Rossini's Guillaume Tell, and Die Frau Ohne Schatten as a tribute to Richard Strauss on his 150th anniversary. Between 27 June and 31 July there will be 14 different operas on stage featuring stellar performers, including tenors Jonas Kaufmann and Juan Diego Florez and sopranos Anna Netrebko and Anja Harteros.
Anna Netrebko's debut in the character of Lady Macbeth can be considered a huge success for the box office but a more modest one as far as the audience goes. The move that she has made in recent times, from a light-lyric to a spinto soprano and even a dramatic one, is well known. It is beyond any discussion that Ms. Netrebko has one of the most beautiful sopranos in recent years, with a dark timbre so typical of Slavic voices. To this we must add her exceptional gifts as an actress and her ability to convey emotion to the the public. With all this at hand, ​​her success is almost assured in any character she decides to play. That said, it's worth exploring further.
There is no doubt that Ms. Netrebko's voice has widened in recent years without losing quality. This makes her an ideal interpreter of characters such as Trovatore's Leonora, Otello's Desdemona, and Tosca, Manon Lescaut or Butterfly. However, Lady Macbeth goes a step further, and the part demands a true dramatic soprano, which she is not. I believe that an exceptional singer, as is her case, should not tackle a new character if she is not to be a true reference in the role. In the case of Lady Macbeth  ̶  and despite all of Ms. Netrebko's undisputed strengths  ̶  there are better alternatives.
Nothing can be argued against her voice, which is spectacular, nor her volume and projection, as she perfectly reaches the farthest corners of the theater. But in my opinion, Ms. Netrebko sounds somewhat forced in this role, especially in the low notes: they are always perfectly audible, but they are not as natural and easy as what she offers in the middle or top range. I'm convinced that she will not repeat the character after her performances at the Met next season. In the ensembles here, she had not the slightest difficulty being heard above chorus and orchestra. The top notes and the needed coloratura did not create any problem either. She did very well in the much anticipated sleepwalking scene, showing power and soft singing, but unfortunately, her pianissimo D flat does not come out with the necessary firmness.
The performance of Simon Keenlyside as Macbeth was surprising and disappointing. He has never seemed to me well-suited to the main Verdi baritones, which was confirmed in this case. He had unexpected problems singing with elegance, plus serious shortcomings with breath control and a surprisingly thin and tight top register. The much awaited aria, Pietà, rispetto, amore, was difficult for him and also for me. It may be that he was unwell, but there was no notice given to that effect.
Joseph Calleja was Macduff, who has little to sing but usually gets the biggest applause (as with Micaela or Liu) when singing La paterna mano. Something like this happened here, although I found his interpretation short of emotion.
Ildar Abdrazakov was a faultless Banco, and sang the aria preceding his assassination with good taste and elegance. He was definitely a luxury in the character.
Paolo Carignani is an expert conductor, but his musical direction was not convincing, and he never made the opera soar. Overall, there was an unnecessary abuse of decibels, and his tempi were rather too fast. The orchestra and chorus gave strong performances.
This production was premiered in October 2008, and I had the opportunity to see it at the Opera Festival in July 2009. Here is what I wrote then, and my impression now is not any better:http://www.musicweb-international.com/SandH/2009/Jul-Dec09/macbeth2107.htm
The theatre was fully sold out, and I have never seen so many people with "suche karte" signs in my life.
José Mª Irurzun