United Kingdom Rossini's La scala di seta (The Silken Ladder):  Jette Parker Young Artists, Meet The Young Artists Week, Linbury Studio Theatre, Royal Opera House, Covent Garden, London 24.10.2014 (JPr)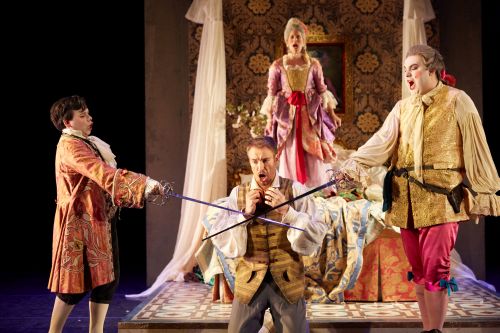 Cast:
Lauren Fagan: Giulia
Samuel Dale Johnson: Dormont,
James Platt: Blansac
Yuriy Yurchuk: Germano
Anush Hovhannisyan: Lucilla
Luis Gomes: Dorvil

Production;
Southbank Sinfonia
Colin J Scott (continuo)
Jonathan Santagada (conductor)
Director: Greg Eldridge
Set designs: Holly Pigott
Lighting designer: Warren Letton.
Almost everyone will know by now that the Royal Opera House's Jette Parker Young Artists Programme allows talented singers, répétiteurs, conductors and directors at the beginning of their careers opportunities to immerse themselves in the work there as well as giving them some mentoring, coaching and the all-important chances to, as appropriate, assist more experienced colleagues, perform in small roles or act as a 'cover' in the main house. The singers may get to do a recital and for all concerned there is the end-of-season summer performance and a fully staged production in the Linbury Studio Theatre. Rossini's La scala di seta was a good choice for the current crop of aspiring performers.
Giaochino Rossini was astonishingly prolific in the early decades of the nineteenth century; he composed 39 operas before his premature retirement at the age of 37 and he lived for nearly another 40 years without produce much of note. When he started writing comic operas, he began with the farsa. These are now much-neglected works: one-act comedies requiring only a small cast and no chorus with insubstantial plots and usually involving much romantic intrigue and misunderstanding. However from these humble early efforts the groundwork was laid for works of comic genius yet to come, such as L'italiana in Algeri, Il turco in Italia and Il barbiere di Siviglia,
Rossini's sixth opera La scala di seta (The Silken Ladder) was first performed in 1812 when he was only 20 with Giuseppe Maria Foppa providing a libretto adapted from Pierre Gaveaux's 1808 opera L'Échelle de soie. It is described as a farsa comica and involves a young woman (the heroine Giulia), and her protective tutor (Dormont), the man she loves (Dorvil) and another one everyone wants her to marry (Blansac), plus her jealous female cousin (Lucilla). The twist is that Giulia is already married to Dorvil who is Blansac's friend and who every night can exercise his 'conjugal rights' because she lowers the eponymous ladder of silk down to him from her bedroom window. Giulia therefore desperately has to divert the attentions of her suitor onto her eager and very willing cousin. Completing this cast of stock characters is Giulia's guileless aged servant Germano who also seems infatuated with her. The implied action is full of the familiar tropes we recognise as 'French farce', such as much rushing up and down the ladder to and from Giulia's bedroom, concealment, revelation, and in-one-door and out-the-other rushing about.
Rossini's music is slightly routine and immature but allows all the characters their individual moments to express their innermost thoughts and emotions and he is not blind to their human frailty. It has a number of eloquent – if challenging – bel canto arias and some jolly ensembles including one of general rejoicing at the end when all the plot's loose threads have been happily woven together and all the cast face out towards the audience.
For some reason this one-acter gained an interval that somewhat interrupted all the comic business. Greg Eldridge's production (in Holly Pigott's designs) provided a relatively inoffensive and unimaginative traditional period setting, despite additions such as a cherry tree sprouting from Giulia's bed and eventually growing through her roof and a balcony above, its trunk making a convenient 'ladder'. Everything took place in Giulia's bedroom for the entirety of the opera, and characters were forever hiding from each other under tables, behind curtains, under the skirts of dressed mannequins or leaving through a convenient exit behind the portrait over Giulia's bed.
Despite some funny moments there was more hilarity to be got from La scala di seta than Greg Eldridge achieved. I could not get out of my mind how ready it all was for updating and that a spoof on Downtown Abbey would have been possible with Giulia as Lady Mary, Lucilla as Lady Rose, Dormont as the Earl of Grantham and Germano as Carson etc. etc. Although I know it is difficult to lampoon a programme that has become parody in its own right and is now often funnier than You Rang M'Lord? the BBC TV upper class family/servants sitcom written by Jimmy Perry and David Croft in the 1990s.
The JPYA Programme remains a 'United Nations' affair with home-grown talent sadly much underrepresented. The director was Australian as were two of the singers and there were others from Armenia, Portugal, and the Ukraine. The conductor was Italian so therefore amongst the performers there were only two Brits – the bass James Platt and playing the continuo was Colin J Scott.
The intimacy of the ROH's grotto-like Linbury Studio gave the young cast – unlike their characters – nowhere to hide and some did better than others. It was James Platt as Blansac who showed the most promise and here was a periwigged and powdered fop with a resonant voice that sounds as if it might easily encompass buffo roles as well as something more substantial in the future. Only two other singers really projected well, despite it being a relatively small venue: Luis Gomes impressed as Dorvil easily traversing the usual high tessitura of a Rossini tenor role; however, like me, he is relatively short of stature and this will limit his opportunities in the future but he deserves to succeed. Samuel Dale Johnson made more of Dormont than there actually was to the small role and he has a very engaging baritone sound. Similarly, Anush Hovhannisyan as Lucilla had not much to do but was very appealing. Unfortunately, I could not warm to Lauren Fagan and Yuri Yurchuk as Giulia and Germano, her bemused servant. Either they were having a bad day … or I was. Despite her obvious vocal agility and the physical comedy of his increasingly drunken portrayal, for me, both lacked some vital Rossinian brio in their singing.
Jonathan Santagada conducted with an eye for fast tempos and as much idiomatic colours as he could achieve from the small but valiant Southbank Sinfonia ensemble. He was attentive to his singers' needs making sure he did not rush ahead and leave them behind, and to his credit the frantic tutti passages made a significant impact.
Jim Pritchard
For further information about the Jette Parker Young Artists visit http://www.roh.org.uk/about/jette-parker-young-artists-programme.
For a recent interview with Luis Gomes see https://seenandheard-international.com/2014/07/stars-in-the-making-1-luis-gomes-tenor-interviewed-by-margarida-mota-bull/ .