United Kingdom Vasko Vassilev's 20th Anniversary Recital. Vasko Vassilev (violin), Pamela Tan Nicholson (piano) with string ensemble and Fergus Gerrand (percussion), members of the Royal Opera chorus and special guest Shogo Kariyazaki (ikebana master). Paul Hamlyn Hall, Royal Opera House, Covent Garden, London 19.1.2015. (JPr)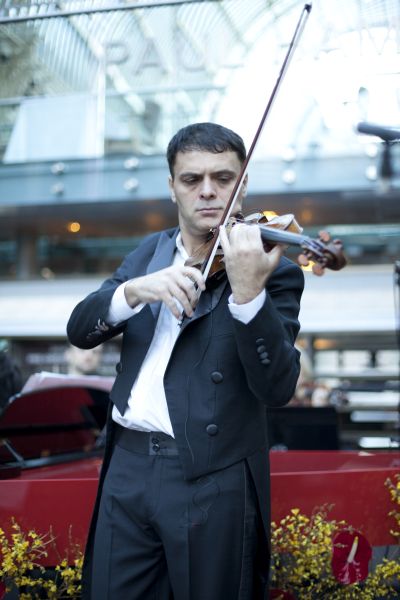 Turandot Fantasy (inspired by Puccini's Turandot)
Paganini Fantasy (inspired by Rossini's Mosè in Egitto)
Butterfly Fantasy (inspired by Puccini's Madama Butterfly)
Adagio (from Khachaturian's Spartacus)
Méditation (from Massenet's Thaïs)
Carmen Flamenco Fantasy (inspired by music from Bizet's Carmen)
Bulgarian conductor and violinist Vasko Vassilev is the youngest-ever Concert Master of the Orchestra of the Royal Opera House, appointed in 1993, when he just 23.
For this anniversary celebration a small string ensemble of two violins, viola, cello and double bass selected by Vassilev were joined by Fergus Gerrand's percussion. Also involved were six members of the Royal Opera Chorus and often centre-stage, playing a customized red piano, was composer-arranger Pamela Tan Nicholson. Also remembered as Vanessa Mae's mother she has collaborated with Vassilev extensively over the last two decades and was responsible it seems for conceptualising this celebratory lunchtime recital.
Indeed Pamela Tan Nicholson seems pivotal in Vassilev's ongoing success because double bassist Tony Hougham – speaking about the violinist's introduction to Covent Garden – revealed she accompanied him at his audition. Vassilev had been recommended by cellist George Ives and impressed in his solos but the feeling was that he needed to be seen handling the orchestra because 'he could be an absolute pain', He was given a trial and when he succeeded in coping with Sir Georg Solti during La traviata in 1994 his colleagues knew they had found the right person.
Throughout this recital Vasko Vassilev's playing was technically adroit and he displayed the full range of his emotionally evocative and rhythmically vibrant virtuosity. In 1989 he was the winner of Italy's Paganini Competition and for Vassilev at that time 'one of the best things is that you can play his violin'. He excelled in Paganini's 'Moses Fantasy – Variations for One String'. This arose when a jealous colleague sabotaged Paganini's instrument, nevertheless, he went ahead and improvised the piece anyway. Pamela Tan Nicholson – acting as MC for this recital because Vassilev said 'We made a deal, I'm just going to play … not talk' – charmingly didn't really appreciate what she was saying when explaining how Paganini had just been 'left with a G string down below'!
If I found Pamela Tan Nicholson's red piano a little clattery at first, the balance between it, the rest of the string ensemble, as well as, the contribution of the six members of the chorus made the Turandot Fantasy – the first of the arrangements of extracts from Vassilev's favourite operas we heard – very compelling and atmospheric. His violin truly rang and sang especially during the 'Nessun dorma' section and this was a feature throughout the recital. My highlight was the heartfelt Adagio from Khachaturian's Spartacus, simply accompanied with refined nuance by Tan Nicholson on an ordinary piano.
Occasionally for me, the presentation of this recital veered too far away from focussing on Vassilev and his playing when there was an element of semi-staging for the Butterfly Fantasy with the four women of the chorus – and Tan Nicholson herself – appearing in kimonos. These were then revealed to have been designed by Japanese ikebana master Shogo Kariyazaki who had flown in from Tokyo. He is famed for his innovative use of flowers for stage and costume designs. His elaborate floral arrangements were seen on the platform and he had designed the kimonos we saw, each worth £10,000 apparently. He returned – somewhat distractingly – to create a display of chrysanthemums on the piano lid during Vassilev's ethereal and plaintive account of the Méditation from Massenet's Thaïs. Tan Nicholson seems to enjoy dressing up and returned in full flamenco costume for a conflation of familiar Carmen themes that – with Fergus Gerrand wearing a cap and rumbustiously joining in sitting aside a percussion sound box – brought this unique recital to a rousing conclusion and the packed Paul Hamlyn Hall lunchtime audience to their feet enthusiastically congratulating Vasko Vassilev on his 20 year anniversary.
Jim Pritchard
For more about events at the Royal Opera House visit www.roh.org.uk.