Germany Janáček: Jenufa, Orchestra and Chorus of the Stuttgart Staatsoper, Sylvain Cambreling (conductor), Staatstheater, Stuttgart, 27.3.2015 (JMI).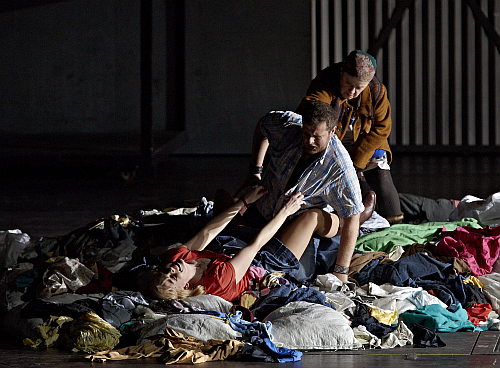 Cast:
Jenufa: Rebecca Von Lipinski
Kostelnička: Iris Vermillion
Laca: Pavel Černoch
Števa: Gergely Németi
Grandmother Burya: Renate Behle
Old Man: Mark Munkittrick
Mayor: Michael Ebbecke
Mayor's Wife: Maria Theressa Ullrich
Karolka: Lauryna Bendziunaite
Shepherd: Karin Torbjörnsdöttir
Barena: Talia Or
Jano: Yuko Kakuta
 

Production: Staatsoper Stuttgart
Direction: Calixto Bieito (original)
Lydia Steier(revival)
Sets:     Susanne Gschwender
Costumes: Ingo Krügler
Lighting: Reinhard Traub
It has been 25 years since I was last at Stuttgart's Opera House, and I thought it a good idea to attend this Jenufa between performances in Munich. After all, it's just a two-hour trip and there are trains every hour. The trip was definitely worthwhile, as is almost always the case when it comes to an opera by Leoš Janáček. I got to see a remarkable theatrical show, well served both musically and vocally.
The staging is by Calixto Bieito, one of the most popular Spanish directors in Germany, if not always the most appreciated. This production premiered here in 2007 and was well received by audiences and critics. Bieito can be a genius as director, and he presents a magnificent narration of the Jerufa drama. The action is brought up to modern times and placed on a single set. In the first act, it's a large used-clothing store, which in Act II becomes the home of Jenufa and Kostelnička. In Act III we're in a sewing workshop owned by Karolka, the mayor's daughter and future wife of Števa.
Mr. Bieito's direction really stands out in this production. He does a spectacular job with all the actors and even the choristers, each of whom becomes a singular character. The Spanish régisseur superbly delineates all the roles,  creating a huge dramatic force on stage. There are none of the excesses for which he has been criticized many times, just the work of an outstanding director. All of the characters have been thoroughly worked out, including the secondary roles. Nobody goes unnoticed, even characters as irrelevant as Jano, Karolka or the Shepherd. In short, it's a great lesson in theatre production.
The music was in the hands of Sylvain Cambreling, the current general music director for the Stuttgart Opera. His conducting was sensitive and served to accentuate the drama on stage. Cambreling has always seemed to me a rather uneven conductor, but this time things went well. The only complaint one might make is that he sometimes allowed an excess of orchestral volume, especially considering that the singers did not have exceptional voices. Both the orchestra and the chorus were excellent.
When this production premiered, the protagonist was Eva-Maria Westbroek. The role of Jenufa was sung here by British soprano Rebecca von Lipinski, who gave a convincing performance. She is an excellent actress with an appealing presence, and her voice is well-suited to Jenufa, not too rich in the middle and shining in the top notes.
In the first performances of this revival the character of Kostelnička was played by Angela Denoke, who enjoyed a huge success in the part. This time the role was sung by German mezzo soprano Iris Vermillion, a remarkable interpreter although unexceptional in vocal terms.
Pavel Černoch was a great Laca, in terms both of acting and singing. His tenor suits the demands of the character, and he exhibited a wide and attractive voice.
Romanian Gergely Németi was Števa, and he too did well. He is more lyrical than his colleague, as it should be. In fact, he is a light-lyric tenor with an attractive timbre and a good stage presence. 
All the secondary roles were covered nicely. Grandmother Burya was veteran Renata Behle. The character of Jano is given much importance in this production, and Yuko Kakuta was excellent.
The Stuttgart Opera House is located in a park in the middle of town, a peaceful location just 300 meters away from the city's shopping area. The audience gave a warm reception to the artists, with the biggest ovations for Pavel Černoch and Iris Vermillion.
.
José M. Irurzun