Spain Bellini, Norma  Orquestra de la Comunitat Valenciana, Cor de la Generalitat Valenciana, Gustavo Gimeno (conductor), Palau de les Arts, Valencia, 14.3.2015 (JMI)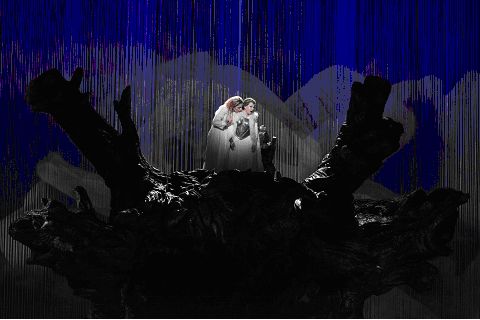 Cast:
Norma: Mariella Devia
Pollione: Russell Thomas
Adalgisa: Varduhi Abrahamyan
Oroveso: Sergey Artamonov
Flavio: David Fruci
Clotilde: Cristina Alunno
New Production: Palau de les Arts in coproduction with Madrid's Teatro Real and Bilbao's ABAO
Direction: Davide Livermore
Sets: Giò Forma
Costumes: Mariana Fracasso
Lighting: Antonio Castro
Norma is the first opera to be performed at Palau de les Arts since Helga Schmidt was fired in January. Its main interest lies in the presence of Italian soprano Mariella Devia in the title role.
I'm not going into details regarding Ms. Schmidt, but the new era opening up now at Palau de les Arts will have little to do with what we have experienced in the last eight years. There's no question that Ms. Schmidt has managed to place Valencia among the leading European opera houses, and it makes sense for that to be recognized, particularly by opera-ignorant local politicians. I want to express my appreciation and gratitude to her for all that we've enjoyed in Valencia under her leadership.
There's no doubt that Mariella Devia is a true miracle of nature. It's highly unusual for a singer who turns 67 next month to show such a fresh voice, combined with an outstanding vocal technique. Ms. Devia made her debut as Norma two years ago in Bologna, and I believe Valencia hosts her second outing as the Druid priestess. Her quality as a bel canto specialist is fully established, and she proved it again, particularly in the first act of the opera: she shone both in "Casta diva" and, especially, in "Ah! bello a me ritorna," where she offered beautiful and difficult variations in the second part of the cabaletta. I would put the two duets with Adalgisa at the same level  ̶  her quality was incontestable. At the most dramatic moments, Ms. Devia was a little short of power, but she had the good taste not to resort to tricks to look more dramatic. It's not possible with a lyrical voice like hers to do brilliantly in the duet with Pollione, "In mia man alfin tu sei." Hers is an important Norma, one of the very best today, but it is not a Norma for history: she lacks, in addition to vocal weight in the most dramatic moments, a better use of piani and, especially, those high notes floated Caballé-style. Her top notes were mostly in forte. In any case, I confess I enjoyed her performance in this more than demanding role.
American tenor Russell Thomas was a positive surprise in the part of Pollione. From his first entrance on stage he showed a large, attractive and homogeneous tenor, and he faced the difficulties of the score without problems. He was also able to modulate his sound, although not always successfully.
Armenian mezzo soprano Varduhi Abrahamyan was no more than correct as Adalgisa. Her voice is attractive and has enough size, but she remains somewhat impersonal and short of expressiveness. What I didn't like was her continual effort to escape the high notes. She did it on the few occasions where top notes were required, which was evident both in her duet with Pollione and in the two duets with Norma.
Russian bass Sergey Artamonov was a good Oroveso, with a powerful and attractive voice in the middle range and at the bottom, but his top register tends to be more reduced and whitish.
 The musical direction was by Valencian Gustavo Gimeno, whose presence in the pit of Les Arts seems to respond to some sort of political toll. His conducting was better than expected, although his tempos were quite irregular, very slow at times and too fast at others. The orchestra was good, but not at their excellent level of the past, and there was a fine performance by the chorus.
The stage production is by Davide Livermore, the current general director of Palau de les Arts, although apparently the contract has not yet been signed. The set consists mainly of a large tree trunk that rotates occasionally and has a grand staircase at the back. The trunk is used for the sacred ceremony, as Norma's home and for the final sacrifice. From my point of view, the presence of the trunk became somewhat tiresome. The production does make a remarkable use of video projections which serve to complete the sets. The costumes are appropriate, and the lighting is good. The production is completed by a ballet that begins during the overture.
The stage direction offers nothing original, except for Mr. Livermore's treatment of Norma's  children. He draws quite a different behavior from each of them, which is much more interesting than what we have seen so many times in past performances.
Palau de Les Arts was at about 90% of capacity. The audience showed their enthusiasm during the performance and at the end, especially towards Mariella Devia.
José M. Irurzun