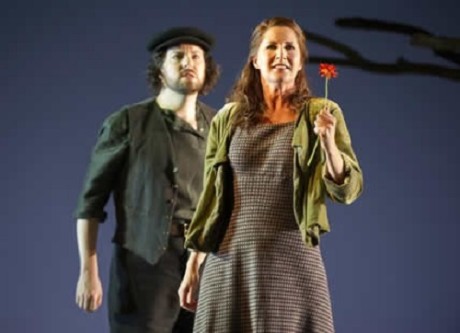 United Kingdom Janáček, Jenufa: Soloists, Chorus  and Orchestra of Opera North / Aleksandar Marković (conductor), Leeds Grand Theatre, Leeds  22.10.2015 (JL)   Janáček, Jenufa,
Cast:
Jenůfa: Ylva Kihlberg
Kostelnička: Susan Bickley
Grandmother: Elizabeth Sikora
Števa Buryja: Ed Lyon
Laca Klemeň: David Butt Philip
Foreman: Dean Robinson
Karolka: Daisy Brown
Mayor: Jeremy Peaker
Mayor's Wife: Claire Pascoe
Maid:  Beth Mackay
Barena: Sarah Estill
Jano: Frankie Bounds
Production:
Director: Tom Cairns
Set & Costumes: Tom Cairns
Lighting: Wolfgang Göbbel
Choreographer: Aletta Collins
English translation: Otakar Kraus & Edward Downes
Opera North has developed a deserving reputation for championing the works of Janáček. Three years ago the company launched a new and much admired production of The Makropulos Case while this  Jenufa  is a welcome revival  of an established success.  Continuity is provided  between the two  by Tom Cairns as director of both, and Swedish soprano Ylva Kihlberg who sings the eponymous role in Jenufa and  portrayed the lead  character of  Emilia Marty in The Makropulos Case .
The operas are very different from a characterisation perspective in that Emilia, a charismatic woman of experience who happens to be a prima donna, is very much the centre of attention with  others revolving  around her while Jenufa is a young woman  who is  buffeted  by  a combination of events and  people.  She  begins the opera  as an optimistic girl  looking forward to a life of married bliss but ends up, after things have  started to go wrong, declaring, "I never expected my life to turn out like this".
Ylva Kihlberg, whose career path  to operatic soprano came via rock musician, economist and ballet dancer,  does not quite convince as a bouncy, excited teenager in love in the first act but  later on gives a powerful performance as a woman who has reached acceptance via tragedy.  Vocally, she had a minor battle in riding the orchestra to start with  but gained in strength of  voice throughout to achieve a commanding expressiveness.
Unusually for Janáček the main characters all play a central role in the drama and the composer carefully  delineates  their  personalities in text and music.  Much of the plot unfolds through a series of monologues from them,  a technique Janáček had started to perfect for the first time in Jenufa. He also developed  his theory of "speech melody" and while  revising  Jenufa  he made changes to the vocal parts so that they become much more flexible and less on the beat, unhitching them more from the accompanying rhythms  of the orchestra, thus  becoming trickier for the singers.
The result is that this is very much an ensemble piece in which one weak link would cause the whole theatrical edifice to creak.  The singers have to act people who are burdened with emotion that borders on the disabling while  meeting the vocal demands.
All the cast coped admirably.  Števa is Jenufa's  first love whom she is desperate to marry, one of those unfortunate infatuations that can never work out. Having learned he is not to be recruited to the army he enters with his mates in drunken celebration.  Ed Lyon was spot on with his portayal.  Tall and good looking,  he dances uncontrollably about  boasting of sexual conquests:  a womanising waster.   As his half brother, Laca, David Butt Philip, who started life as a baritone, has a strong tenor voice with a gift for articulation which is as well in this English translation.  He superbly  conveys the irrationality of a man out of control with unrequited passion for Jenufa,  a man who harms the thing  he loves yet remains loving her through thick and thin whatever the cost.
The dominant character is the  devout and formidable Kostelnička (a sort of administrator of the local church), Jenufa's adoptive mother and effective head of the whole dysfunctional family.  A climactic point in the opera is towards the end of the second of the three acts. The Kostelnička, in a well intentioned bid to free Jenufa of shame and allow her to marry, decides to kill her daughter's baby. In a key monologue she passionately and agonisingly expresses her resolve.  Here  Janáček builds a mighty climax in the orchestra  and conductor Aleksandar Marković  did not hold back. This would drown out most singers but he had on stage Susan Bickley, a singer of great experience  with Wagnerian pedigree and it showed.   She rode the wall of sound in one of the high moments of  the night.
Serbian Aleksandar Marković was appointed principal conductor of the Brno Philharmonic in 2008. Brno was where Janáček wrote Jenufa and the town in which it was premiered so it is tempting to think this music has entered his bloodstream. It certainly seems the case.  He kept things really moving in the pit, emphasising the leitmotiv of repetitive rhythms that appear to represent the turning of the local mill which in turn symbolises the treadmill  nature  of  claustrophobic, provincial  life.  Above all  he brought out the composer's acerbic and sometimes eccentric  orchestral textures.  Until fairly recently Jenufa was performed in a version prepared by the conductor of the Prague premiere in 1916. He filled out the textures to provide a more fulsome and popular romantic sound.   Now we hear  music that returns to Janáček's original intentions that involve clear polyphonic lines  often in unusual  instrumental doublings.  Marković got the orchestra to point these with great effect keeping things suitably restrained when necessary to contrast with the occasional unleashing of climaxes that did sometimes threaten the singers.  There were balance problems that no doubt can be sorted during the coming run.
The set is a semi-abstract affair, the fixed feature being a pentagon against a black backdrop, beautifully lit with shifting colours reflecting the mood of the drama.  The backdrop in the first two acts  becomes a kind of proscenium  arch in the last  in which the public scenes are confined. Maybe this represents  community claustrophobia  but it did rather restrict the dancing outdoor action.
This is a harrowing tale not for the faint hearted.  Janáček  tells  it in a beautifully paced  piece of musical theatre and  as so often  in art, and sometimes in life, there is redemption through compassion. Or is there? It is a matter of opinion.   After the Kostelnička has killed Jenufa's baby she consoles her daughter on her loss. When Jenufu finds out  who did it, she consoles her mother in her guilt.
The performance of this production  has sufficient  power and engagement to make you really think.
John Leeman
After Leeds Opera North tours Jenufa to Newcastle, Salford and Nottingham. See www.operanorth.co.uk.