United States Wagner, Tannhäuser: Soloists, Chorus and Orchestra of the Metropolitan Opera, New York / James Levine (conductor). Broadcast to the Empire Cinema, Basildon, Essex, 31.10.2015. (JPr)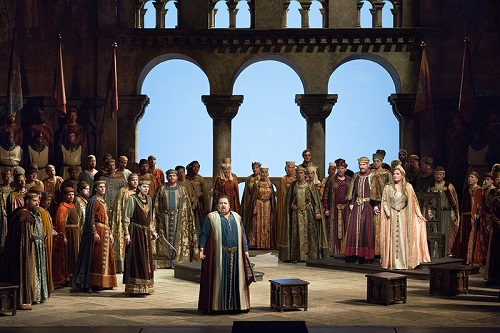 Cast:
Venus: Michelle DeYoung
Tannhäuser: Johan Botha
A Young Shepherd: Ying Fang
Hermann: Günther Groissböck
Walther: Noah Baetge
Biterolf: Ryan McKinny
Wolfram: Peter Mattei
Heinrich: Adam Klein
Reinmar: Ricardo Lugo
Elisabeth: Eva-Maria Westbroek
Production:
Diredctor: Otto Schenk
Set designer: Günther Schneider-Siemssen
Costume designer: Patricia Zipprodt
Lighting designer: Gil Wechsler
Choreographer: Norbert Vesak
Stage director: Stephen Pickover
LIVE IN HD Director: Barbara Willis Sweete
LIVE IN HD Host: Susan Graham 
Had the image on the cinema screen frozen during this Tannhäuser at any point (it didn't and picture and sound quality were first class) we could have been watching a snapshot of a Wagner production at any time from the early twentieth century onwards. In fact this neo-Romantic Tannhäuser dates from 1977 and now looks very dated but because a cinema broadcast focuses on the individual performances – as long as these are convincing – it provides a handsome showcase for a medieval battle of wills between the flesh and the spirit, good and evil, tradition and change, damnation and redemption. I have never appreciated so much before how Act II clearly influenced the debate about German Art and courtly love in his forthcoming Die Meistersinger von Nürnberg – but this discussion is for another time.
Along with Patricia Zipprodt's sumptuous costumes, director Otto Schenk and set designer Günther Schneider-Siemssen's production, especially the choral moments, seem to have been conceived as a series of tapestry-inspired tableaux. At times it seems kitsch but at others atmospherically poetic. Something else for consideration at another time is whether this opera – based on real people and historic events in actual places from centuries past (the thirteenth) – is much better in this romantic-realist setting rather than the Soylent Green influenced installation as recently seen at Bayreuth. Apparently the Hall of Song we see is uncannily like the original in the genuine Wartburg Castle where Tannhäuser and his fellow minstrels competed for the favours of the saintly Elisabeth and the stage pictures reflect medieval paintings of the Thuringian countryside where the castle still stands in Germany.
How much of Otto Schenk's original production exists in the current revival is debatable and I suspect (in Stephen Pickover's restaging) the principals have been left to their own devices; yet even this approach – shorn of nearly all interpretive gimmickry – seemed entirely appropriate for the opera. The tensions and relationships, which slowly developed over the first two acts, reached a powerful climax when Tannhäuser, having sought repentance from the Pope for dallying with the love goddess Venus, returns from his Roman pilgrimage. He is redeemed by the intercession of the 'martyred' Elisabeth and dies before the sign comes from the Pope that his sins have been forgiven. Otto Schenk leaves us to make up our own minds over what we have seen – and perhaps it should always be like this? – taken simply is it just a morality tale, or something with more contemporary resonance concerning the struggle of a visionary artist (Wagner himself) to create something progressive and new in a (musically?) conservative society.
The laissez-faire attitude to putting something 38 years old back on stage was summed up during an interview by the Met Live in HD host (the always unflappable) Susan Graham with Emmanuel Ceysson, the Met orchestra's new young French principal harpist. Ms Graham suggested that long stretches of the music are like a harp concerto in Act II as he accompanied the song contest and Monsieur Ceysson revealed how Peter Mattei (Wolfram) had requested 'one on one' coaching to look realistic when he strummed his onstage (silent) harp. Had time or inclination allowed it would have been good for Johan Botha's Tannhäuser and Ryan McKinny's Biterolf to have had a session so that everyone was doing the same thing.
The Met uses Wagner's more richly scored 1861 'Paris version' that is influenced by the imminent Tristan und Isolde and includes the bacchanale – here a rather chaste affair despite some alternate lifestyle gender couplings. The orchestral sound from the loudspeakers was sumptuous throughout which is only to be expected as at the podium was James Levine, one of the greatest living Wagnerian conductors. Maybe it was just an impression but Barbara Willis Sweete's camera direction for cinema often drew back so we could see more of the entire stage and was not always so 'in their faces' as Gary Halvorson presents other Met operas. The only time, for me, she put a foot/camera wrong was by focussing on Maestro Levine for most of the quite substantial – scene painting – overture. It seems to require superhuman effort for him to be there conducting these days and once that was established Barbara Willis Sweete should have turned her cameras' attention elsewhere and let the music say all that was needed – about how we must treasure every time James Levine is now able to conduct. Everything we heard once the action began was the perfect accompaniment for his principals and the (as always) stunning chorus. There were delicate colours, much nuance and rich textural detail, as well as, the near-perfect counterpoint of an impulsive dramatic arc over the three acts that complemented the glories of this unashamedly traditional and mostly static production.
A staging like this therefore depends on its cast, and this one will leave strong abiding memories. I have heard Johan Botha sing better (a clip shown of him as Walther in the Met's Die Meistersinger revealed what he usually capable of) and he struggled a little during Acts I and II – perhaps it was the early hour of this matinee performance? He always has vocal grace, heft and stamina and he pulled himself together for a 'Rome Narration' that I cannot remember being bettered. Having been dismissed by the Pope, tortured by the rigours of his pilgrimage and seemingly on the edge of insanity, he believably recounted Tannhäuser's travails with wonderfully expressive shading, a refined lyricism and considerable potency.
Much as I admire Eva-Maria Westbroek, her singing has been a little wayward of late but after a slightly shaky 'Dich, teure Halle' she initially presented Elisabeth as an impetuous and strong willed Teutonic virgin, courageously willing to defy the wishes of the male-dominated society. This made her despair over Tannhäuser's betrayal – which will lead to her death through a broken heart – all the more affecting. Michelle De Young was a sensually seductive Venus and Günther Groissböck a stoic Landgraf Hermann but neither seemed to bringing any fresh insight to their characters. All the smaller roles revealed the strength in depth of the Met's ensemble and there was a remarkable Young Shepherd from the sweet-voiced Ying Fang.
Best of all the singers – Johan Botha's last act heroics notwithstanding – was Peter Mattei as Wolfram who believably portrayed someone totally infatuated with Elisabeth … she is to him the incarnation of the Madonna. Later he showed himself to be chivalrously loyal in his support of Tannhäuser, if only by clearly being an intent listener to his revelations. Previously at the Met Peter Mattei was a suitably anguished Amfortas but here employs a smooth and cultivated Lieder-like baritone to eloquently shape Wolfram's lyrical lines.
Jim Pritchard
Check out your local cinema listings as the Metropolitan Opera's Live in HD 2015-16 season continues.