United Kingdom Kurt Weill, Street Scene: Royal Northern College of Music Theatre, Manchester  2.12.2015. (RJW)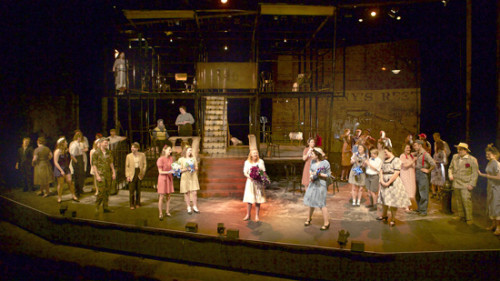 This American opera of 1946, with well-written book by Elmer Rice and additional lyrics by Langston Hughes is a good romp for today's students for there is a large cast that are all given opportunities to shine. The storyline can fit many decades yet here the production is authentically played in 1940s New York. Kurt Weill had first appeared on Broadway in 1935, with Street Scene being written 11 years later. With his jazz-influenced writing, it follows Gershwin and echoes Bernstein's On the Town (1944), but without any of Bernstein's ballet focus.
American suburbia provides the backdrop for a series of vignettes of the lives and daily goings-on between neighbours living in the same tenement who are eager to know about, and interfere with, each other's business. The characters are colourful and provide ideal opportunities for a singer to develop their stage personalities. The RNCM students rise to the challenge and make the most of the opportunity to create believable individuals in this polished performance.
Central to the plot are the Maurrants and Kaplin families. A loving Mrs Maurrant is having an secret affair with Sankey, the milkman. Her thuggish and jealous husband has driven a wedge between her and their children, expecting his wife to be his property. These portrayals by Katie Lowe and Aidan Edwards give convincing characters for Anna and Frank with their lyric soprano and rich bass-baritone voices blending well together. Their daughter, Rose (Michaela Parry) is pursued by neighbour, Sam Kaplin (Alexander Grainger): both held the audience's attention with their tender singing, soaring top notes and convincing acting. The magnificent singing by Sarah Foubert as Greta Fiorentino should be mentioned since her impressive high top notes were memorable. The supporting cast made this a spectacular production with all parts thoroughly rehearsed, brilliantly sung and sincerely acted. Charlotte Badham's convincing portrayal of stroppy young Willie, with typical teens attitude, was outstanding. An excellent Boogy-Woogy jive by David Thomas & Georgia Gardiner at the end of Act I was particularly appreciated by the audience.
Director, Stefan Janski (with Jonathan Ainscough), had taken much care about the  presentation: the American and Italian accents had been well tutored and held throughout the show. The effort taken to give each character a personal identity was appreciated and helped provide a colourful scene of activity. The two-storey tenement was cleverly adapted to have practical blinds for the upper storey. One blind gave the opportunity to use as a shadowgraph screen for a poignant mime to take place between Mrs Maurrant and her milkman lover. The attractive setting is complemented by authentically-dressed characters of the period by Elaine Needham's team and this helped bring out their individual traits. The lighting was effective and the awkwardness of the tenement frame remaining shadowless. Perhaps the fade downs for moods might have been a bit severe but the setting was pleasingly lit.
It was a difficult decision to mike the whole cast and orchestra. I felt the balance was better than many a West End show where both high and low frequencies are artificially boosted. Weill introduces a myriad of orchestral textures that must have been awkward to master and with few places for players to take a pause. Throughout, Clark Rundell held everything together magnificently and the playing was outstanding. A memorable evening.
Raymond J Walker