Spain Bellini, I Capuleti è I Montecchi: Liceu Orchestra and Chorus/Riccardo Frizza (conductor), Gran Teatre del Liceu, Barcelona, 28 & 29.5.2016. (JMI)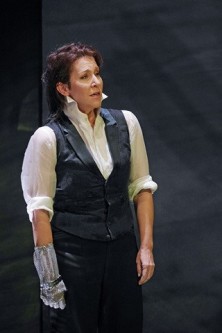 Bellini, I Capuleti è I Montecchi
Production: Bayerische Staatsoper in coproduction with San Francisco Opera
Direction: Vincent Boussard
Sets: Vincent Lemaire
Costumes: Christian Lacroix
Lighting: Guido Levi
Casts:
Romeo: Joyce DiDonato/Silvia Tro Santafé
Giulietta: Ekaterina Siurina/Patrizia Ciofi
Tebaldo: Celso Albelo/Antonino Siragusa
Capellio: Marco Spotti
Lorenzo: Simón Orfila
I've had the opportunity to see this Vincent Boussard production a couple of times in Munich, where it premiered five years ago. I still consider it to be pretentious, capricious and boring, as I wrote at the time of the premiere (review).
Conducting bel canto opera is much more difficult than is generally thought. Some people believe that simply accompanying the singers is sufficient, but bel canto under a routine conductor can be extremely boring unless there is an exceptional singer on stage, which is not always the case. Riccardo Frizza has a great deal of experience in this genre, and I found his conducting impressive overall. Mr. Frizza was most compelling in his delicate and moving reading of the final scene. The orchestra left something to be desired, but this is a long story. The Liceu's chorus was correct.
Elīna Garanča had been scheduled to play Romeo but cancelled some time ago. The Liceu had the good fortune and the great merit of replacing her with Joyce DiDonato, who returned to the stage here following her recital of the previous night. She has sung the part of Romeo in the most important opera houses for many years and has an exceptional voice, although her top notes are now rather tight. She knows it and tries to avoid them, which makes her performance less brilliant. I should point out that she introduced excellent variations in the second part of the cabaletta "La tremenda utrice spade." It's a custom that has been lost except among artists like Gregory Kunde and Ms DiDonato, who seem to be the only defenders of this particular musical contribution. The best part of her performance, and of the whole opera, was the singing lesson she gave at the tomb scene, where she proved that she is both a great singer and a compelling artist.
Mezzo soprano Silvia Tro Santafé played Romeo on the following day. Her voice is not particularly big or attractive, but ultimately she is always appropriate. Giulietta was sung by Ekaterina Siurina, who left the same impression as when I heard her in Munich in this character. Her soprano is appealing, but her singing can be monotonous and short on emotion. Patrizia Ciofi has a rather modest voice, but she is an artist with the rare ability to convey emotion to the audience. And this, after all, is what opera is about. Although Ekaterina Siurina's voice is more attractive, I prefer Patrizia Ciofi as Giulietta.
Celso Albelo was Tebaldo, and his performance was somewhat disappointing. In his first scene he had serious breathing problems, and his low notes were inaudible; he shone only at the top. Antonino Siragusa was unconvincing in the part.
Marco Spotti was a sonorous Capellio, while Simón Orfila was convincing in the character of Lorenzo.
José M. Irurzun