Italy Rossini: Ciro in Babilonia, Orchestra and Chorus of Teatro Comunale of Bologna/Jader Bignamini (conductor), Teatro Rossini, Pesaro, 10.08.2016. (JB)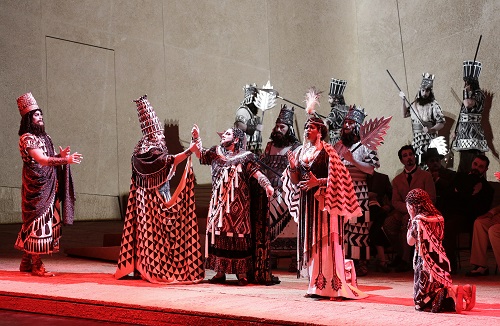 Cast:
Baldassare (Belshazzar, King of Babylon), Antonio Siragusa
Ciro (Cyrus, King of Persia), Ewa Podles
Amira, his wife, Pretty Yende
Argene, Amira's handmaid, Isabella Gaudi
Arbace, Baldassare's turncoat General, Alessandro Luciano
The prophet Daniel, Dimitri Pkhailadze
Zambri a Babilonian Prince, Oleg Tsybulko
Production:
Stage Director, Davide Livermore
Sets and Projections, Nicolas Bovey
Costumes, Gianluca Falaschi
There is only one possibility of staging Ciro in Babilonia and that is the availability of Ewa Podles to sing the title role.  Coloratura contraltos are not found on every street corner.  Now in her mid-sixties, she made her ROF debut in 2012 in this role. (She had previously sung recitals in Pesaro.)  The ROF also enjoyed a recital in 2014, but this return as Ciro is particularly welcome.
It is also a pleasure to record some improvements to Davide Livermore's original 2012 staging which ingeniously set the opera in the age of the silent movies.  I am happy to see that Livermore and the festival management have picked up on my suggestion that the plot line captions of 2012 be increased and the wearisome, interminable secco recitativo, cut.  Those original recits served only to explain the absurdities of a chiefly barmy plot.
Will Crutchfield had done his best in 2014 to plough through the recitatives, but the new, youthful Italian conductor, Jades Bignamini, has drastically cut them and further increased the tempi on many of the ensembles (especially the choruses) which all causes the score to bristle with newfound vitality.  This is Bignamini's ROF debut.  May there be a lot more of him.
Jessica Pratt has been a very impressive Amira, (Ciro's wife)  but newcomer, Pretty Yende from South Africa and winner of the latest Domingo Operalia Competition, takes Amira to a new level, convincing us that the role is one of Rossini's greatest creations.  Pretty is well-named, tall, slender, with strikingly beautiful bone structure, she has the most perfectly trained golden voice.  It was astonishing to see these two women visibly restraining themselves from each applauding the other following their duets.  Pretty Jende has a stage presence like no one else I have ever seen.  It's impossible to look at anyone else on stage.  And all of this comes across with a natural easy charm rather than an act.
Perhaps her greatest moment (but this is difficult because there were so many) was her final aria, 'Deh! Per me non v'affligete', with all the coloratura precisely placed yet with no compromises to the glorious expressions introduced into every note.  Musical finesse was never so remarkably adjusted in such details.  The audience were clear that they thought so too.
La Podles herself continues to get better in a performance one was convinced could never have been improved.  The ROF reproduces her 2012 programme note in which  she speaks of her research into the historic Ciro.  (We call him Cyrus in English.)  Truth to tell, Rossini himself had little interest in bringing the Persian Emperor to life, so it is somewhat surprising (happily surprising!) that Podles finds in the music matters which are known of the actual emperor.  She writes:
I am fully aware of the historic legacy of the hero.  I cannot imagine him to be dreamy or lyrical.  Judging by his actions, he was strong, energetic, determined, but also deeply thoughtful and emotional.  This is how I will attempt to portray him. 
And do you do, ma'am.  So you do.  There is something so solid, so resolved, so unshakable, so volcanic in the Podles performance, that it commands every pair of ears in the house.  From her opening cavatina where she is reflecting  on possible strategy, 'Veh come pallido' – 'Ciro infelice' –Ahi! Come il mio dolore', never was there such a vocal force to be reckoned with.  This can be a booming contralto quality which is also shot through with melting tenderness.  In this alone, ma'am, you have no competitor.
There is an attractive declamatory quality in Antonio Siragusa's tenor voice as Baldassare (Belshazzar in English).  Declaiming is mostly what Baldasare does and Siragusa gets the ogre character across which Rossini so thoughtfully provides in his music.
Francesco Aventi's libretto is based very loosely on events narrated in the Old Testament, including the Second book of Kings and the book of Daniel.  The episode of Belshazzar's feast, his downfall and the writing on the wall, was effectively staged with Livermore's gifted mime group, alternating silent movie jerks and freezes.  Dimitri Pkhaladze from Georgia looked fine as the prophet Daniel but wasn't able to save the rather dull aria on the King's end: Thou art weighed in the balance and found wanting.   Take a seat at William Walton's Belshazzar's Feast if you want a better ride of this.
Conductor, Jader Bignami, sounded as though he had taken Anna Russell's sound advice to heart: Hurry over the dull bits as fast as you can and stretch out the effective bits as much as you dare.  Those two women again!  When that quality comes to the fore, Maestro Bignami can be very daring indeed.
Jack Buckley