Germany Beethoven, Fidelio: Soloists, Berlin State Opera Chorus (chorus master: Martin Wright), Staatskapelle Berlin, Daniel Barenboim (conductor). Schillertheater, Berlin, 28.10.2016. (MB)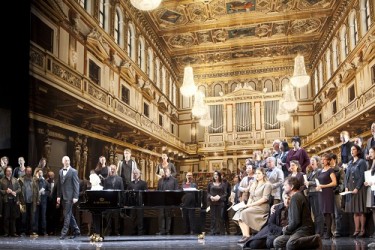 Cast:
Don Fernando – Roman Trekel
Don Pizarro – Falk Struckmann
Florestan – Andreas Schager
Leonore – Camilla Nylund
Rocco – Matti Salminen
Marzelline – Evelin Novak
Jaquino – Florian Hoffmann
Production:
Harry Kupfer (director)
Derek Gimpel (assistant director)
Hans Schavernoch (set designs)
Yan Tax (costumes)
Olaf Freese (lighting)
What to do with Fidelio? It seems to be a question exercising everyone staging – and performing – it, which, in one, very obvious sense, is fair enough, even a necessity. On the other hand, the desire to 'do' something with it, whether musically, scenically, or both, will sometimes lead us down decidedly peculiar alleys. I have been sent down stranger, far less convincing ways than that of Harry Kupfer. Indeed a signal strength of his new production for the Berlin State Opera is that it seems to suggest – or at least can be understood to do so – that the desire to do things different musically, the jadedness that gave birth to the fashion-victim wing of 'authenticity' can be at least as injurious to Beethoven as Mahler's 'tradition' as Schlamperei. Both the comfortable, too-smoothly-connected Beethoven of regular, all-too-regular performances at the Musikverein – seen at beginning and end, in a strangely convincing trompe l'œil backdrop – and a reductive, anti-metaphysical, post-Stravinskian inability to cope with him, his music, and his message, to connect anything, be it phrase or idea, with anything else, stand accused. Or at least they did for me. Kupfer is not always the most open of directors, but here, I think he offers the potential for different readings, according to one's own needs as well as inclinations. Whether that has come at the expense of the directorial boldness we know from the Kupfer of old, whether there is a tiredness, as well as an accusation of tiredness, remains an awkward, nagging doubt.
Kupfer, aided by Hans Schavernoch's excellent designs, presents a Beethoven hemmed in by routine. His bust stands on the piano; that is what busts, especially of Beethoven, do. Performance directions, director's notes, multilingual key words drive us up the walls. The day-to-day routine of an opera house or concert hall, even when well run, well thought through – having studied, for instance, at some of Kupfer's notes for his Dresden Moses und Aron, I can attest that he thinks, certainly thought, things through – can militate against great artistry. No one, I am sure, would claim otherwise. Such, in a sense, is the world of the first scene of Fidelio, of Jacquino and Marzelline, or Rocco's 'gold' aria. It would be an odd thing if the most memorable thing about a Fidelio were the ironing, but ironing is necessary, as are the non-heroic characters in general. Does it seep through too much, though? Are the prisoners as imprisoned by their Peters scores – which, mysteriously, they rarely if ever open, although I think Jacquino does his – as by something more objectively brutal? Is that an important question to ask, or is it gravely insulting to those who actually are physically imprisoned? Kupfer seems to invite us to ask such questions; I have thought a good deal about them since, and am still doing so.
There are big moments, of course. They still shine through. Is the director perhaps telling us to simplify, to focus upon them? He might be, but I am not entirely sure. Perhaps that is as it should be. At any rate, the events in the dungeon retain a straightforward power of their own, as surely they must. Or must they? I know that many in the audience felt too much left to their own devices, and wonder whether some on stage did too. I am far from unsympathetic to them, yet at the same time, the contrast between the ambiguity of direction (and even, if non-direction it were, of non-direction) and the certainty of the musical performance was not, for me, entirely unproductive.
For it was ultimately the contribution, unsurprisingly, of the Staatskapelle Berlin and Daniel Barenboim that made this Fidelio – well, Fidelio. That is not intended as any disrespect to the generally excellent singers, but Fidelio begins and ends with its symphonism – even when, perhaps even particularly when, it is aspirant symphonism. The oddity of opening with the second Leonore Overture aside – was even Barenboim joining in the game of 'difference'? – not a foot was put wrong. That is not enough, of course: not nearly enough. More to the point, everything, even if there were multiple alternatives, felt right, felt necessary. Hearing the work from beginning to end, Barenboim built it intriguingly from Klemperian foundations to a blazing, almost incredibly Furtwänglerian final chorus. (The interplay between those two tendencies, living influences, has recently been a particular theme in his conducting of Beethoven symphonies.) The orchestra, as transparent as it was weighty, as dramatically incisive as it was metaphysically wise, stood quite beyond the realm of the quotidian. It played with greater 'tradition' than the unforgettable West-Eastern Divan under Barenboim, but this was a tradition, unlike that of some, that was constantly rethought, recreated. Much the same could, and should, be said of the magnificent choral singing. Barenboim's Fidelio is not the same as it was, nor should it be. Is it better? Who cares? It is what it is now, and it is something special indeed.
Andreas Schager's Florestan was also special. Too few singers who essay the role can actually sing it. Unsurprisingly, there was no such problem in Schager's case: he is unquestionably the finest Heldentenor, as conventionally understood, of our time. (Jonas Kaufmann, a superlative exponent of the role, is something quite different again.) There was an appealing, rather straightforward sincerity to his portrayal, which is arguably just what it needs. And in a dialectical situation such as set up by Kupfer, straightforwardness will never 'just' be straightforwardness. Camilla Nylund's Leonore was very similar. The near-impossible things Beethoven asks of her held no (vocal) fear. They were never despatched routinely, though; they mattered. The trajectory traced by Matti Salminen's Rocco, from (relative) darkness to light, was very much that of the work; it moved immensely, the artistry undeniable, yet worn (in a different sense) lightly. Evelin Novak and Florian Hoffmann shone, in their own ways, as the 'other' couple, capable of excellent things indeed vocally, content in their non-heroic station dramatically. If Roman Trekel's Don Fernando were a little dry, that should not be exaggerated. And if Falk Struckmann's Don Pizarro could not quite create the malevolence the role seems to require, very few assumptions do. (In fact, do any?)
To return to where we began, then: what to do with Fidelio? The answer may seem obvious, but it is not trite, for Beethoven can never be trite. Whilst Guantánamo Bay remains open, whilst Palestine, Tibet, so many other parts of the world remain under brutal occupation, whilst, above all, Aleppo remains under siege, do we not know actually know very well what it is about? Are we not hiding, imprisoning ourselves and others, if we fail to acknowledge that, to let Beethoven's music inspire us, and to let performances such as these do likewise? We need Beethoven most when he seems furthest from us. A Calixto Bieito will always be able to make us think differently, to reconsider a work such as this – or rather, this work, for there is not really any other work like it. Kupfer does, too, I think, if less clearly. However, a straightforward presentation, performed with burning conviction, may be all it needs. There is no harm, however, in pausing from time to time to question such apparent certainty. Does Fidelio mean Fidelio?
Mark Berry