Germany Puccini, Turandot: Bayerische Staatsoper Orchestra and Chorus / Dan Ettinger (conductor), Nationaltheater, Munich, 3.12.2016. (JMI)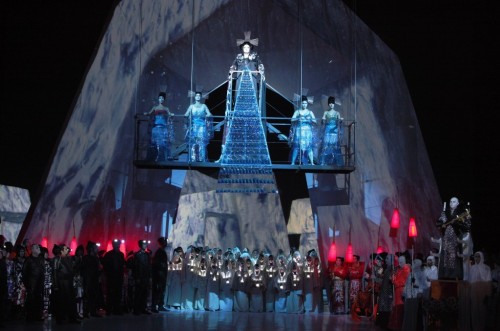 Cast:
Turandot – Catherine Foster
Calaf – Stefano La Colla
Liù – Golda Schultz
Timur – Goran Jurić
Ping – Andrea Borghini
Pang – Kevin Conners
Pong – Matthew Grills
Altoum – Ulrich Ress
Mandarin – Anatoli Sivko
Production:
Direction – Carlus Padrissa (La Fura dels Baus)
Sets – Roland Olbeter
Costumes – Chu Uroz
Lighting – Urs Schönebaum
Videos – Franc Aleu
This performance of Turandot was rather disappointing: the 2011 stage production still seems capricious and excessive, while the voices offered more shadows than lights. The musical direction did convince me, but really just in the last act.
The production is by La Fura dels Baus, with stage direction by Carlus Padrissa, and was received without much enthusiasm when it premiered here in November 2011. It's a superficial spectacle that tries to be the protagonist of the opera itself. I had the opportunity to write about the staging when I first saw it in 2012:  review
The conducting was again entrusted to Dan Ettinger, whose reading was somewhat irregular. There was an excess of sound during the first two acts, but things improved notably in the third where he conducted the scene of Liù's death with sensitivity. Both the orchestra and chorus of the Bayerische Staatsoper gave solid performances.
 The role of the Ice Princess was to have been sung by the great Nina Stemme, but she cancelled and was replaced by Catherine Foster. It's not easy to replace Nina Stemme, and I found Catherine Foster had too metallic a timbre and was weak in the lower range. She was not particularly expressive on stage, as if there had been no rehearsals. I prefer her by far in Wagner's operas.
Tenor Stefano La Colla in the part of Calaf exhibited the same virtues and defects as he has in the past. His voice is important, wide and resonant, and he has no problems with the high C. But a big problem is his absolute lack of expressiveness on stage, to which must be added a certain lack of musicality. Once a famous singer told me that it takes more than a voice to sing opera. Stefano La Colla has only the voice, and that difference matters.
The best in the cast was South African soprano Golda Schultz as Liù, whom I recently heard singing Susanna in Milan (review). Her attractive voice is nicely suited to the role, and she sings with gusto, offering beautiful piani.
Bass Goran Jurić was a sonorous Timur but with a rather rough sound, especially in his intervention in the first act. The three ministers were played by Andrea Borghini, Kevin Conners and Matthew Grills. They did well, although Borghini had problems with projection.
In the secondary characters, Ulrich Ress did very well as Altoum, while Anatoli Sivko was a correct Mandarin.
José M. Irurzun