Canada 2017 Vancouver Summer Bach Festival [2] – J.S. Bach, St John Passion: Gli Angeli Genève [Jenny Högström, Aleksandra Lewondoska (sopranos), Thomas Hobbs, Robert Getchell (tenors), Stephan MacLeod (bass/director)], Alex Potter (countertenor), Sumner Thompson (baritone), Vancouver Cantata Singers (dir. by Paula Kremer), Pacific Baroque Orchestra/Alexander Weimann (conductor), Chan Centre, Vancouver, 11.8.2017. (GN)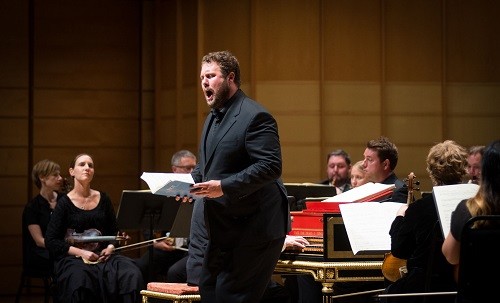 The second week of the 2017 Vancouver Bach Festival moved intriguingly far afield with 'The Fountains of Israel' by Johann Schein (1586-1630) and a concert of Latin American Baroque before closing with core Bach, the St John Passion. There was a good feeling of communal summing-up in this final concert: the soloists of Gli Angeli Genève (who performed the Schein) and countertenor Alex Potter (who had given a solo recital) stayed to participate alongside Vancouver's 40-strong Cantata Singers. And participate they did: this was some of the finest solo singing I have witnessed in a good while, led by the wonderfully fluid and deeply-felt Evangelist of Thomas Hobbs. Hobbs and Gli Angeli's leader, bass Stephan MacLeod, seemed to inspire their cohorts to singing of great depth and synergy – and this left a supreme mark on the whole.
There are few more demanding parts than the Evangelist, but Hobbs really made it his own, bringing a wonderful flexibility and poignancy to the narrative. Some might find his voice on the light side, but his ability to move into falsetto so seamlessly and imaginatively brought an intimacy that was absolutely delightful. This is not to say that Hobbs lacked power or decisiveness: his selective dramatic explorations in the lower register were impressive and moving, and he maintained a sterling continuity and expressive power throughout. Stephan MacLeod's imposing yet fluid characterization of Pilate seemed to match perfectly with Hobbs' lyricism – a clear advantage of employing soloists drawn from one ensemble. Baritone Sumner Thompson has not always had the best of times here, but his Jesus had impressive character and animation. Countertenor Alex Potter spun his lines with a beautifully airy spontaneity, while tenor Robert Getchell and the two distinguished sopranos, Jenny Högström and Aleksandra Lewondoska, proved their mettle in the subsidiary parts. The sheer dramatic range of all this singing was impressive.
Alexander Weimann is no stranger to the St John Passion, having released a strongly-praised recording (based on a live Montreal festival performance in 2010) on ATMA in 2012.  Stephan MacLeod also appeared then, a decade after his recording with Masaaki Suzuki. Nonetheless, this earlier venture was very much an echt-authentic performance where only 14 vocalists were involved. The chorus of 40 in the current performance, combined with a marginally larger Pacific Baroque Orchestra, inevitably made for a different challenge. Maestro Weimann can always be counted on for a finely disciplined and integrated traversal of the score, but on this occasion it took a fair time for the orchestra and chorus to mesh with the sensitivity of the soloists.
The thrusting strings and explosive choral statement at the opening of Part I certainly set a more extrovert tone than his previous rendering. While perhaps justified by the 'majestic passion' of the text, the demonstrative fervour seemed to draw away from the equally important 'celestial' dimension of the work that opens out through the teasing, mysterious dissonances in the winds and serves as a unifying force. The wind line was actually difficult to hear sometimes, and there were other balance issues. A deeper resonance was achieved as soon as the soloists took hold of the proceedings but, unfortunately, the subsequent entries by the chorus exhibited less sensitivity and often limited the suspension and flow of the music. All the choruses of Part I seemed somewhat generic: disciplined, energetic, but projected in a flat way without much tonal layering or expressive reach. The Chorales also seemed on the antiseptic side, fairly exact but not finding enough real repose, musical space or emotional feeling. And this characteristic continued into Part II.
While this was a notable limitation, there can be little doubt that Thomas Hobbs and his distinguished cohorts carried the work and carried the day, producing a disarming and unstoppable flow of vocal beauty and synergy. Furthermore, by the closing ten numbers of Part II – starting from the viola da gamba/cello sequence – a much greater sense of spiritual integration and glow overtook the whole, with both the choir and the orchestra relaxing into the music's expression and contemplative depth. Of course, this is how it must be: the wonderfully-moving arias and recitatives, the innovative use of instrumentation and soloists, and the tender closing chorales constitute a remarkable stream of beauty and genius. The ending certainly had the right sense of resolution and emotional gravitas. The Vancouver Cantata Singers are a fine group, and it was nice to see their full expressive sensitivity at the conclusion. I am tempted to think that a second performance might allow the choir and orchestra to remove some of their rigidity and self-consciousness early on. It would be impossible to underplay the wondrous vocal delights of this final evening, crowning the most enterprising two weeks of summer music-making that Early Music Vancouver has yet given us.
Geoffrey Newman
Previously published in a slightly different form on http://www.vanclassicalmusic.com.