United Kingdom Mendelssohn, Sibelius & Brahms: Henning Kraggerud (violin), Royal Liverpool Philharmonic Orchestra / Jacek Kaspszyk (conductor), Guild Hall, Preston, Lancashire 25.10.2017. (MC)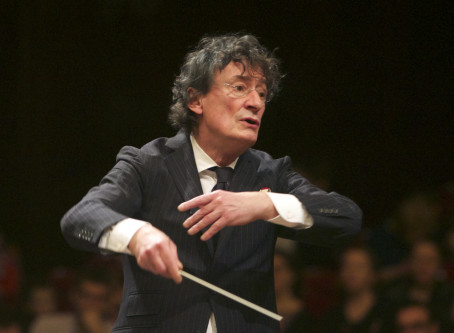 Mendelssohn – Overture, The Hebrides (Fingal's Cave)
Sibelius – Violin Concerto
Brahms – Symphony No.4
Last season I complimented the quality of the guest conductors at the Liverpool Phil's Preston series hoping it would not be long before Jacek Kaspszyk, who is music and artistic director of the Warsaw Philharmonic Orchestra, returned to the Guild Hall. I didn't have to wait long and was delighted to see Polish conductor Kaspszyk taking the baton again which he did with all his usual alertness and assurance presiding over another impressive concert of Mendelssohn, Sibelius and Brahms. Undoubtedly it would be stimulating to have less familiar works on the programme however one can understand the inclusion of such popular repertory staples especially in performances as excellent as these.
It doesn't take long to notice that since last season the orchestra, notably the string section, has improved by a significant margin adding finesse and a unity that has created additional sweetness and improved tone colour.
Hard to beat as a concert opener is Mendelssohn's overture, The Hebrides (Fingal's Cave). The aroma and sting of the salt sea air that the composer strove to evoke from his inspiring trip to the Scottish island of Staffa seemed immediate. With drama and awe Kaspszyk skilfully portrayed a sense of the fierce waves swelling, lashing the imposing basalt columns. The passages of the more tranquil seascape were equally arresting although the spell was rather spoilt on two occasions by the ringing of an errant mobile phone.
I've lost count of the number of disappointing performances of the Sibelius Violin Concerto that I've sat patiently through including those by celebrated soloists. Thankfully this was not the case with Norwegian violinist Henning Kraggerud who threw himself into the score with total engagement. In this masterwork of the repertory Kraggerud displayed a striking virtuosity which felt bold with a masculine ruggedness yet natural, attributes so often absent from performance. Rich, mellow sound streamed from his Guarneri del Gesù (1744) of a volume that easily cut through the hall, one known for its challenging acoustics. With soaring sonorities, I loved the biting Nordic chill and sense of mystery that Kraggerud created while the tranquil beauty of the surface and undertow of melancholy of the Adagio was especially spellbinding. Kaspszyk drove his players as hard possible a daring policy that paid dividends. Kraggerud's passion fuelled performance was a special one of a type that comes around all too infrequently and will stay long in the memory. Without any sense of routine there was an elevated standard of excellence displayed both by soloist and orchestra of a level rarely encountered.
Soloists at the Guild Hall traditionally give encores and Kraggerud didn't disappoint. From his own composition 'Equinox' a collection of postludes in all twenty-four keys the Norwegian chose number seventeen a short accessible work which reminded me of the sound world somewhere between Bruch and Sibelius.
The main work of the evening Brahms Fourth Symphony rightly deserves its enduring popularity in the concert hall. Sometimes described as the 'Elegiac' Symphony it remains for many Brahms's most popular symphony. Brahms worked on the symphony in the Austrian summer resort of Mürzzuschlag in the Styrian Alps. Immediately one sensed how much the Liverpool Phil responded to Kaspszyk's perceptive direction, with the tempi together with weight of sound feeling ideal throughout. In this vivid and convincing interpretation there was considerable detail and vivid orchestral colouration which easily evoked scenes of verdant Alpine valleys and spectacular mountain peaks with a discernible tinge of sorrow and refection never far away. The unerring sense of grandeur together with considerable depth of feeling resulted in a gripping performance that was a ringing endorsement for Kaspszyk (conducting without a score) and his players.
Michael Cookson
For more about the RLPO click here.