United States Shostakovich, Prokofiev, Scriabin: Denis Matsuev (piano), Mariinsky Orchestra / Valery Gergiev (conductor), presented by Cal Performances, Zellerbach Hall, University of California, Berkeley. 5.11.2017. (HS)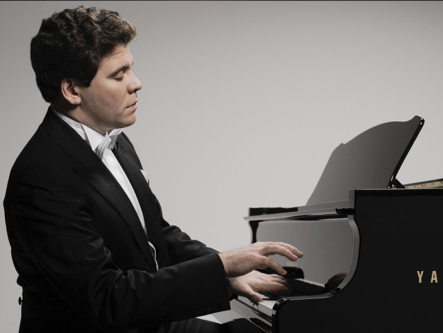 Shostakovich — Symphony No.9 in E-flat major
Prokofiev — Piano Concerto No.2 in G minor
Scriabin — Symphony No.3 in C minor
For a guy with a toothpick-size baton, conductor Valery Gergiev sure gets a big sound out of his Mariinsky Orchestra, a voluptuous juggernaut that took Zellerbach Hall by storm Saturday night, in an all-Russian lineup at the University of California, Berkeley.
Presented by Cal Performances, the 2-hour, 45-minute evening deployed three of the big guns of 20th-century Russian orchestral music, opening with a snarlingly wicked account of Shostakovich's terse Ninth Symphony and finishing with a fleshy, broad-beamed Symphony No.3 by Scriabin. In between, pianist Denis Matsuev grabbed Prokofiev's restless Piano Concerto No.2 by the collar and shook it into submission.
After all that, and without even re-tuning, Gergiev sent the rapt audience into the night with a stunningly pristine encore, Wagner's Prelude to Lohengrin.
This orchestra, known as the Kirov before Gergiev became conductor in 1998, is the tip of a massive Russian cultural iceberg in St. Petersburg. The Mariinsky complex encompasses a busy opera company and the famous ballet, a new concert hall, a retooled Tchaikovsky piano competition, and the estimable White Nights Festival.
In this concert the musicians sent out a brilliant glow, and responded to Gergiev's mercurial conducting style, all wiggling fingers and body thrusts. Working without a podium allowed him more movement, ranging across the space between the first and second violins, to draw more intimacy before muscling up to massive climaxes.
This element of responsiveness was the key to a vital and clear-headed performance of the Shostakovich symphony. At its debut in 1945 Stalin and the Soviet leaders expected something victorious, but instead got a mixture of a clownish circus and sardonic wit. It's probably the only ninth symphony from a major composer that can function perfectly as a concert curtain-raiser.
Its five movements carried just enough weight to convey Shostakovich's intent, but still bubbled with energy, especially in the first movement, when interjections from an entire woodwind section swirled as one through fast, complex passages. The outer movements and the central scherzo made the blood race with rhythmic springiness and sleek sonorities. Contrasting nicely were a wonderfully pensive clarinet solo in the second movement and a mellow, aching bassoon solo in the fourth.
Prokofiev's Second Piano Concerto sneaks up on an audience. Matsuev made it dance gracefully over the opening music-box phrases, perfectly setting up the ferociously complex, dissonant and rhythmically obsessive gestures that later pepper the score. He managed to get a robust tone out of the Steinway, stopping short of clanging on these hammering phrases. The result carried the audience along, anticipating the next climax instead of dreading it. Both conductor and pianist relished Prokofiev's prankster-like wit, quite different from Shostakovich's barely concealed snarl.
For an encore, Matsuev dialed back the intensity for some delicate and refined Rachmaninov, the Études-Tableaux, Op.39.
After intermission Gergiev left the Shostakovich/Prokofiev jokiness behind for Scriabin's heart-on-sleeve lavishness. Though Scriabin's symphony wallowed in sumptuous harmonies and long embraces of sensuous melody, along the way it showed off the richness and dexterity this orchestra can achieve. Chief among the assets on display was the luminescence of the string playing, a warm blanket that provided a soft bed for rapturous utterances from the brass and more delicate touches from the woodwinds. Truth to tell, though, the 50-minute piece (subtitled "The Divine Poem") proved to be a bit "too much of a muchness."
Scriabin's orchestral music has been called Wagnerian, and the orchestral encore offered the real thing—an incandescent Lohengrin prelude. In comparison with Scriabin's heavy furs and plush velvet, Wagner balanced gauzy strings and cloaked its deliciously delayed climax in satin.
Through it all, Gergiev and his toothpick corralled this program into exactly what he wanted with the Marriinsky Orchestra. It's a magnificent collaboration.
Harvey Steiman