Spain Puccini, La bohème: Orchestra and Chorus of the Teatro Real / Paolo Carignani (conductor), Teatro Real, Madrid, 19 & 20.12.2017. (JMI)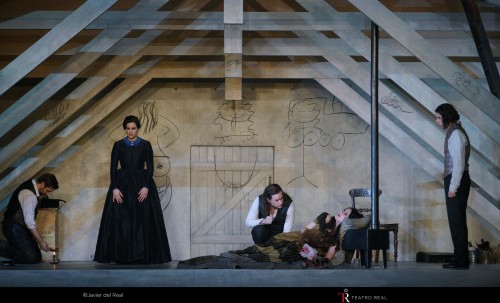 Cast:
Mimi – Anita Hartig/Yolanda Auyanet
Rodolfo – Stephen Costello/Piero Pretti
Marcello – Etienne Dupuis/Alessandro Luongo
Musetta – Joyce El-Khoury/Carmen Romeu
Colline – Mika Kares/Fernando Radó
Schaunard – Joan Martín-Royo/Manel Esteve
Benoît – José Manuel Zapata
Alcindoro – Roberto Accurso
New production: Teatro Real with The Royal Opera and Chicago Lyric Opera
Director – Richard Jones
Sets and Costumes – Stewart Laing
Lighting – Mimi Jordan Sherin
La bohème is back at the Teatro Real, and staged close to Christmas, as is done by many opera houses. Both of the performances that I attended were satisfactory, but they lacked a fundamental ingredient: emotion. A Bohème that doesn't leave the audience with a lump in their throats is simply a failed performance.
This Richard Jones production had its premiere at Covent Garden (review click here), replacing the well-known staging by John Copley that had been performed in London for some 43 years. In Madrid, it replaces another well-known production by Giancarlo del Monaco, which premiered in 1998 and was revived in 2006.
The sets consist of a very small attic at the front of the stage with multiple beams which do not allow much movement in Acts I and IV. A sort of shopping gallery in the second act has three sections and is rather confusing; it moves to one side to reveal the Café Momus. Act III was the most convincing, with an almost bare stage except for a small tavern. The costumes respond to the time of composition and are appropriate.
The musical direction was under Italian Paolo Carignani, whose reading was effective but somehow routine – and emotionless. It was less convincing than the London production which was led by Antonio Pappano. Both the orchestra and the chorus did fine.
The first disappointment of the night in vocal terms was soprano Anita Hartig in the part of Mimi. I expected much more from her. She handled her voice well, but little feeling reached the audience in either 'Mi chiamano Mimi' or 'Donde lieta uscí'. One could say the same of Yolanda Auyanet in the second cast: the right voice for the character and singing correctly, but with little feeling.
It was surprising to find Stephen Costello as Rodolfo in the first cast; his previous appearance in this house was two years ago as <i>Rigoletto</i>'s Duke, and the result left something to be desired. Overall, his Rodolfo was sung in a flat and monotonous way. Tenor Piero Pretti in the second cast had the best voice on stage, and he was outstanding through the entire tessitura. His biggest problem is a certain lack of expressiveness.
The best singer in the first cast was baritone Etienne Dupuis as Marcello. He has a beautiful voice and gave meaning to what he sang. Alessandro Luongo in the second cast did well, though his voice is lighter than that of Dupuis. He gave a good stage performance.
Joyce El-Khoury is, in my opinion, better suited to the role of Mimi than Musetta. She did well, but was a little tight in her Waltz. Carmen Romeu was a good Musetta, and her attractive voice is better suited to the character. She had no problems with the high notes.
Mika Kares and Fernando Radó alternated as Colline; both did well but were not particularly bright in 'Vecchia zimarra'. Joan Martín-Royo and Manel Esteve were good in the role of Schaunard, and José Manuel Zapata was a fun Benoît.
José M. Irurzun