United Kingdom Strauss, Salome: Soloists and Orchestra of Royal Opera / Henrik Nánási (conductor), Royal Opera House, Covent Garden, London, 8.1.2018. (JPr)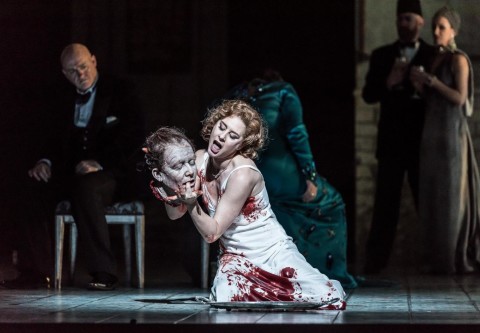 Production:
Director – David McVicar
Designer – Es Devlin
Lighting designer – Wolfgang Göbbel
Choreography and movement – Andrew George
Video designer – 59 Productions
Cast included:
Salome – Malin Byström
Jokanaan – Michael Volle
Herod – John Daszak
Herodias – Michaela Schuster
Narraboth – David Butt Philip
Page of Herodias – Christina Bock
In a recent Florence Carmen production #MeToo has already redeemed at least one operatic 'victim', because the gypsy now shoots Don José in an act of self-defence. In Strauss's opera, Salome orchestrates her own downfall, but there are themes in it – especially in the nudity and other goings on in David McVicar's 2008 production – that make it suitable for revisionism to meet our 2018 sensibilities. Professor Steven Price in his programme essay, Oscar Wilde's Salomé, suggests one way this could go in a future production: he mentions how the 'little green flower' offered to the infatuated Narraboth by Salome – in return for bringing Jokanaan (John the Baptist) to her – should be seen in the context of the green carnation 'allegedly an emblem of homosexuality in the Paris of Wilde's day. Seen in this light Salome becomes an ambiguously gendered figure, occasioning a re-interpretation of her relationship not just with the Young Syrian but with Herod and Jokanaan as well.' I look forward to a production exploring that sometime!
It is over 35 years since I first saw Salome and over the years I have been drawn back to it, always intrigued by an opera that is surely impossible to 'enjoy' in the usual sense. (That first performance? Well it was in 1982: Josephine Barstow was Salome, Bernd Weikl was Jokanaan and John Tomlinson sang the small role of First Nazarene. Whatever happened to him?) I have the urge to paraphrase the words of Dylan Thomas about his hometown (Swansea) by describing Salome as 'the ugly, lovely, at least to me, opera.'
The story of Salome is derived from various biblical sources and in one act we see this step-daughter of the tetrarch Herod Antipas – to her step-father's dismay but to the delight of her mother Herodias – request the head of Jokanaan on a silver platter as the reward for her 'Dance of the Seven Veils', and for her revenge on the prophet for refusing to allow her to kiss his mouth. Overseen by Barbara Lluch this is the third revival of David McVicar's production: it is very typical of McVicar's oeuvre at the time, although he is much less controversial and more mainstream now. Much blood and nudity are quite appropriate for Salome, but ten years on operatic tastes are changing as I hinted at above. McVicar has Salome as the product of unrestrained hedonism: moral lassitude – personified by Salome's step-father and mother – has created her psychotic persona. She is a victim (that buzzword again) of abuse and her own insatiable passions, and this young girl's rejection by Jokanaan triggers a descent into madness to eventually bring about her downfall.
McVicar and his set and costume designer Es Devlin were inspired by the 1975 Pasolini movie Salò, or the 120 Days of Sodom; a similar mix of the political intrigues of the time, sadism, sexual depravity and child abuse. We also see a different sort of Downton Abbey with the upstairs and downstairs of Herod's palace updated to the eve of World War II. A party is shown taking place 'upstairs', while Jokanaan is imprisoned in a cellar below the shabby 'downstairs' servants' quarters. This is a decadent society on the verge of total collapse. For the 'Dance of the Seven Veils', we are presented with seven rooms from Salome's memories, which provide a series of potent images evoking the abuse she has suffered over her lifetime from Herod.
Though I doubt anything different could made of it, the final scene between Salome and the severed head of Jokanaan is rather conventional. For me the most dubious element of Strauss's Salome is not its eroticism or this necrophilia, but the inability of his music to convince me whether there is anything the composer actually disapproved of in the story. How strongly did Strauss feel about Jokanaan who he has sermonising 'offstage' for virtually half of his role from the cistern he is confined to. We hear the chords of his unseen execution, but the music does not seem to condemn the event. Earlier there are even hints of anti-Semitism – which Strauss seems surprisingly immune to – in the caricatured four bickering Jews having their theological argument about the fate of the prisoner. These are all philosophical matters that often need to be addressed with Strauss; however, it didn't seem to matter so much on this occasion. This was an engrossing and fabulously sung revival that continues to suggest that since the arrival of Oliver Mears as Director of Opera things are on the up … although there have been 'false dawns' before.
With his robust and baleful baritone voice Michael Volle was a very charismatic Jokanaan, despite all his stumbling around the stage and shabby, unkempt appearance. Volle – probably the best Hans Sachs of his generation – is luxury casting and when he emerged on stage it was impossible to focus on anyone else. Once returned to his cistern it becomes apparent how nearly all of the more insignificant characters simply just stand about to leave the three most important ones – Salome, Herod and Herodias – centre stage in what becomes little more than a costumed semi-staging.
John Daszak is seen too infrequently at Covent Garden and in his role debut as Herod he made him a thoroughly paranoid and depraved character who believes he deserves all he desires because of his status: a twenty-first century figure if ever there was one! He sang well with those hints of Loge in his voice and cut through the orchestra with excellent diction. Often sitting right in the middle of the action – such as it was – again I found it impossible not to focus my attention solely on him. Michaela Schuster returning as Herodias was an imperious presence as Herod's haughty scheming wife and sang with a piercing, artful voice. David Butt Philip's elegant tenor voice made much of the short but pivotal role of Narraboth, the deluded captain who stabs himself because of Salome's rejection. The rest of cast shone in the scraps of music Strauss gives them.
Malin Byström – in the slinky, silver gown we first see her in – is the epitome of the young girl of the biblical story. She does what McVicar asks of her very well and is a convincing Salome. Initially she seemed to be vocally pacing herself – and who could blame her – but her performance built to the crescendo of her love-in denouement with the prophet's decapitated head; equal parts revolting and unbearably heart-wrenching. Byström's essentially lyric voice did not succumb to the reckless vocal abandon of some Salomes and so imbued the role with a beauty that was at odds with her character's journey.
Perhaps best of all was Henrik Nánási and the magnificent Royal Opera House orchestra whose symphonic-like accompaniment – as often happens with Strauss's operas – would have been worth listening to even without the excellent voices we heard on this occasion. There was rhapsodic intensity to his account that brought out all the subtlety, nuance and shimmering quasi-Wagnerian colours in Strauss's score. It is difficult to look back over three decades and more and remember earlier performances in the minutest detail, but I left Covent Garden wondering whether I had ever heard this music played better there or anywhere. Of course, its innate late-romanticism is often at odds with the unpleasantness of the story and McVicar's bleak and blood-stained stage imagery. Indeed, an ugly, lovely, opera!
Jim Pritchard
For up-to-date information about forthcoming events at Covent Garden for the remainder of the 2017-18 season click here.