United Kingdom Tchaikovsky, Eugene Onegin: Soloists and Ensemble Cymru / Jonathan Lyness (conductor), Riverfront Theatre, Newport, 16.3.2018. (GPu)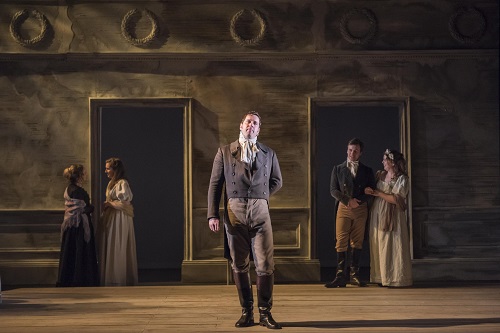 Cast:
Tatyana – Elisabeth Karani
Olga – Alisa Manwaring
Madame Larina – Stephanie Windsor-Lewis
Filipyevna – Maria Jagusz
Vladimir Lensky – Robyn Lyn Evans
Eugene Onegin – George van Bergen
Prince Gremin – Sion Goronwy
Monsieur Triquet – Jonathan Cooke
Zaretsky – Nicholas Morton
A Captain – Matthew Buswell
Ensemble/Chorus – Felicity Buckland, Chanáe Curtis, Joseph Doody, Jana Holesworth
Production:
Director/Designer – Richard Studer
Lighting Designer – Dan Saggers
I am, no doubt, far from the first to say it, but it really would have been better if the fifth of Tchaikovsky's ten operas had been called Tatyana rather than Eugene Onegin. Its actual title declares what its original audience would have known perfectly well, that the opera's source lies in Pushkin's great verse-novel. But the opera is radically different from the poem and its focus lies elsewhere. One can get much from Pushkin's poem by reading it as primarily about Onegin. Yet Vladimir Nabokov was probably nearer to the truth when he observed that Eugene Onegin is concerned with 'the afflictions, affections and fortunes of three young men – Onegin, the bitter lean fop; Lensky, the temperamental minor poet; and Pushkin, their friend – and of three young women – Tatyana, Olga and Pushkin's Muse'. Tchaikovsky and his co-librettist, Konstantin Shilovsky wisely chose to focus attention on one element (Tatyana's moral and emotional development) in the web of relationships/comparisons implicit in Nabokov's comments and were thus able to create a beautiful and economically constructed opera in which nothing is wasted or excessive.
In some respects Eugene Onegin is well suited to performance by a 'smaller' company – i.e., a touring company limited both by budget and by the constraints of moving from town to town, theatre to theatre. But in some respects, the opera does not lend itself readily to such a production. The small scale of Richard Studer's production for Mid Wales Opera responds to, and articulates, the essential intimacy of its story. In an essay included in the programme for this production, Michael White quotes from a letter Tchaikovsky wrote to his brother when starting work on the opera: 'How glad I am to get rid of Ethiopian princesses, Pharaohs, poisonings and all that sort of pompous convention … I know very well that there will be no scenic effects and little movement in this opera; but the poetry, humanity and simplicity of the story will compensate'. What Tchaikovsky and Shilovsky produced is, at heart, a domestic 'family' drama. Its characters are very definitely not exotic operatic stereotypes. They and their situations are decidedly human and familiar, allowing for the fact that the mores of nineteenth-century Russia are not ours. The (necessary) smallness of the orchestral forces – provided by the eleven members of Ensemble Cymru – also contributes to the sense of intimacy, though (for all the skill of Jonathan Lyness' reduction) there are times when one misses the sheer power and weighty richness of Tchaikovsky's music. Another loss is that the limitations of an easily transportable set means that in Act Three, Scene One, it cannot be made clear that, by being in Prince Gremin's St. Petersburg palace, the action is now in a very different social world from that in which the opera began. The addition of three rather forlorn chandeliers is, not surprisingly, insufficient.
This small-scale production (with its tiny 'chorus') involves then, both gains and losses. On balance, however, it makes for a very approachable performance, one not likely to intimidate operatically inexperienced audiences in some of the venues MWO visit. It certainly didn't intimidate the little girl of about five who, enthralled, sat near us with her mother – in the second interval she told me she 'loved it!'. As far as approachability and accessibility goes it doubtless helps that it was sung in English – in David Lloyd-Jones' translation.
Musically the performance was enjoyable, if not especially remarkable. Given the earlier suggestion that Tatyana is really the centre of the opera it was important than Elisabeth Karani's Tatyana was well, if quietly acted, plausibly both innocent and strong of character and sung with considerable beauty of tone. She seemed, however, a little inhibited at some of the emotional climaxes. As Onegin, George van Bergen had a dominant stage presence and voice of considerable power, even if his diction wasn't always clear. Robyn Lyn Evans was an effective and committed Lensky, capable of genuinely affecting lyricism and acting the part forcefully – his insulting of Olga at Tatyana's birthday party more explosive than the gunshot later to kill him and was in many respects the most 'dramatic' moment of the evening. Sion Goronwy brought gravity of manner and voice (as well as his hugely imposing figure) to Prince Gremin's aria in Act III, while doing justice to its moralizing sentiments. Alisa Manwaring sang and acted with attractive vivacity as Olga, and minor roles were well presented by Stephanie Windsor-Lewis, Maria Jagusz and Jonathan Cooke. There were, however, a number of passages when various singers failed to project their voices sufficiently.
This wasn't the very best production I have seen from Mid Wales Opera, but it had its virtues and were I a newcomer to opera, as many in the company's audiences are, it would certainly have encouraged me to see and hear more opera. A small touring company of this quality does a great deal to spread the word about opera and to bring in new audiences, as well as giving young singers important experience. Their valuable work deserves all the encouragement (and all the money!) it can get.
 Glyn Pursglove
For more about Mid Wales Opera click here.