United Kingdom Stravinsky and Bernstein: Patricia Kopatchinskaja (violin), William Davies (treble), London Philharmonic Choir, London Philharmonic Orchestra / Thierry Fischer (conductor), Neville Creed (conductor), Royal Festival Hall, Southbank Centre, London, 24.3.2018. (AS)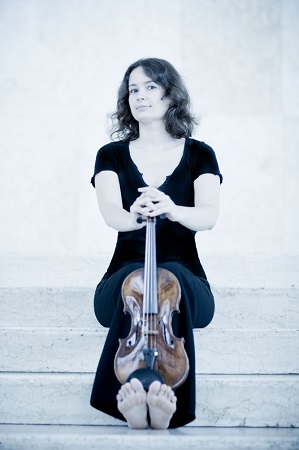 Stravinsky – Symphony of Psalms; Violin Concerto in D; Credo; Ave Maria; Pater Noster
Bernstein – Chichester Psalms
The original conductor of this concert, Andrés Orozco-Estrada, had become disposed, and Thierry Fischer took over an unchanged, demanding programme at what could have been only three days' notice at the most. We are apt to take such replacements for granted, but Fischer's feat in assuming responsibility for the concert and carrying it off with such assurance was remarkable.
In the London Philharmonic Choir and the LPO he had the best of support: the orchestra's high standards are familiar, and under Neville Creed's long-term directorship the choir continues to be of a very high quality.
The performance of Symphony of Psalms was very satisfying. Fischer's precise beat ensured tight ensemble and precise, clean rhythms throughout the work, textures were as clear as could be, there was plenty of atmosphere and tempi were well-chosen.
After an inevitable delay while the seating arrangements were changed the orchestra reassembled for the Violin Concerto and awaited the arrival of the soloist. And quite an arrival this turned out to be, for Patricia Kopatchinskaja rushed on to the stage, waving her violin and the music aloft. A long dress did conceal the fact that she was bare-footed. She at once struck a determined bent-kneed pose, tossing her head back and rocking to and fro as she attacked the first movement of the Concerto at high velocity. Her tempo was too fast for Stravinsky's intricate cross rhythms to register clearly and all Fischer could do, put under pressure, was to ensure a virtuoso response from the orchestra, and that he most certainly did. And so things continued throughout the work: Aria I was also too fast, with its neoclassical elements firmly squashed, and even Aria II's long lyrical line failed to find any sense of repose in the soloist's determinedly high-pressure approach. At this point one feared for the state of the concluding Capriccio, and sure enough it was rushed through at great speed. In its own way Kopatchinskaja's performance was a remarkable display of temperament and extraordinary energy, and she was duly given an ovation by the audience.
After the interval Neville Creed stepped from the shadows into the limelight for a few minutes and directed finely shaped, beautiful toned performances of the three unaccompanied Stravinsky choruses. After what had come before these calm quietly eloquent pieces were satisfying balm for the soul.
Finally, there came Bernstein's Chichester Psalms, a big contrast with what had gone before. This colourful, engaging work was given a brilliant performance by both choir and orchestra under Fischer's enthusiastic direction, highly communicative and full of personality. In the middle movement the 14-year-old treble, William Davies gave a confident, accomplished account of his solo part, and his modest platform demeanour won him warm applause. Before long, at his age, his voice will break, but he will have good memories of this special occasion, I am sure.
Alan Sanders