Germany Verdi, La forza del destino: Sächsischer Staatsopernchor Dresden, Sinfoniechor Dresden, Extrachor der Sächsischen Staatsoper Dresden, Herren der komparserie, Sächsischer Staatskapelle Dresden / Mark Wigglesworth (conductor), Semperoper, Dresden, 19.5.2018. (MC)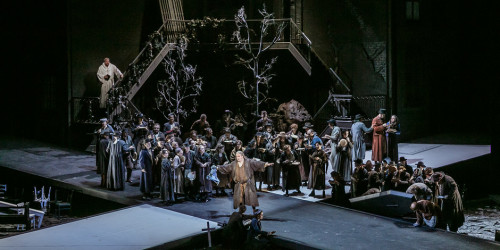 Cast:
Marchese di Calatrava / Il Padre Guardiano – Stephen Milling
Donna Leonora – Emily Magee
Don Carlo di Vargas – Alexey Markov
Don Alvaro – Marcelo Puente
Preziosilla / Curra – Christina Bock
Fra Melitone – Pietro Spagnoli
Una Alcade – Alexandros Stavrakakis
Mastro Trabuco – Gideon Poppe
Un Chirurgo – Allen Boxer
Una Donna – Kristina Fehrs
Production:
Stage Direction – Keith Warner
Assistant Director – Katherine Kastening
Set Design – Julia Müer
Costume Design – Tilo Steffens
Lighting – Wolfgang Göbbel
Chorus master – Jörn Hinnerk Andresen
La forza del destino is certainly one of Verdi's most enigmatic and ambitious operas, an epic drama in four acts, which has been described as being of near Shakespearean proportions. Premièred in 1862 the opera is scaled on an enormous canvas and Verdi who wasn't yet fifty created some of his most lyrical music of considerable richness. From its latest statistics Operabase.com ranks La forza del destino as seventy-first in terms of opera productions on the international stage and Verdi's twelfth most staged opera.
This new Dresden production was staged splendidly by stage director Keith Warner pulling together this sprawling drama reasonably well despite the severe challenges. Warner stated, 'the pain and human drama in this is extreme, perhaps in a way that is blacker and more extreme than other Verdi opera.' Warner cultivated a remarkable energy that was forced forward at a remarkable rate of knots. Keeping track of the action is certainly not easy as it moves from Seville to a forest near Rome while main characters vanish from complete acts. Characters are driven by forces mainly out of their control which shape their destiny, together with extraordinary coincidences and an almost psychotic desire for vengeance. Set designer Julia Müer must have had a field day creating and fashioning her captivating if mainly darkly lit sets. They were based upon a cross shape like a street junction behind which an often changing building was located with the corner fitting into the shape of the cross, a clear sacred symbol. I am not sure that audiences in the stalls would be necessarily as aware of this cross design as those like myself sitting in the balconies and looking down. In keeping with the current trend in opera today was the presence of non-speaking figures which appeared at various times in Warner's case what looked like an Angel in white and an Inca tribesman. Costume designer Tilo Steffens kept to mainly traditional clothes of mid-eighteenth-century period which were actually colourful and highly detailed but not always seen at their best owing to the dusky lighting.
The opera centres around three principal protagonists Leonora, Don Alvaro and Don Carlo. Immensely challenging the role of the unlucky Don Alvaro, an outsider of noble birth and Incan heritage, was vibrantly sung by tenor Marcelo Puente. The handsome Argentina tenor excelled with singing and his convincing acting made him an impulsive, somewhat swashbuckling figure. Puente's voice was extremely clear, projected well through the house and he is blessed with excellent high notes.   American soprano Emily Magee as Marquis's daughter Donna Leonora, pulled from pillar to post emotionally, made a convincing heroine demonstrating her ability to traverse Leonora's wide range of emotions. Flame haired Magee's glowing voice rang out and soared strongly over the often-weighty orchestral accompaniment. Displaying excellent stamina and determination too, Magee's high notes were easily achieved and her noticeable vibrato seldom intruded. Praying to find peace in death Leonora's big Act IV aria 'Pace, pace mio Dio!' was outstandingly performed; a real highlight. A sturdy presence throughout, Russian baritone Alexey Markov was entirely believable as Leonora's obstinate and worryingly revengeful brother Don Carlo. This was a strong performance from Markov with particularly impressive vocal expression.
Better known as a Wagnerian, bass Stephen Milling made a suitably compassionate Padre Guardiano displaying both a fine voice and a satisfying acting ability too. Making a considerable impression as the young fortune telling, gypsy girl Preziosilla was mezzo-soprano Christina Bock. Delightfully flirtatious and fun-loving Bock shone brightly with a performance full of personality. Mark Wigglesworth was in the pit conducting the score with a firm grip if occasionally letting his enthusiasm get the better of him by presiding over some overloud playing. As one has come to expect, Staatskapelle Dresden played with its usual excellence. There were no problems either with the reliable chorus trained by Jörn Hinnerk Andresen.
At Semperoper, Dresden I relished every single minute of this exciting new Keith Warner production of Verdi's magnificent, if flawed masterpiece.
Michael Cookson