United Kingdom Prokofiev, Kenneth MacMillan's Romeo and Juliet: Dancers of Birmingham Royal Ballet, Royal Ballet Sinfonia / Paul Murphy (conductor), Sadler's Wells, London, 13.6.2018. (JPr)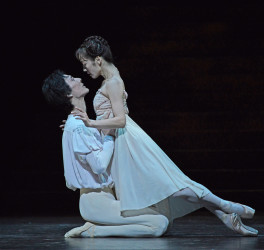 Cast included:
Juliet – Nao Sakuma
Romeo – Yasuo Atsuji
Mercutio – Lachlan Monaghan
Tybalt – Valentin Olovyannikov
Benvolio – Edivaldo Souza da Silva
Lady Capulet – Daria Stanciulescu
Nurse – Marion Tate
Production:
Choreography – Kenneth MacMillan
Designs – Paul Andrews
Lighting – John B. Read
One of the most celebrated ballets in the repertory, Romeo and Juliet needs little introduction whether in the memorably death-haunted interpretation Rudolf Nureyev left us or, as here, Kenneth MacMillan's equally wonderful – however more romantic – staging originally choreographed for The Royal Ballet and premiered with Nureyev and Margot Fonteyn in the title roles. I have reviewed Nureyev's Romeo and Juliet before (click here), but although I have seen MacMillan's version several times I have never written about it, even though it is a staple of both The Royal Ballet and Birmingham Royal Ballet. The latter have revived it for performances at Sadler's Wells and in Birmingham.
Based on Shakespeare's tragic play, the ballet opens in Verona during the Renaissance where the two leading noble families, the Capulets and Montagues, are sworn enemies. Romeo, a young Montague, declares his love for the haughty Rosaline. Together with his friends, Mercutio and Benvolio, they quarrel with Tybalt, Lord Capulet's nephew, and blood is soon split. The Prince of Verona orders the families to put an end to their feud, and reluctantly the men put their swords down. In order to pursue Rosaline Romeo infiltrates a ball at the Capulets' house. Meanwhile, Juliet, a young Capulet and Tybalt's cousin, has been introduced to her prospective fiancé Paris, but at a ball she meets Romeo and instantly they fall in love. With the help of a sympathetic friar and Juliet's conspiratorial nurse, the lovers marry in secret. Though events will soon take a tragic turn when Mercutio picks a fight with Tybalt, who kills him and is avenged by Romeo who is then forced into exile. The deaths, of course, have not ended there.
I am retelling the familiar tale only to celebrate the magnificent storytelling we see in Kenneth Macmillan's Romeo and Juliet and some of the acting was worthy of straight theatre. It is not a surprise to read in Jane Parry's essay in the programme how 'MacMillan had been inspired by Franco Zeffirelli's mould-breaking production of the play at the Old Vic in 1960.' MacMillan developed the ideas he saw then of the star-crossed lovers eager to consummate their passion, as well as, the 'clash between generations', 'feud between two powerful clans' and that there would be 'no reconciliation between the warring families at the end.'
All this can be clearly seen in MacMillan's captivating choreography. My only issue with what he gives us is that the audience needs to realise how Romeo has not received Friar Lawrence's message about the sleeping potion Juliet has taken. Nureyev shows us this and so completes Shakespeare's original story. MacMillan oversaw getting BRB's Romeo and Juliet on stage in 1992 only six months before his early death. Although, for me, it did not look a lot different to his 1965 version with its designs by Nicholas Georgiadis, MacMillan had chosen a young designer, Paul Andrews, to set this now earlier in the Renaissance. The most I spotted was how – perhaps due to John B. Read's subtly atmospheric lighting – it all looked more as if early Italian frescoes had come to life. In addition, Juliet now has a more elaborate bedroom and the Mandolin Dance no longer involves street entertainers but now everyone looks like brushes in an automatic carwash when they twirl around.
In a short space of time I have seen English National Ballet (click here), The Royal Ballet (click here) and now Birmingham Royal Ballet and it would be invidious to rank the three companies. I must say what a pleasure it was to see BRB dance so consummately well and with such commitment during this afternoon matinee. The corps de ballet roistered appropriately and tackled their sword-fighting with gusto. Although Valentin Olovyannikov did not 'chew the scenery' as some Tybalts can he made his character's threat clear. As Romeo's chums Lachlan Monaghan was a typically rascally Mercutio and Edivaldo Souza da Silva was a self-assured Benvolio. Yvette Knight was a haughty Rosaline with Jade Heusen, Delia Mathews and Alys Shee as three suitably flirty harlots. Gabriel Anderson was stoic and straight-backed as Paris and Kit Holder spiritedly led the Mandolin Dance even if he did (sorry!) look faintly ridiculous. Finally, there were two outstanding vignettes: first from Daria Stanciulescu as the imperious Lady Capulet whose mourning over the dead Tybalt was particularly heartrending and also from Marion Tate – BRB's assistant director – as a playful, compassionate Nurse.
However this ballet naturally depends on its leads, and Nao Sakuma was one of the best Juliets of the many I have seen. She was totally believable as a teenage girl experiencing passion for the first time. Sakuma – who leaves BRB at the end of the season – made me regret I had not seen her more over the years. She has a superb technique and her fluid, graceful, spiritual dancing was feather-light. Her performance took on emotional gravitas especially in Act III having transitioned effortlessly from girly glee to a more worldly-wise desperation. Her real-life husband Yasuo Atsuji was a poetic Romeo, although with more puppy dog eagerness than manly fervour. The Balcony pas de deux was blissfully romantic and their real-life relationship brought a frisson to the moment Romeo and Juliet kissed for the first time.  Although it is well-known that MacMillan created the role of Romeo on Christopher Gable (with Lynn Seymour as Juliet) some of the intricate steps we see during his variations have been forever associated with Nureyev and I saw him dance the role several times in both this, as well as, his own production. It is to Atsuji's credit – and possibly due to the strength of the chemistry between him and Sakuma – that he made the role so much his own.
Romeo and Juliet is one of MacMillan's masterpieces and it proves a splendid showcase for the current health of – the soon departing – David Bintley's company with its roster of such talented dancers. Their great achievement was underpinned by the Royal Ballet Sinfonia bringing out all that is mercurial about Prokofiev's score with equal measures of finesse and robust power under conductor Paul Murphy.
Jim Pritchard
For more about Birmingham Royal Ballet's forthcoming performances click here.