Switzerland Verdi, La traviata: Soloists, Chorus of the Zurich Opera, Philharmonia Zurich / Fabio Luisi (conductor), Zurich Opera, Zurich 6.7.2018. (JR)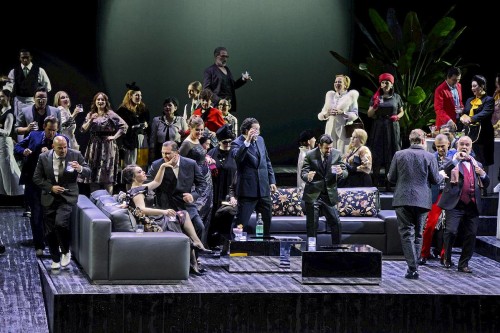 Cast:
Violetta Valéry – Ailyn Perez
Alfredo Germont – Benjamin Bernheim
Giorgio Germont – Quinn Kelsey
Flora Bervoix – Karina Demurova
Annina – Adriana Gonzalez
Gastone – Omer Kobiljak
Baron Douphal – Cheyne Davidson
Marquis d'Obigny – Valerij Murga
Doktor Grenvil – Ildo Song
Giuseppe – Thobela Ntshanyana
Commissionario – Alexander Kiechle
Production:
Producer – David Hermann
Assistant – Stephanie Lenzen
Sets and Costumes – Christof Hetzer
Lighting – Franck Evin
Video design – Anna Henckel-Donnersmarck
Chorus master – Janko Kastelic
Dramaturgy – Beate Breidenbach
This was a revival of a David Hermann production three years ago for Zurich Opera. Then Sonya Yoncheva sang Violetta, Pavol Breslik was the tenor, Quinn Kelsey sang Germont père, but only Kelsey returned for the revival. American soprano Ailyn Perez, a regular on many an international opera stage, took the lead role, young (early thirties) 'rising star' French tenor Benjamin Bernheim took the role of Alfredo.
The action in this modern production takes place just before the era of mobile phones, so mid-1980s perhaps. We could be anywhere. The first three scenes centre on some chunky grey leather sofas, an occasional chair, two potted plants, and a buffet table. It's party time, first at Violetta's place, then in the second part of Act II at Flora's. The only difference was the positioning of the sofas. More effort has been put into the glamorous costumes for the high society gatherings. Germont's father arrives holding a motor-cycle helmet and is in leathers. The set is therefore rather unmemorable. One is also never quite sure what the video projections are supposed to depict, though I spotted an x-ray in the final scene and some disco lighting in the party scenes. Luckily, such is the strength of this ever popular opera, that nothing does any damage – until perhaps, that is, the final scene which does not take place in Violetta's bed-chamber, but in the ward of a hospice. Normally this is a tear-jerking finale, but the oddity of the venue robs the observer of this emotion. There are a number of beds and two apparent corpses – an old lady in white, face up. A man, face down, in black. There is then a coup de théâtre: the 'black corpse' stands up and turns out to be Germont's father. Alfredo Germont himself, rather than rushing in mid-act to see his dying beloved, is on stage the whole time, on one of the other beds, looking forlornly into the distance. It's different, it's unusual, not everyone liked it. Not everyone liked the aggression shown to both Violetta and Alfredo at Flora's, a bit too much gratuitous violence.
In the vocal stakes, Ailyn Perez, was formidable and razor-sharp on the top notes. I also liked Bernheim's smooth tenor, rarely forced. He only once had trouble holding on to a final top note as he ran off stage. He sang a fine Rodolfo at Covent Garden earlier this season and is certainly a name to watch. His intonation and diction are faultless, his top notes are secure. Next to Perez though, he looked like her son, not her lover.
Quinn Kelsey was the recipient of much applause, unsurprising given he gets by far the best aria of the opera 'Di Provenza il mar'. It was given a fine rendition, and he acts well.
Minor roles were mixed. Adriana Gonzalez as Annina was competent, Omer Kobiljak always impresses with his strong voice. Cheyne Davidson was a fine if not particularly malevolent, Baron and looked the part in a snappy grey suit. Valerij Murga did not look like a Marquis but his voice was firm. Ildo Song, another Zurich regular, was a sound Doctor. The only disappointment was Flora, sung by Karina Demurova, who was inaudible. She looked the part of Violetta's rival, though I thought she was the more likely to die of consumption rather than Perez.
Fabio Luisi had trouble initally in keeping everyone together but the ensemble recovered as the first act progressed. From then on he was a marvel, highlighting many a nuance in the score and particularly impressive and indefatigable, as ever, in the furioso passages.
Zurich's opera season now draws to a close with this run of performances (though there is an Elijah to come on the opera house stage which I shall review) – ending what has been an excellent and successful season.
John Rhodes