Germany 2018 Munich Opera Festival [1] – Wagner, Parsifal: Bayerische Staatsoper Chorus and Orchestra / Kirill Petrenko (conductor), Nationaltheater, Munich, 1.7.2018. (JMI)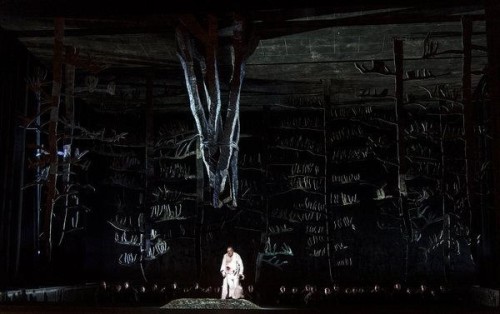 Cast:
Parsifal – Jonas Kaufmann
Kundry – Nina Stemme
Gurnemanz – René Pape
Amfortas – Christian Gerhaher
Klingsor – Wolfgang Koch
Titurel – Bálint Szabó
Production:
Direction – Pierre Audi
Sets – Georg Baselitz
Costumes – Florence von Gerkan
Lighting – Urs Schönebaum
The annual July Opera Festival in Munich is one of the best, if not the best, of them all, including those of Bayreuth and Salzburg. I have been coming to Munich for the past 14 years, and it is always a special occasion in my operatic year. What can I say about it this time! The festival opens with a truly extraordinary Parsifal, one of those events that any fan singles out as soon as the program is known. It is no surprise that there were so many people from other countries in the theatre.
A great part of this Parsifal's appeal is the presence of Kirill Petrenko on the podium of the Nationaltheater, with an impressive cast that includes no less than Jonas Kaufmann, Nina Stemme, René Pape, Christian Gerhaher and Wolfgang Koch. The result fully met my expectations in musical terms, although it fell a little short vocally.
For this special occasion Munich commissioned a new production by Pierre Audi. It is all rather irregular and weighed down by various details in bad taste. The problems, which begin at the end of Act I, persist through the entirety of the Klingsor castle act. For instance, in the final ceremony of the first act, Audi has the Knights of the Grail take communion while apparently naked (they wear clothes depicting nudity). In Act II he does the same with the Flowermaidens, whose supposed nudity seems to be inspired by Botero's sculptures and bears little relationship to their reputed beauty. Overall, the stage direction is not very interesting, and the costumes fairly unappealing.
In the future, I expect we will see little of Kirill Petrenko in Munich; as is well known, he is replacing Sir Simon Rattle as the music director of the Berlin Philharmonic. How we are going to miss him! His conducting here was prodigious, immense, outstanding; I wish I had the words to be able to transmit the quality of it to my readers. This was a great Parsifal and will long remain in one's memory. As always, the Bayerisches Staatsorchester was spectacular under his command. The chorus was also impeccable.
The cast assembled by the Munich Opera is a dream one, and it largely met expectations. However, it must be said that in the forest scenes the voice projection was affected by the production, which was very open.
Parsifal was played by Jonas Kaufmann whose performance fell somewhat below his usual standard. Until the kiss with Kundry in the second act, he had a few problems, but he improved from then on and was at his best in the second half of Act II. His voice has not lost quality, but it does not run as easily as it once did. He is well known for his pianissimos, but this time they sounded more falsetto-like.
Nina Stemme was a powerful Kundry, able to convey emotions perfectly, both in the forest acts and in the seduction of Parsifal. It is always a pleasure to listen to this soprano, and her Kundry was that of a great singer and artist, although her middle range has lost some consistency in recent years.
Bass René Pape was an excellent Gurnemanz, possibly the character who has to sing the most in the opera, although he does not appear in the second act. His vocal and stage performance were irreproachable, worthy of someone who is possibly the best interpreter of the role today.
Baritone Christian Gerhaher was superb as Amfortas, in terms both of singing and acting. His strong, healthy voice had no problems reaching throughout the opera house.
Wolfgang Koch gave life to Klingsor, and he did it with the powerful voice that one expects from him. Titurel was played by bass Bálint Szabó, who could not always be clearly heard. The two Grail Knights were handled well by Kevin Conners and Callum Thorpe, and soprano Rachel Wilson provided a good Voice from Heaven.
The Munich theatre was sold out, and there were numerous 'Suche Karte' signs outside. The audience showed their enthusiasm at the final bows, particularly for Kirill Petrenko and the orchestra, although the four protagonists got their share of applause as well
José M. Irurzun